...Botswana Photos...
Tammay and I travelled into Botswana from Zambia, crossing the Zambezi in a small motor boat. Half way across the river we passed through the point where the borders of Zambia, Zimbabwe, Botswana and Namibia all meet. We spent 11 nights on safari in Botswana at four separate camps: Lebala, Lagoon, Footsteps and Little Kwara.
Some of my favourite photos are shown below and there are links to further photos at the bottom of the page.
---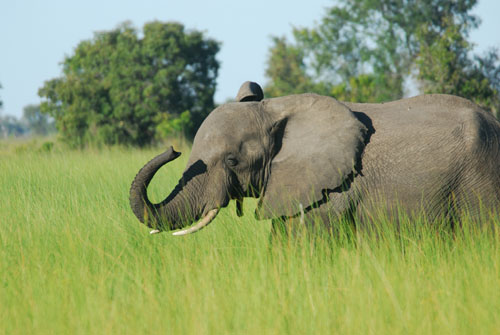 Elephant
While Lebala and Lagoon (the first two camps we visited) were located in the North of Botswana (near the Namibian border), Footsteps and Little Kwara are more centrally located (in the Okavango delta). The abundance of water in the delta meant that the vegetation was far more green than we experienced in the North so it seemed strange to see this elephant walking through such green grass.
---
Elephant
The above photo contrasts with this image of an elephant hurd moving through the tall dry grasses of the North.
---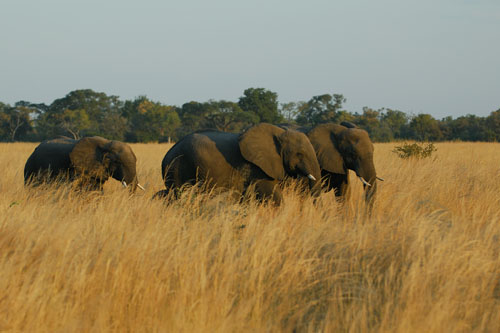 Elephant
There was about a dozen elephants in this herd, including a number of young.
---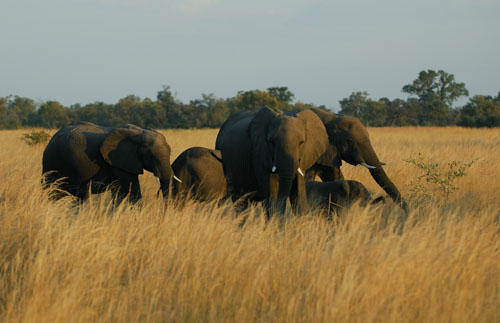 Elephant
---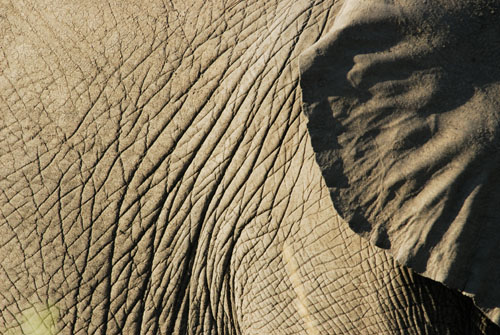 Elephant
---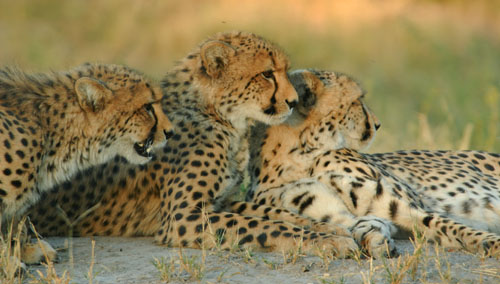 Cheetah
While at Little Kwara we were lucky enough to find this female cheetah with her two cubs.
---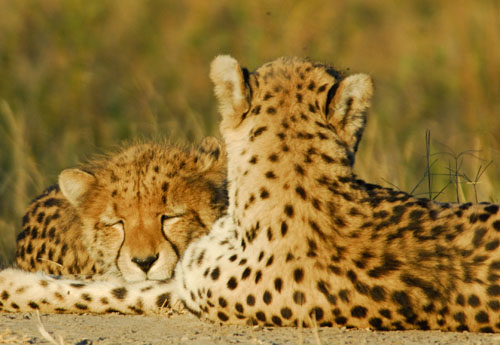 Cheetah
One of the cubs takes a nap on its mother.
---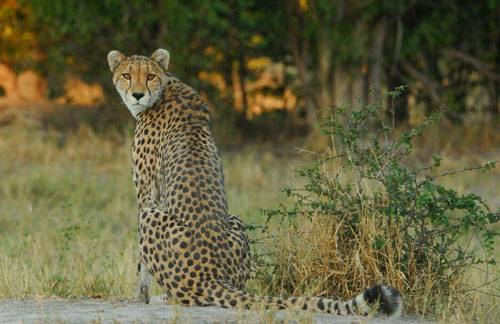 Cheetah
After about 40 minutes in the sun the cubs moved away and was closely followed by their mother (seen here). We followed the family for nearly an hour as they began to hunt the antelope in the area. As the sun started to set the light began to fail and we decided to turn back and enjoy our sundowner.
---
Cheetah
This was one of three brothers we spotted.
---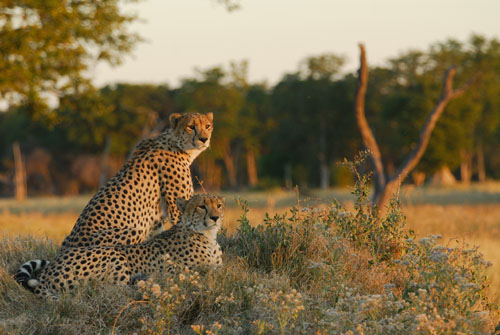 Cheetah
---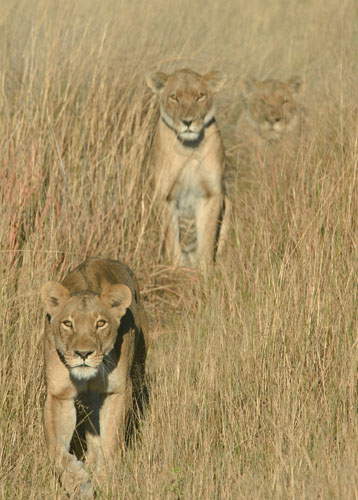 Lions
On one of our morning game drives at Little Kwara we spotted these three lions moving through the tall grass. They spotted a baby giraffe that had strayed away from its mother and one of the lions moved in ahead of the other two.
---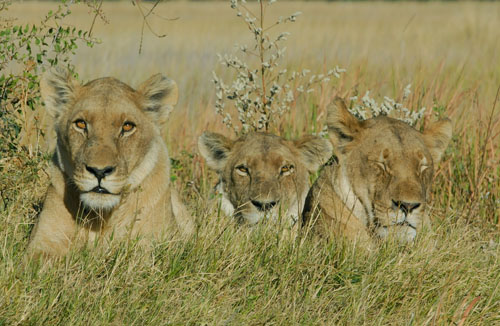 Lions
After about 15 minutes the baby giraffe had moved back towards its mother and the lions gave up the chase. They returned to a small grassy mound and relaxed together in the sun.
---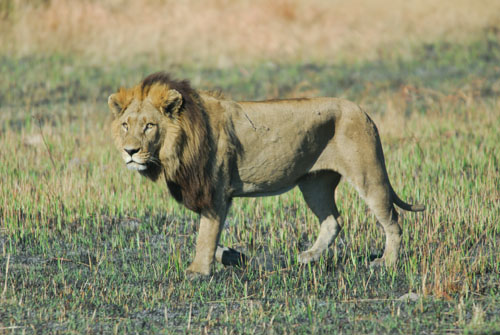 Lion
While at the Footsteps camp we came across our first lion – this male.
---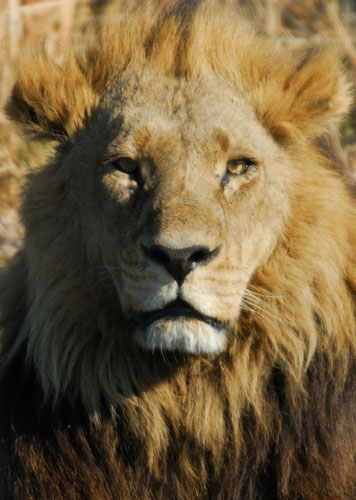 Lion
True to form this lion took cover in the shade of a tree. I crouched low to the floor of our jeep and leant outside (a little!) to catch the lion square on.
---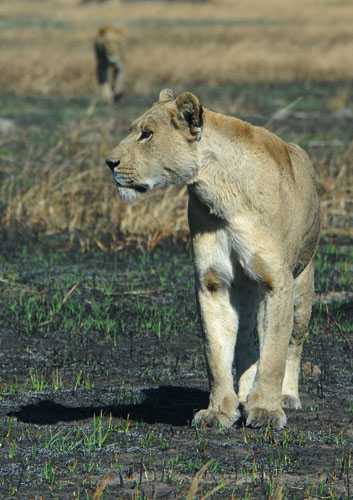 Lions
Shortly after tracking down the above male we were able to find this female and another younger male which can be seen in the background.
---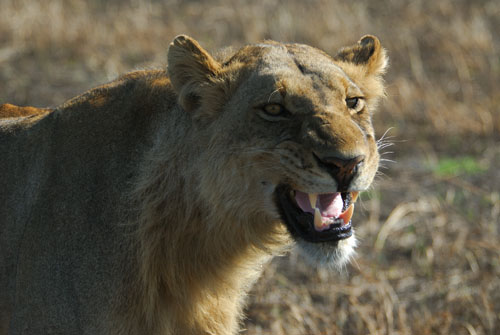 Lion
As they passed by one of the lions showed us his teeth!
---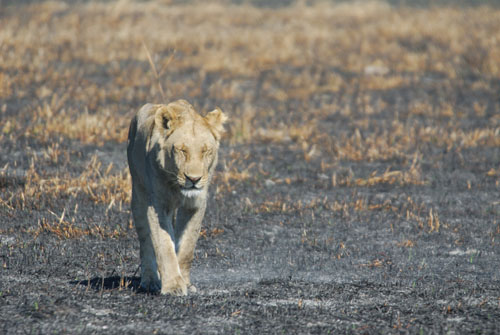 Lion
The lions crossed the recently burnt grass, lifting soot into the air.
---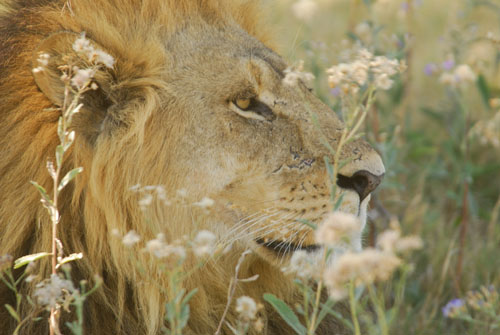 Lion
Half way through each safari drive we would take a 30 minute break to stretch our legs and have a snack. While taking one of our breaks at the Little Kwara camp our ranger spotted two large male lions moving towards us. The lions were far from aggressive, and simply stopped in the shade of a tree. We climbed back into our jeep and took a closer look!
---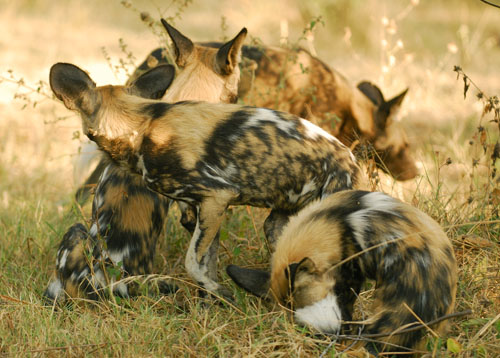 Wild Dogs
While staying at the Lagoon camp we made a visit to a wild dog den that the trackers had located. It was early morning and we found a number of dogs lying around the den site.
---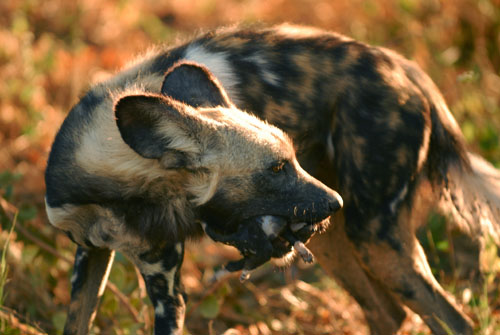 Wild Dog
After about 15 minutes or so we saw this female emerge from the den. I heard a lot of squealing and thought she might have caught something to eat. As it turns out she was holding one of her young in her mouth. After running up to a few of the males she sat down and ate the pup. Our ranger believed that the pup had probably died during the night (and it was the female making the noise) and she had eaten its remains in front of the males to show them that she was very hungry in an effort to get them to bring back more food for her and the rest of the pups.
---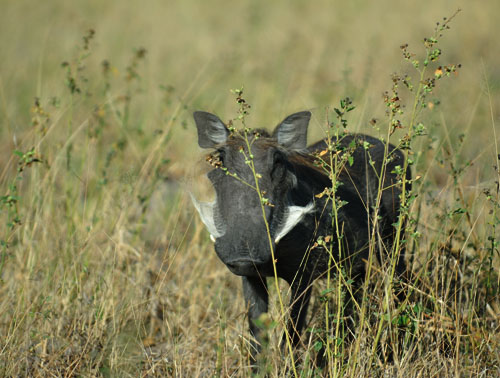 Warthog
We were able to see quite a number of warthogs during our trip. They were easily scared and would often disappear before we got close. They have lots of character – when they spot you they normally stop still and stare for a short while then run off with their tails held vertically in the air.
---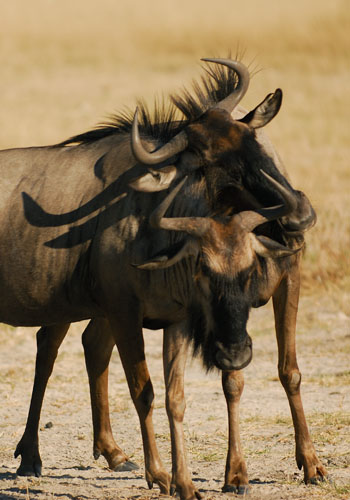 Wildebeest
---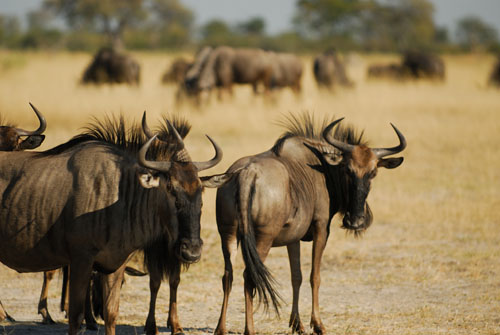 Wildebeest
---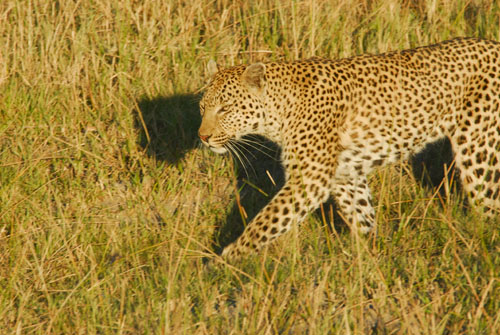 Leopard
On the morning of our final full day at the Little Kwara camp we were able to pick up fresh leopard tracks near the camp. After travelling only a couple of hundred yards we caught up with the leopard. It was the first and only leopard we spotted on the trip and meant that we were lucky enough to see every animal we had hoped to encounter.
---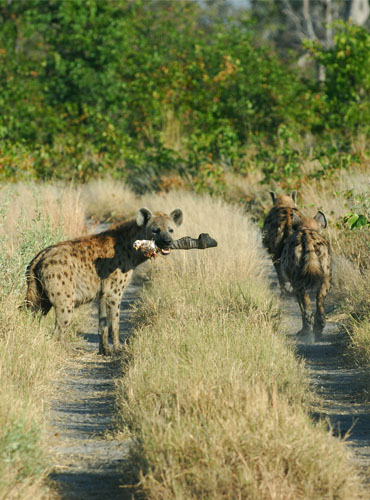 Spotted Hyenas
We found these three hyena walking along a track – one carrying the lower leg of a zebra in its mouth.
---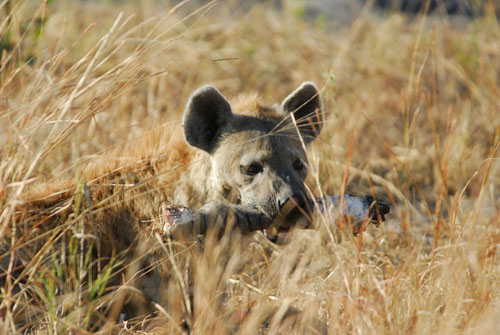 Spotted Hyena
We followed the hyena into some nearby grass and watched/listened while it chewed away at the leg. We could hear sharp cracking sounds as it broke off bits of bone.
---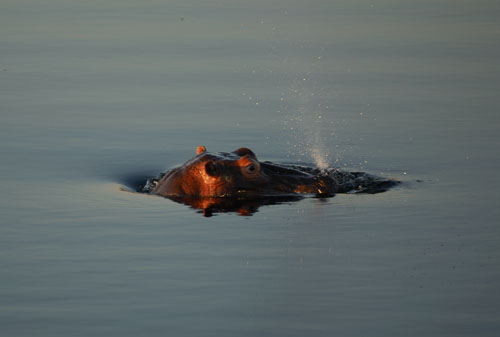 Hippopotamus
---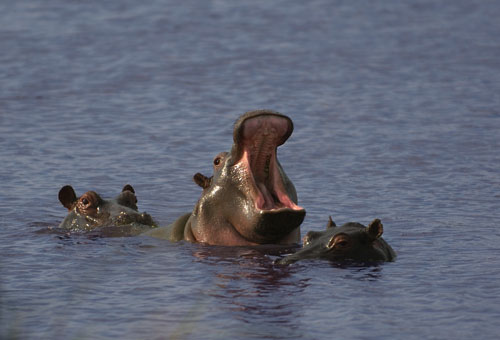 Hippopotamus
---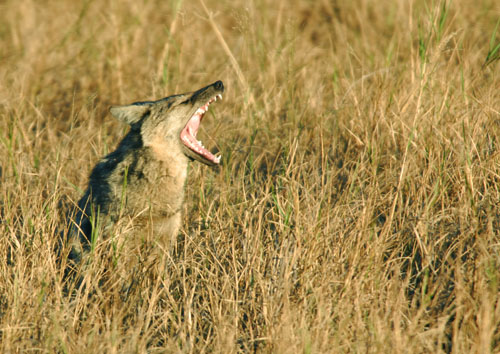 Jackal
---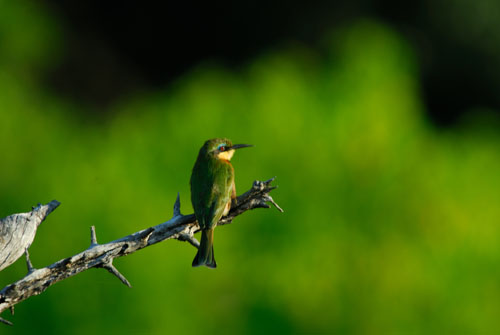 Little Bee-Eater
---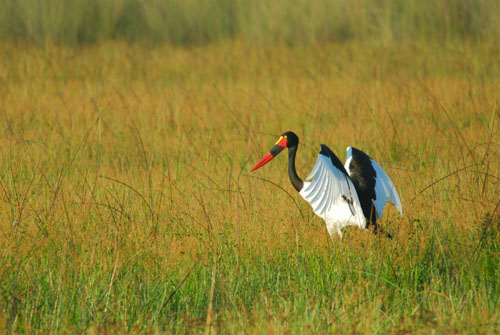 Saddle-Billed Stork
We spotted this saddle-billed stork preparing to take off.
---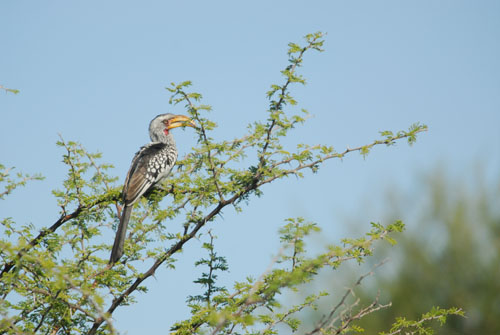 Southern Yellow-billed Hornbill
---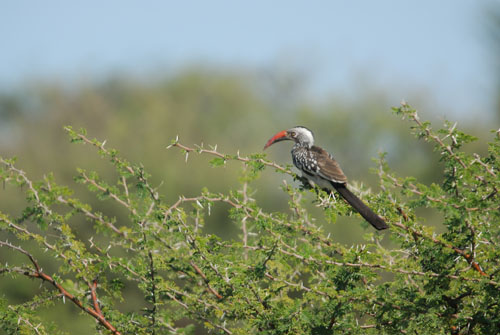 Red-billed Hornbill
---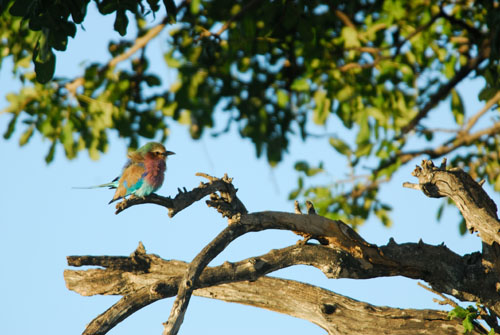 Lilac-breasted Roller
---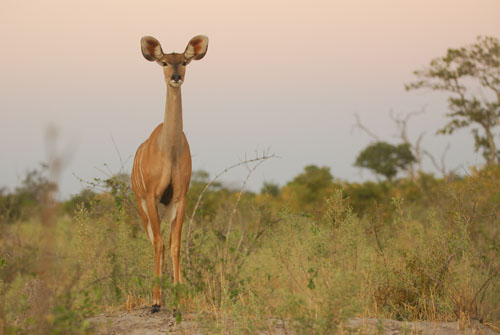 Greater Kudu
We spotted this female kudu using a termite mound as a good vantage point over the surrounding area.
---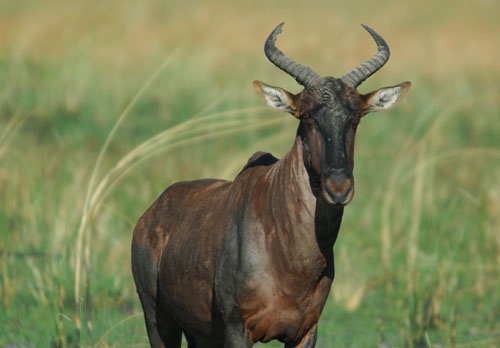 Tsessebe
---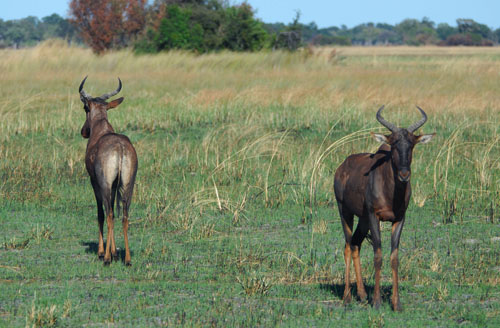 Tsessebe
Two tsessebes watching each other's backs!
---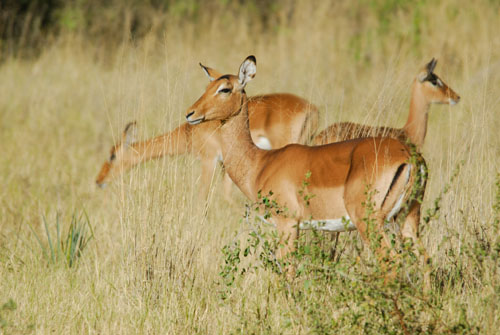 Impala
It's possible to see impala everywhere while on safari. Despite being so common it's important not to ignore them as they can often reveal the location of nearby predators. You can frequently spot them staring at a possible predator or hear them calling out to the rest of the herd to signify possible danger.
---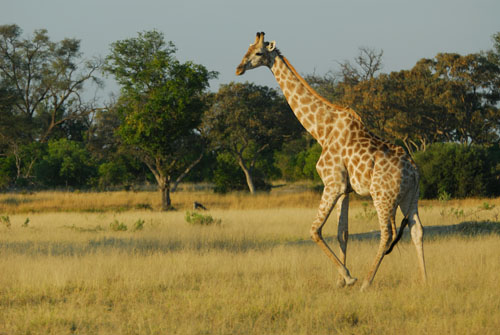 Giraffe
---

Giraffe
From a distance we could see these Giraffe looking uneasy. We approached and were able to see a cheetah moving through the grass. As the Giraffe moved away they walked over the recently scorched earth, kicking up clouds of soot that carried in the breeze.
---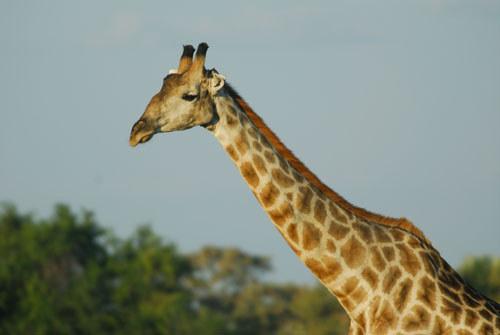 Giraffe
---
Zebra
---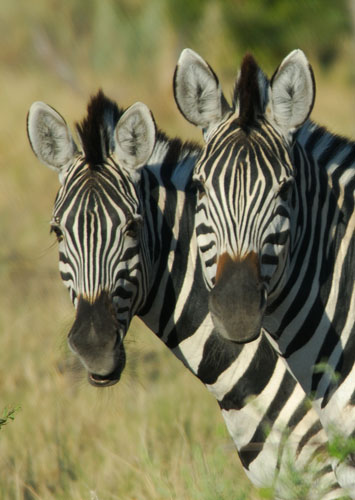 Zebra
---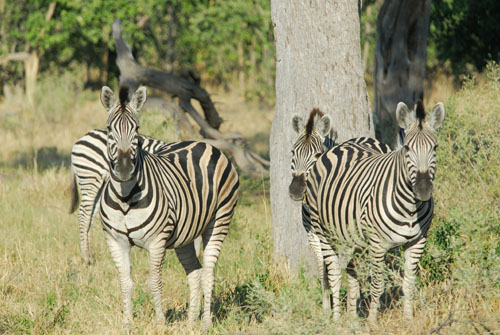 Zebra
---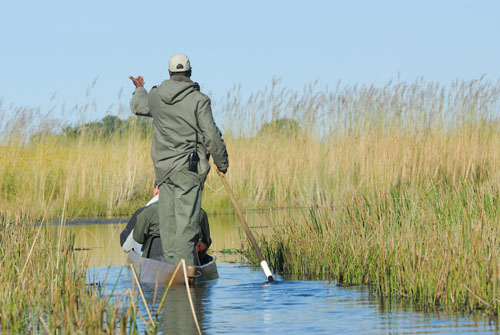 The Mekoro
Our ranger navigating two of our fellow guests along one of the hippo channels. As you follow these channels they begin to merge into larger waterways that end up forming the vast Okavango delta.
---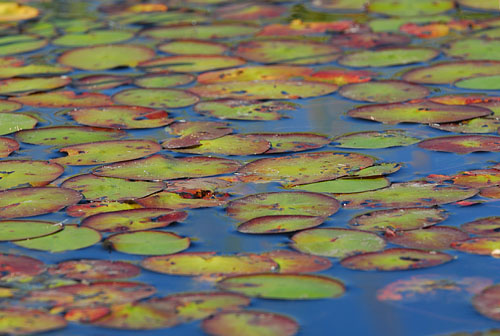 Lilies
The lilies floating on the surface of the water in these channels.
---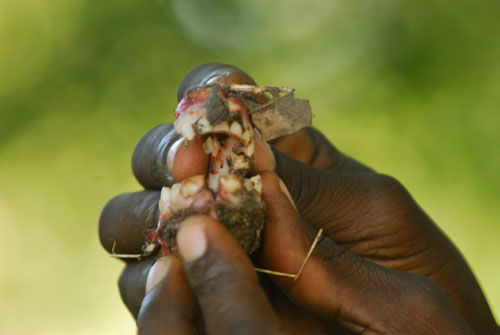 Baboon jaws
On our very last morning at the Little Kwara camp we were hoping to see more leopard. While tracking one very close to camp, our ranger spotted marks in the sand that looked like the leopard had made a kill and dragged away an animal. The marks were very recent so we followed them a short distance into an island of trees. We were not able to find any tracks to suggest that the leopard had left the island so we cautiously entered and soon came across the jaws of a baby baboon. The leopard had eaten his kill and moved on.
---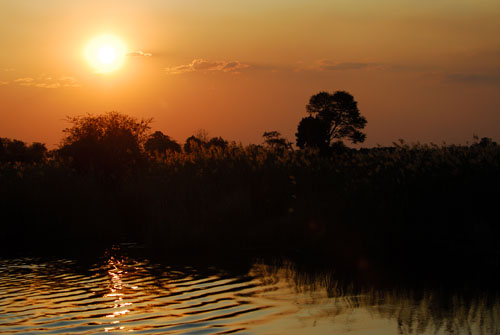 Sunset
---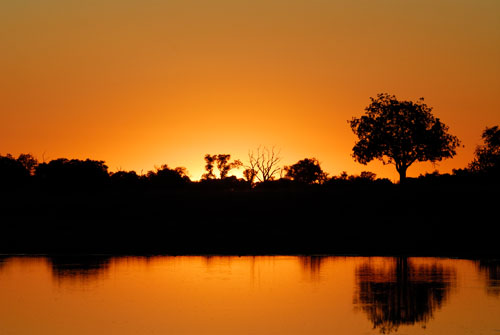 Sunset
---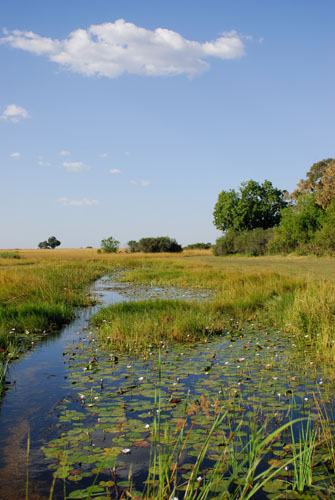 The view from our camp at Lebala
This was the view stretching out in front of our camp at Lebala. Our room was located underneath the green 'sausage fruit' tree on the right hand side of the photo – each night hippos would wallow in the water and eat the vegetation in front of our tent. On our first evening I was woken every 20 minutes to the sound of a hippo munching away and calling out with their distinctive deep belly-laughs. Thankfully by the second night I seemed to be able to sleep right through!
---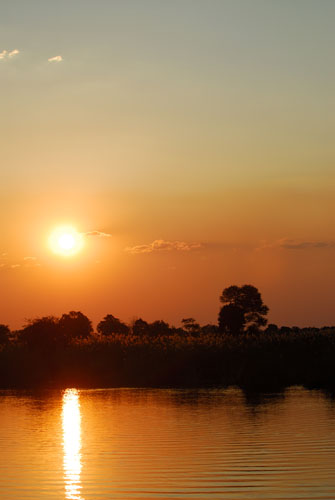 Sunset
---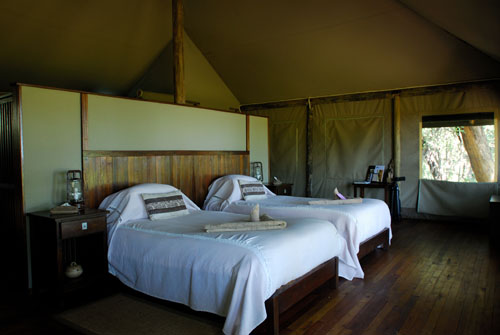 Our room at Little Kwara
At each of our four camp we stayed in 'tented' accommodation, but as you can see from this photo these tents came with huge beds, hardwood floors, roll-top baths and double sinks. Hardly roughing it!
---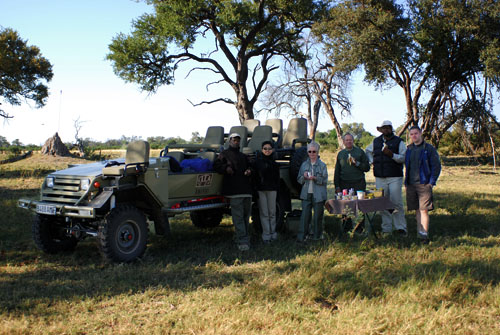 Our group at Lebala
Spencer (our tracker), Tammay, Val and Laurie Bigg, Spencer (our ranger) & Me, next to our Uri jeep. During each safari drive we would stop, stretch our legs and enjoy a drink!
---
Lots more photos: