South Africa
May 11 We flew from Windhoek in Namibia to Johannesburg.
---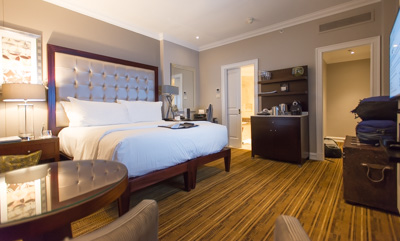 The Intercontinental Hotel, Johannesburg
After landing in Johannesburg we checked into the Intercontinental Hotel at the airport, ordered room service and watched 'Jobs', the Steve Jobs film.
Airport hotels seem to be highly underrated. We had a surprisingly nice room and a good night's sleep. Breakfast wasn't the best but perfectly adequate!
---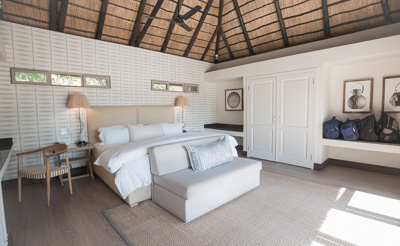 Our room at Londolozi
May 12 In spite of the best efforts of the Johannesburg airport staff we managed to check in for our flight to Skukuzo, a very pleasant little airport, although nearly an hours' drive from Londolozi, our final destination.
As we arrived at Londolozi we discovered they had their own airstrip... If only we had known!
The rooms were really nice. Not as large and modern as those at Hoanib but far more 'polished'.
---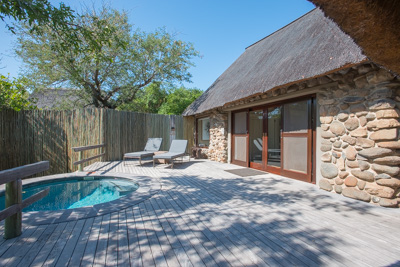 Our villa at Londolozi
We spent the early afternoon on the balcony in front of our room drinking Champagne. The plunge pool was nice and cold - refreshing in the heat.
We later heard a story of a guest questioning why the water in their pool was a little murky. The staff had thought little of it but after checking it out they found a dead antelope at the bottom of it and a leopard in the tree directly above - trying to decide how it would retrieve the kill it had dropped!
Following afternoon tea we met Greg, our guide, and Equalizer, our tracker, and headed out for a game drive. We spent the majority of our time with a pride of lions containing three younger cubs who were fighting over a ball of elephant dung. The light soon faded and we headed off for a 'sundowner' in the dark.
---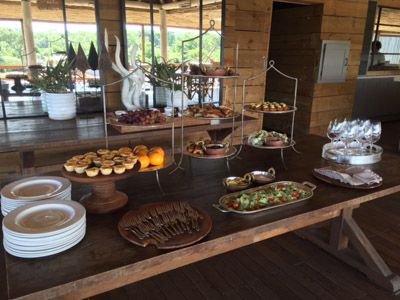 Lunch at Londolozi
May 13 The food at the camp was top notch as was the service... But I guess that's what happens when you have 250 members of staff for a maximum of 64 guests.
During our morning drive we found a pair of hyenas drinking from a water hole near camp and a female hyena nursing 2 young cubs.
We spotted a leopard climbing down from a tree but had difficulty tracking it through the bush. There were also a large number of elephant herds in the reserve while we were there, including many males in must.
Between game drives we spent a little over an hour with a member of the camp's marketing team who demonstrated various Adobe Lightroom techniques. It was a really useful session that provided me with a number of tips for editing photographs. Soon after the trip I took the plunge and bought Adobe Lightroom.
During our afternoon drive we were lucky enough to find another Leopard. We were able to spend quite some time with it and I was able to get some great photos as we followed it through the bush and drinking at a water hole.
---
May 14 A very misty morning.
There was only a single female ostrich in the reserve and we came across her on our last full day. Greg drove surprisingly close to her but she seemed completely relaxed with the vehicle which would not have been the case with the ostriches we'd seen in Namibia. She walked right up to the vehicle and started to peck the trims resulting in Greg squirted water at her from his drinking bottle. After shaking it off she seemed totally un-phased. The situation became a little clearer once Greg told us that he suspected she'd been raised on a farm and had grown up with frequent human contact.
That morning we were also lucky enough to encounter a Rhino with a calf, a very large herd of water buffalo and a large group of zebra.
---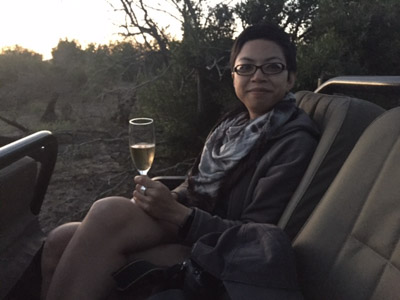 Sun downers
During our afternoon drive we tracked down two adult male lions. We parked up near them in the hope that they would start roaring as the sun set. They proved very lazy and refused to perform. We moved away to a 'safe' distance and cracked open our sundowners and some nibbles. We then returned to the lions and sipped our drinks as the light faded. One of the pair finally stirred and started calling while we were very close by. We parked up next to him once again but by this point he'd flaked out once more.
---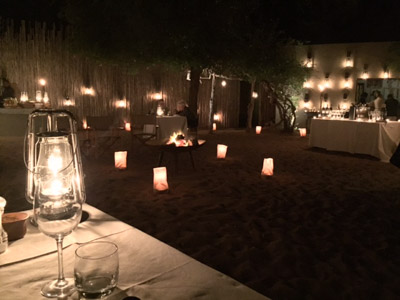 Dinner at Londolozi
While driving back to the camp we once again heard them roaring.
---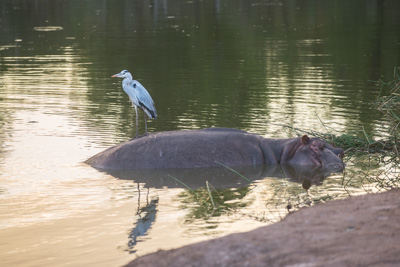 May 15 On our very last morning we asked Greg to try and find us another leopard.
Shortly after leaving camp we stopped next to the lake where a heron was standing on the back of a hippo. The crazy old American lady sat in front of us failed to notice the hippo until it raised its head to look at us. At least she was now looking through the correct end of the binoculars!
We spent all morning tracking a male leopard but the trackers only managed to get a quick glimpse of him while they were on foot. The trackers and Greg persevered all morning but to no avail.
---
Our last sighting of the trip
As it became time to head back to camp for breakfast we received word that one of the female leopards we'd previously encountered had been spotted. We went to the location and heard a few antelope alerting.
Greg put in a great effort to get us through the thick vegetation and down to the river bed for a final view of her resting. We took one final photo of Tammay with the leopard sleeping in the background.
---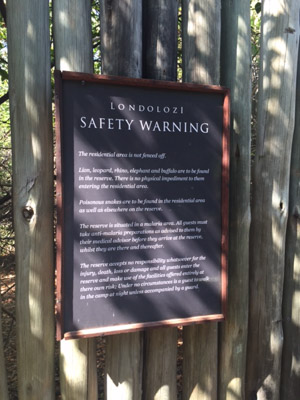 Safety Warning
One of the safety warnings on the path at Londolozi. Lions, leopards, rhino, elephants, buffalo, poisonous snakes... oh, and malaria. Proceed at your own risk!
After a final breakfast we were driven back to Skukuzo in a very comfortable, air conditioned, 4x4. However the vehicle was no where near as well equipped to deal with the rutted roads and we were bounced around the back seat the whole way to the airport.
---
May 16 After a smooth flight back to Johannesburg and then on to Heathrow we arrived home at around 7am. Thankfully we had the day off work.