...Cambodia...
Saturday the 3rd of December, a relaxed day with a flight from Heathrow at 21:00. Tammay had access to the business lounge which was a nice bonus.
On the flight into Bangkok we watched the film Contagion, and we couldn't help feeling a little uneasy when we spotted someone wearing a CDC (Center for Disease Control) jumper on the bus to the terminal. The business lounge in Bangkok was a little spartan. From Bangkok we had a second short flight to Siem Reap.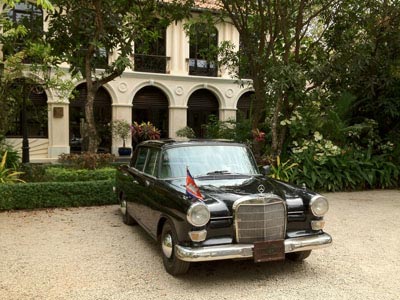 Airport transfer
Upon arrival in Siem Reep we were transferred to our hotel in this antique Mercedes. A nice touch.
---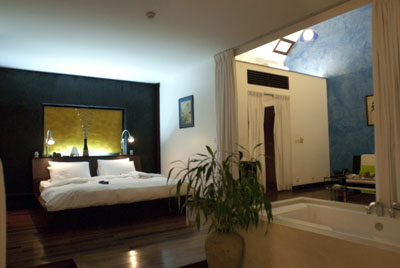 Heritage Suites Hotel
We were staying at the Heritage Suites Hotel which was really nice. It was however located a short distance from the town's main street and most of the other hotels (most of which had been built in the last few years). On the day we arrived the locals had held a funeral and a wedding so we were treated to some relatively loud music into the early hours (presumably for the wedding!). The room was good, although we didn't spend much time there. It did have its own sauna though!
---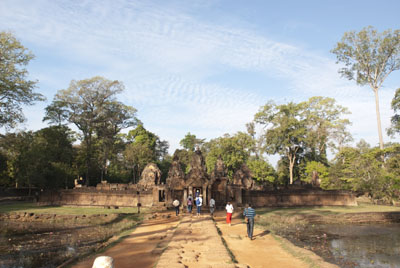 Banteay Srei
Monday 5th December We had hired a private guide and driver to take us around the temples and this worked really well. The first temple we visited was Banteay Srei.
---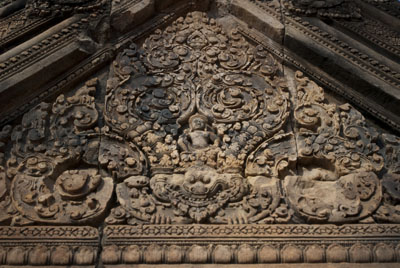 Banteay Srei
The intricate carvings above the main entrance.
---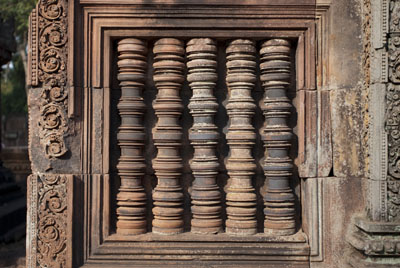 Banteay Srei
Columns like these are seen a lot around the temples of Siem Reep, although always in odd numbers, typically 5 or 7.
---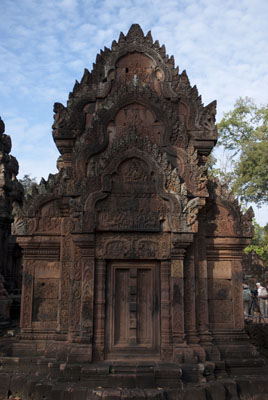 Banteay Srei
---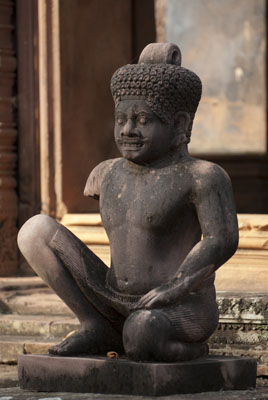 Banteay Srei
---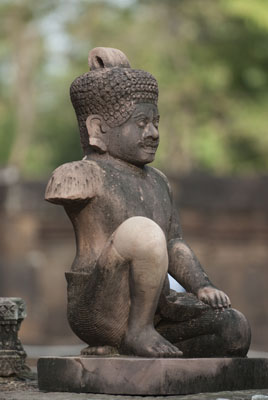 Banteay Srei
---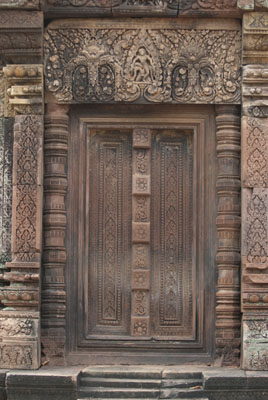 Banteay Srei
---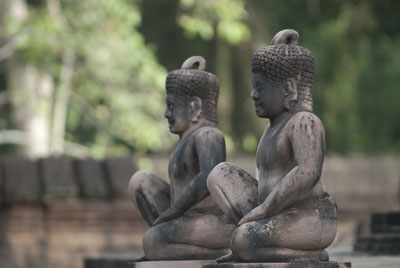 Banteay Srei
---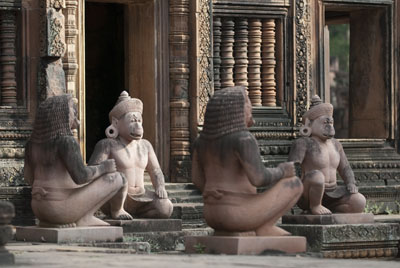 Banteay Srei
---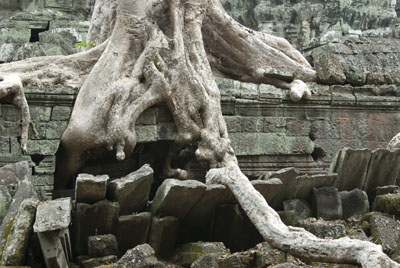 Ta Phrom
Following Banteay Srei, the next temple we visited was Ta Phrom, also known as the 'Tomb Raider' temple, after it was used as a location for the Angelina Joli movie.
Much of the temple is covered with these trees and their sprawling roots.
---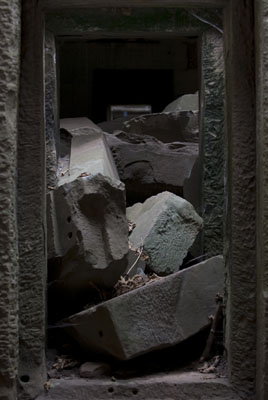 Ta Phrom
---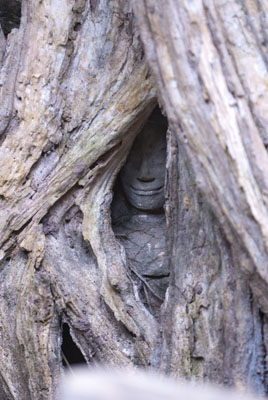 Ta Phrom
We noticed this little face poking out between the roots.
---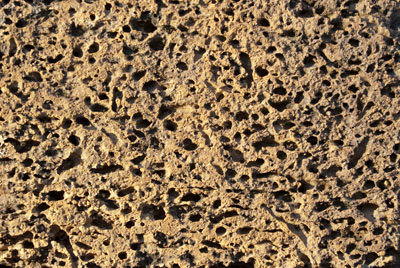 Pre Rup
During the afternoon we spend an hour or two wandering around Pre Rup, finally making our way to the top to watch the sunset.
---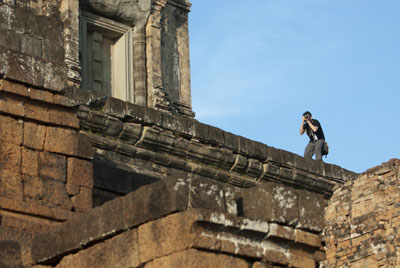 Pre Rup
---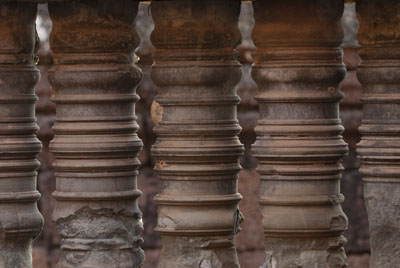 Pre Rup
---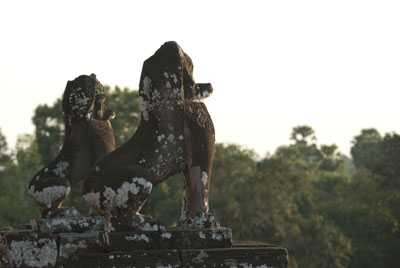 Pre Rup
Cloud on the horizon made it a little difficult to know when the sun actually set but it was a great place to be (along with about a hundred other people!).
---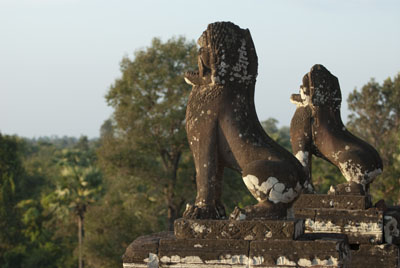 Pre Rup
After returning to the hotel to freshen up we hired one of the tuk-tuk drivers who were waiting outside our hotel. He drove us into town for dinner at the Sugar Palm which was excellent. During our stay in Cambodia it quickly became clear that driving on the right was more of a guideline than a rule.
---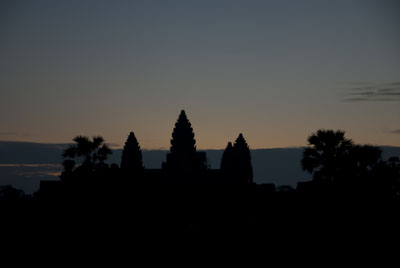 Angkor Wat
Tuesday 6th December An early start to catch sunrise at Angkor Wat.
---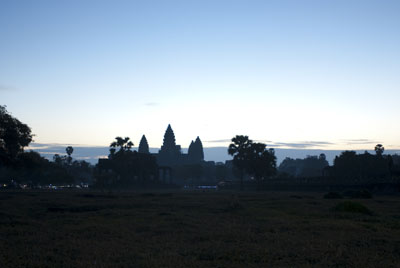 Angkor Wat
We arrived early, before any light started to creep over the horizon.
---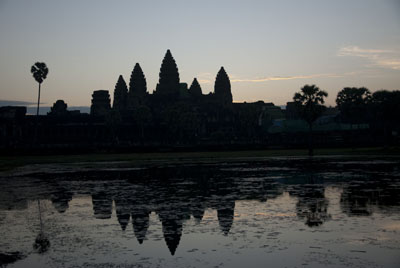 Angkor Wat
The pond in front of the Angkor Wat temple has seen better days and probably looked its best in a silhouette shot like this!
---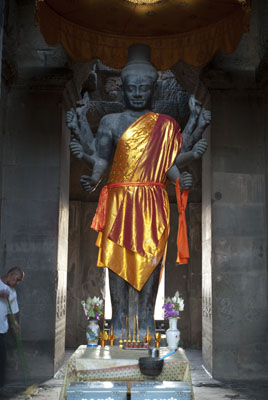 Angkor Wat
A statue of Vishnu.
---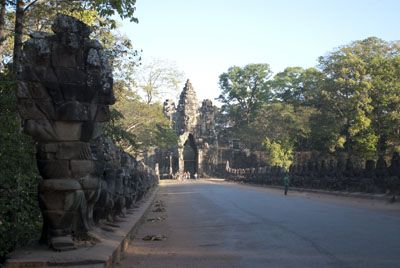 Angkor Thom
The South gate of Angkor Thom and the bridge across the moat.
---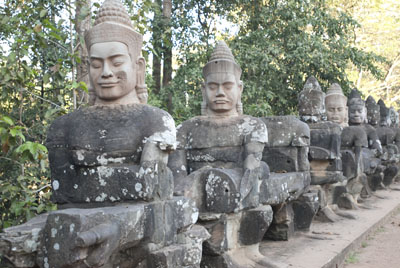 Angkor Thom
A row of devas on the left…
---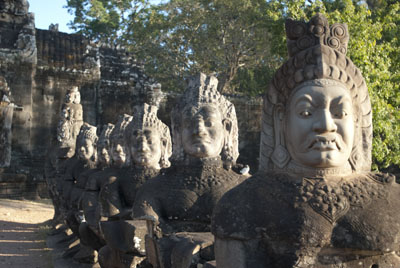 Angkor Thom
...and asuras on the right.
---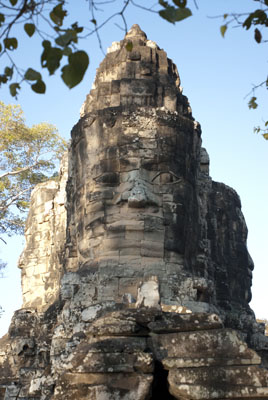 Angkor Thom
The main entrance gate seen from inside of the city.
---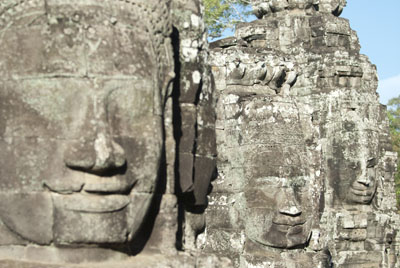 Bayon
Our next temple, and probably my favourite, was Bayon.
---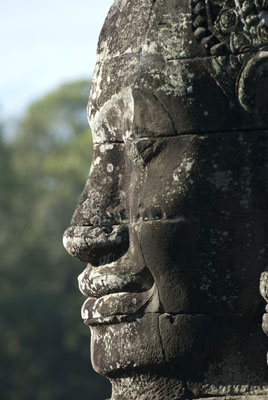 Bayon
A temple covered in these giant smiling faces.
---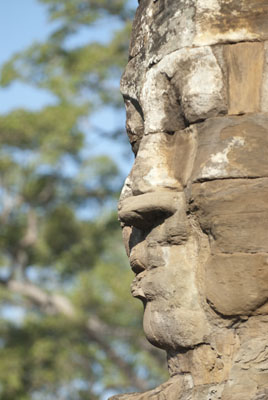 Bayon
---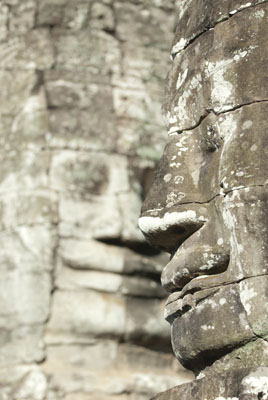 Bayon
---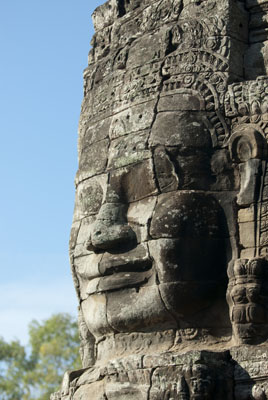 Bayon
---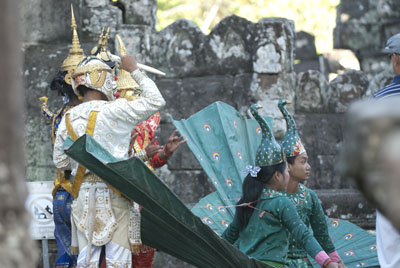 Bayon
---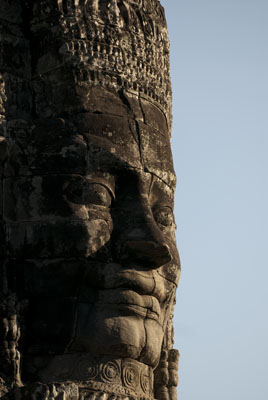 Bayon
---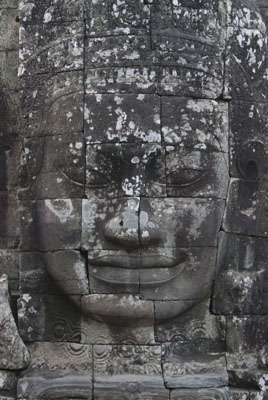 Bayon
---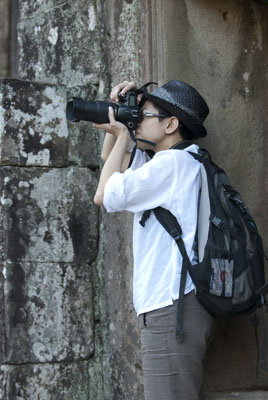 Bayon
---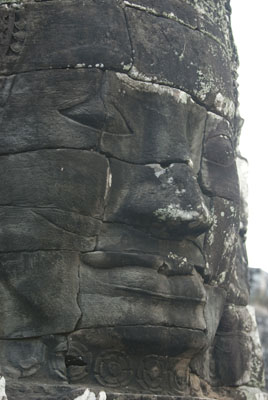 Bayon
---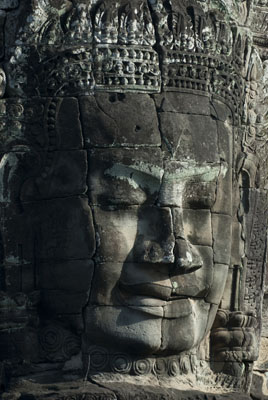 Bayon
---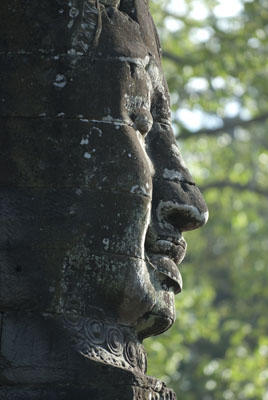 Bayon
---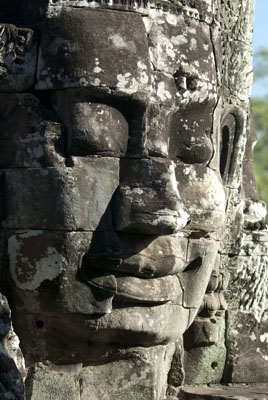 Bayon
---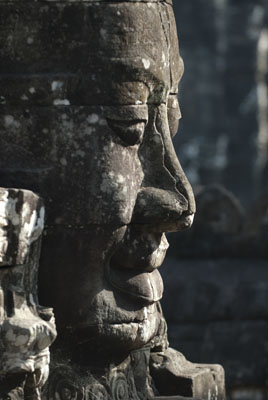 Bayon
---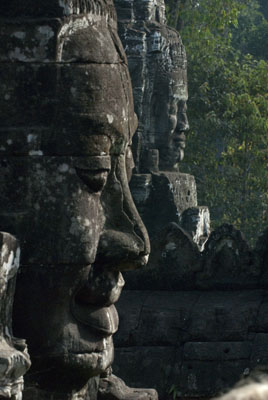 Bayon
---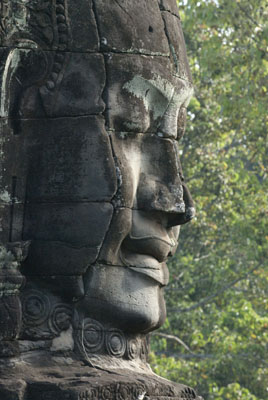 Bayon
---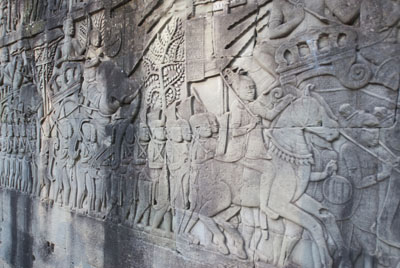 Bayon
Although we were told that these carvings on the sides of the temple were original, I can't help but feel they would have eroded away centuries ago. They all look far too modern to me!
---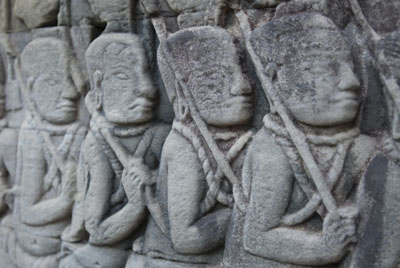 Bayon
---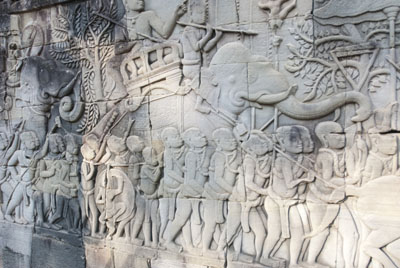 Bayon
---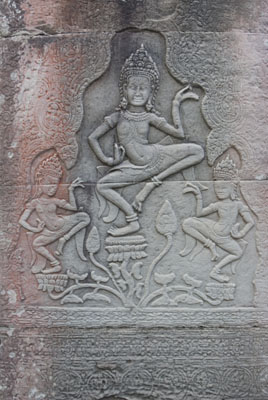 Bayon
---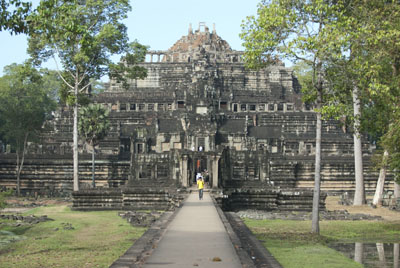 Baphuon
Located just a short distance from Bayon is Baphuon, a jigsaw puzzle. Restoration of the temple began in the 1960s but was interrupted by the coming to power of the Khmer Rouge and the extensive records of the stones positions was lost.
---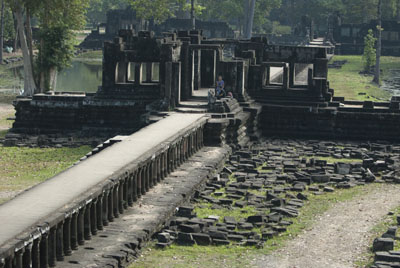 Baphuon
After Baphuon, we also toured the Elephant Terrace and the Terrace of the Leper King.
---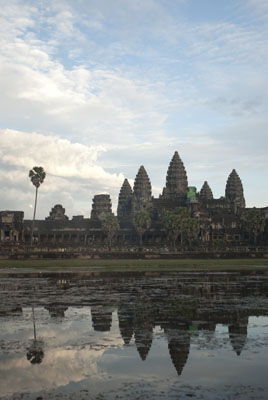 Angkor Wat
That afternoon, we visited Angkor Wat for sunset - it was really warm!
---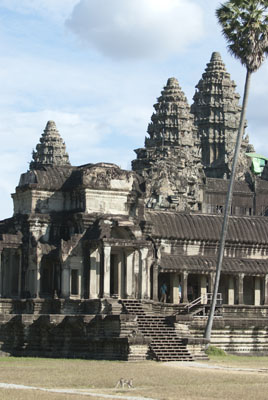 Angkor Wat
---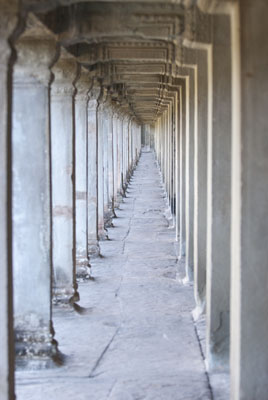 Angkor Wat
---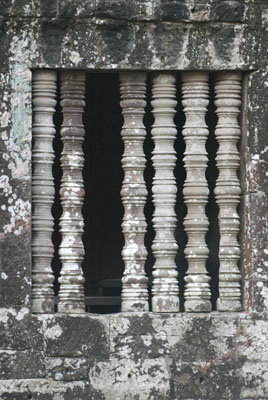 Angkor Wat
---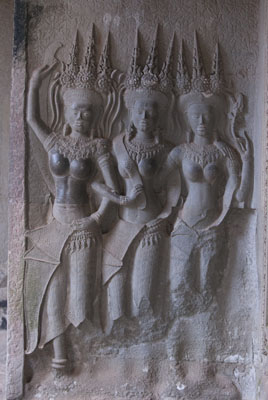 Angkor Wat
---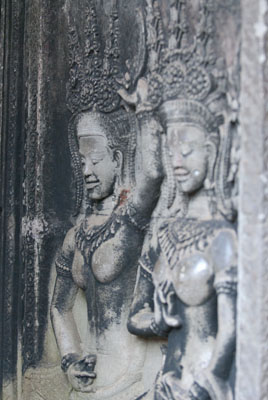 Angkor Wat
---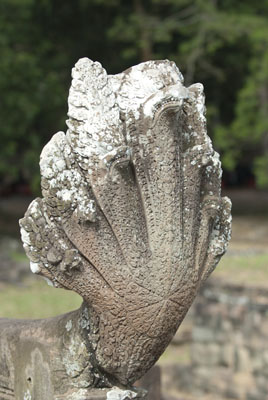 Angkor Wat
Tammay was keen to try a different restaurant for dinner and opted for Khmer Kitchen. I was a little apprehensive when i found out its address was "The Alley". We used the same tuk-tuk driver and arranged to be dropped off at a night market (where we bought a statue and a couple of 'Angry Bird' toys). We had some trouble arranging where the driver should pick us up, I wasn't sure if we'd see him again. The food at Khmer Kitchen was really cheap and tasted good. Even better, when we left the restaurant the driver was waiting outside.
---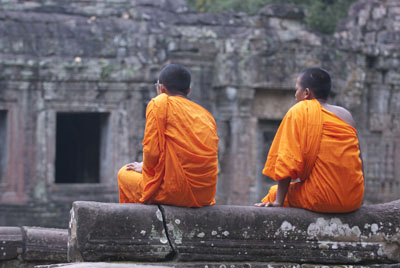 Preah Khan
Wednesday 7th December We spent the day in the Grand Circle. Our first stop was Preah Khan where we bought a sketch of a Bayon face from an artist.
---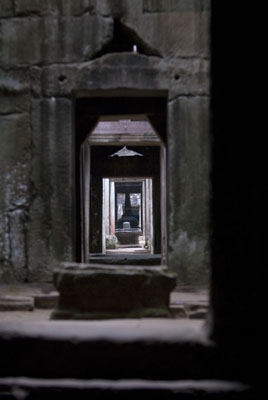 Preah Khan
---
We also visited Neak Pean, with its large pools of water.
---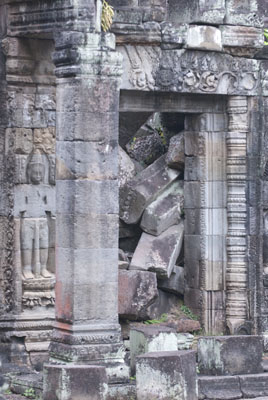 ---
---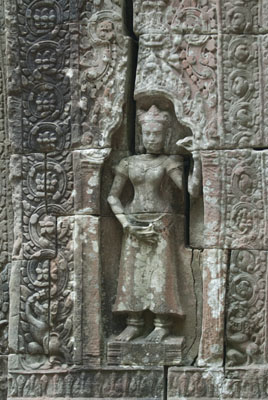 Ta Som
---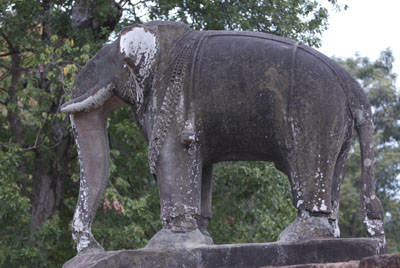 East Mebon
Our last stop of the morning was at East Mebon and the elephant statues which stand at each corner of the temple.
---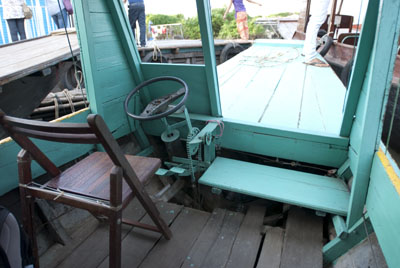 Tonle Sap Floating Village
Wednesday pm We took a break from the temples and instead visited a floating village on Tonle Sap Lake. The drive to the lake was a bit of an experience in itself. Piles of soil had been tipped along the road (presumably with a view to recovering it) and were causing some pretty slow moving traffic. We saw a heavily laden pick-up truck coming in the opposite direction, front wheels lifting way off the ground as it bounced over the bumps.
---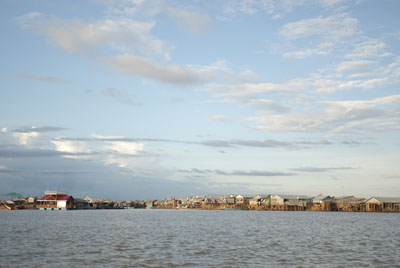 Tonle Sap Floating Village
We had our own boat from the port (which had recently been built by the Koreans, as our driver kept telling us!). We motored out into the lake and soon came upon the communities living on the water. We saw a small group of young children floating around in washing up bowls, alternating between paddling and bailing out. They were holding snakes and demanding a dollar for a photo - totally freaking Tammay out in the process! "One dollar, one dollar!"
---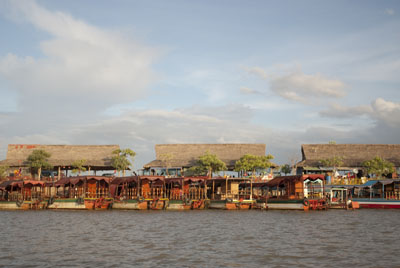 Tonle Sap Floating Village
That evening we decided to return to the Sugar Palm for dinner and another great strawberry smoothy.
---
Thursday 8th December A 10am flight to Thailand.