...India…
Saturday 17th November, a 21:25 flight from Heathrow T5. Arrival in Mumbai went smoothly and I got through immigration relatively quickly (although it wasn't until I was near the front of the queue that I could see the sign stating "Diplomats only", but the immigration officer didn't seem too concerned). I hadn't bothered getting any local currency so stopped in at Travelex after customs and was a little surprised to get a good rate on Rupees.
---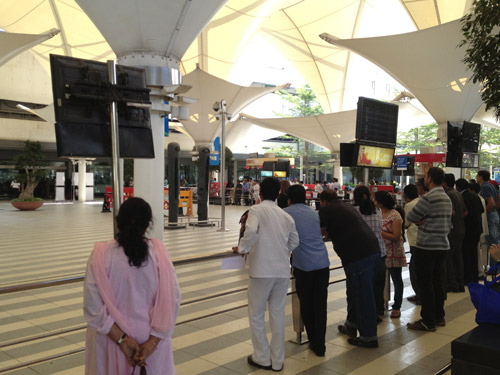 Arrivals
I followed the signs for "pre-paid taxis" and as I passed through the glass doors into the heat I saw a throng of people holding up name boards. I'd got about 3/4 the way along the line and just as I started to get a bad feeling, I spotted my name.
I shared the taxi with a fellow BNYM employee who had made the journey to Pune many times before. Due to the death of the Indian political leader Bal Thackeray, a day earlier, Mumbai had largely been shut down for the funeral. The roads were relatively clear and the transfer only took around 2.5 hours.
---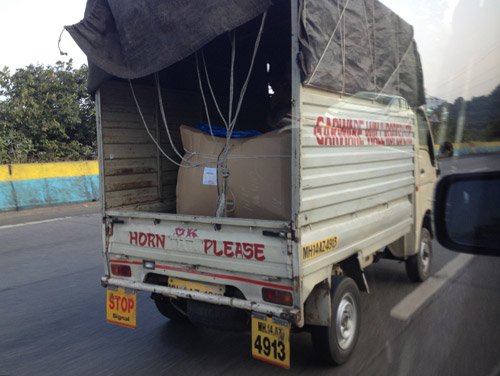 The journey to Pune
The driving in India seemed to be much like that in Cambodia. Whenever a gap appeared in the traffic, regardless of its size, a vehicle would dive into it. The notice on the back of this van accurately sums up the Indian driving style: roads choked with vehicles, all blowing their horns for no good reason.
---
The Westin Hotel
I stayed at the Westin Hotel Koregoan Park (Pune) which was perfectly nice. After making myself comfortable I paid a quick visit to the gym (10 mins on the bike and 15 mins on the treadmill) and at 20:00 had dinner for one in their Italian restaurant. In all I manage 3 trips to the gym during my stay... not too bad!
---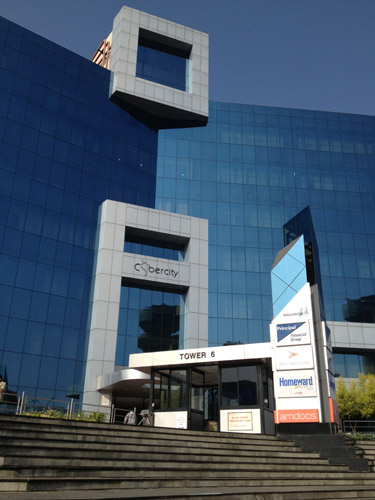 Tower 6, Cybercity
I was in Pune to visit our new web admin team. They were located in tower 6 of Cybercity – part of the Magarpatta City complex.
---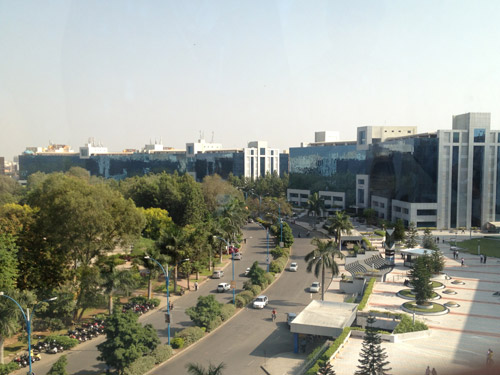 Cybercity, Magarpatta
Cybercity was made up of 12 towers located in a circle around a central park.
---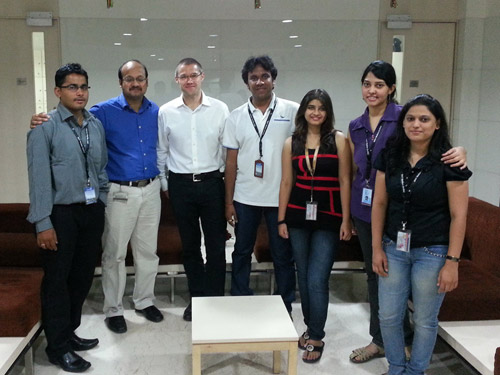 The Team!
It was great to get the opportunity to meet the new web team - Chandra, Swapnil and Mayuri - and also the performance team who had been working with us for a while.
---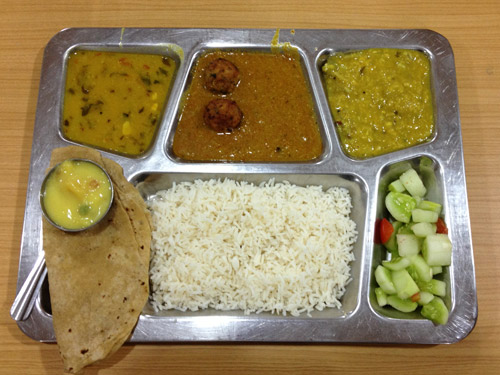 Lunch, Indian style
On my first morning in the office I was told that I'd get 50 Rupees to spend on lunch each day (about 60p). I was a little concerned about what exactly I'd be able to get for this price but the food actually turned out to be very good!
---
Monday evening I ventured out from the hotel and made the short walk down the road to the Koregaon Park Plaza shopping mall and bought a polo shirt.
Tuesday evening Chandra arranged for a car to take myself, Mayuri and Swapnil out after work. We went to a local craft shop and then on to the large Phoenix Mall where we wondered around, chatted and had dinner.
On Wednesday evening, the other Newton guys were around and we went for dinner at the Raddison, accompanied by some of the BNY Mellon management team.
---

Team dinner
Thursday lunchtime we ate at an Indian restaurant located in the park at the centre of the Magarpatta City complex. On Thursday evening the Pune team joined us at the Westin for dinner in the Italian restaurant, Prego.
After leaving the office for a final time on Friday, Chandra took Mayuri, Swapnil and myself to a great local Indian restaurant. I was really taken back by the level of Chandra's hospitality. It was a great opportunity to catch up. It was a really great end to the trip.
Saturday 24 November A 05:45 wake-up for a 06:30 taxi to Mumbai. A bit of a worrying start when I'm informed there's no seat-belts. The first half of the journey progressed really well but then all traffic came to a grinding halt due to an accident between a number of lorries on a downhill stretch.
Despite a slightly longer journey I still arrived at the airport with around 4 hours to spare. A bit of extra time in the business lounge wouldn't normally be a concern, but talk from my colleagues about early arrivals being directed to what they describe as a 'waiting shed' wasn't particularly appealing. I trekked along the front of the airport (of course there wasn't a proper walkway), passing each of the gates in turn, hoping to find a BA sign. When I reached gate D I was asked for my ticket by the 'nice man with the machine gun'... Hmmm, the website had told me to pick them up at the airport... I pulled out my iPhone and presented my boarding card on the BA app but this resulted in me being promptly turned around and pointed in the direction of gate C where I was told I'd be able to get a ticket. The guard at gate C sent me back to D and I thought 'here we go'! I found a tiny little man with a BA clipboard and uncharacteristically expressed my displeasure. He took me back to gate D and told me to hand over my passport. As it disappeared through the sliding doors there were a few minutes where I had to wonder if I was even going to see it again. Thankfully, about 5 minutes later, the lady returned with a ticket and things started to look up again.
I had a couple of hours in the BA lounge prior to my 14:00 flight. I landing back in London at around 18:00 that evening.