Indonesia
Sunday 18, following a flight from Phuket to Kuala Lumpur we connected with our flight to Denpasar, the capital of Bali.
Unfortunately there was no VIP service waiting for us here... long queues at immigration and security and a long wait in the very humid multi-storey car park while our driver got the car. There was heavy traffic on the drive to Ubud but we at least had the benefit of air conditioning.
---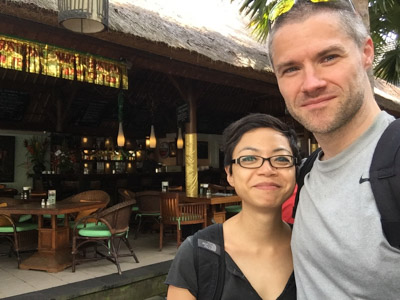 Cinta Inn
We checked in at the Cinta Inn in Ubud. It was no Six Senses, but it was well located in the centre of town. We fell asleep watching 'Jack Reacher' followed by 'The Voices' (a rather strange comedy horror).
---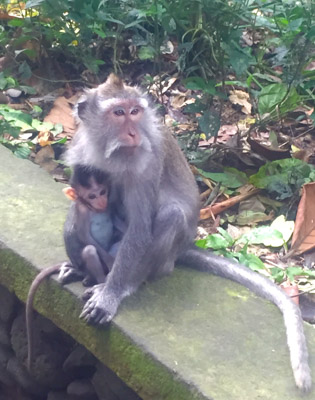 Monkey Forest
Monday 19, while we had breakfast at the Cinta Inn Jamie Theakston walked in with his wife and 2 children.
We spent the morning walking around the Monkey Forest.
People were buying bananas that were used to entice the monkeys to climb onto your shoulder but as Tammay found out, many of the monkeys needed no such invitation.
---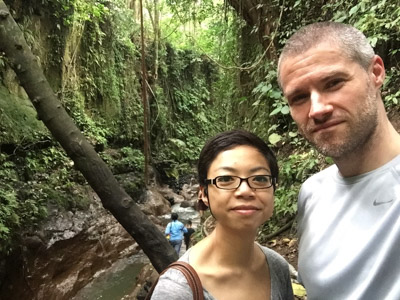 Monkey Forest
---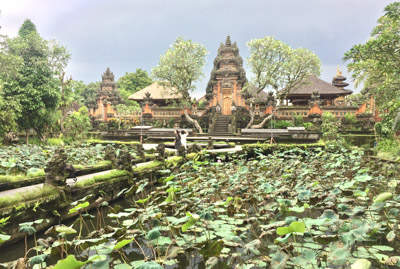 Ubud Water Palace
Once we had finished at the Monkey Forest we walked into town, looking in the various shops as we went. We stopped in for a Starbucks, it may be a pervasive brand that has spread around the world, but an Espresso Frappaccino tastes so good in a humid climate!
We walked around the small market but found many of the stalls selling the same generic mass-produced items. We stopped at Starbucks for another Espresso Frappaccino.
---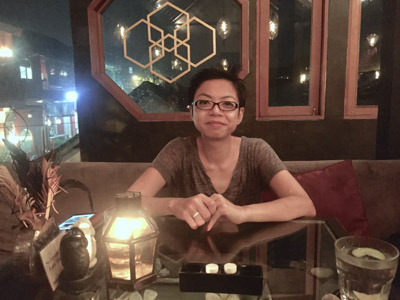 Kismet Cafe
That evening we ate at Kismet Cafe, a veggie restaurant recommended by Will. On our way to the restaurant we were caught in a thunderstorm and got completely soaked! It was a good job I was wearing Nike Dry Fit and flip-flops. I even had to wring out my t-shirt in the restroom. Little red lights above each table are used to call for service. The food was great and they also had some delicious smoothies and milkshakes.
---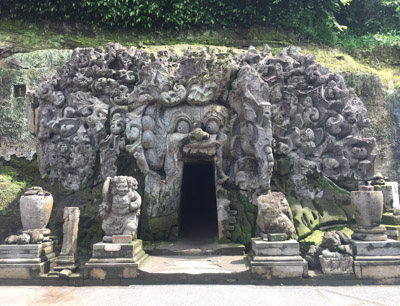 Goa Gajah
Tuesday 20, we paid about £20 for a taxi and driver to take us to 4 of the points of interest in the area north of Ubud.
The Goa Gajah Elephant Cave is located just 2km north of Ubud. Built in the 9th century, the façade of the cave is a relief of various menacing creatures and demons carved right into the rock at the cave entrance.
---
Pura Gunung Kawi
Pura Gunung Kawi is an 11th-century temple and funerary complex that is spread across either side of the Pakerisan river about 10km north-east of Ubud. It comprises 10 rock-cut candi (shrines) that are carved into 7 metre high sheltered niches in the rock face.
---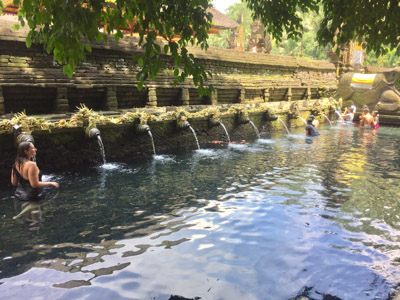 Pura Tirta Empul
Pura Tirta Empul is a Hindu Balinese water temple located about 10km north-east of Ubud.
---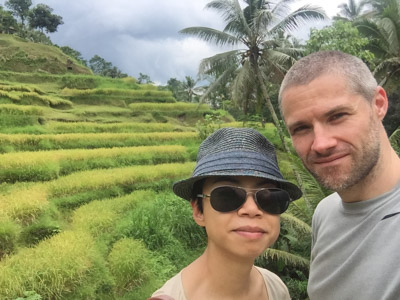 Tegalalang Rice Terrace
We walked through the restaurants that lined the road and down the steep steps to the bottom of the bank and the start of the rice terraces. Unsurprisingly we were greeted by a few people charging a small fee for access to the terrace.
---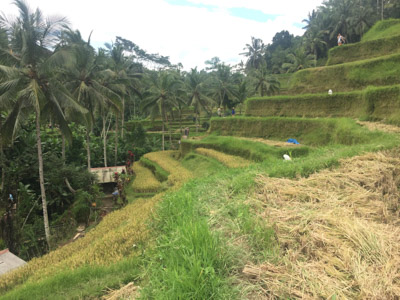 Tegalalang Rice Terrace
---

Tegalalang Rice Terrace
After returning to the hotel we took a walk back to the shop selling wooden chopping boards, picking up yet another Starbucks along the way.
---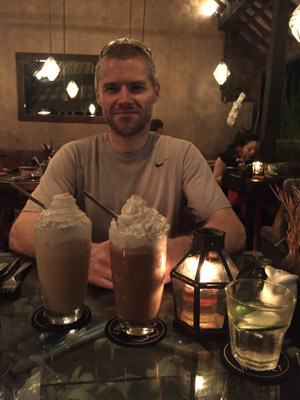 Kismet Cafe
That evening we returned to Kismet Cafe for dinner.
---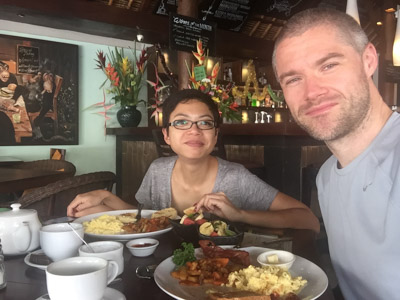 Cinta Inn
Wednesday 21, after breakfast Tammay negotiated with a local taxi driver to take us to Will's villa in Jimbaran, on the south side of Bali. With the help of our phone's GPS we amazingly managed to get there with only 1 wrong turn. Even though Tammay hadn't entered Will's full address!
---

Will's villa
Will's villa was great, located in an area known as the "Beverley Hill's" of Bali. You could see why, the view from his living room was amazing. We were staying in one of Will's two spare rooms. The other was being rented by a young Australian couple who had booked through AirBnB... "Far out!".
---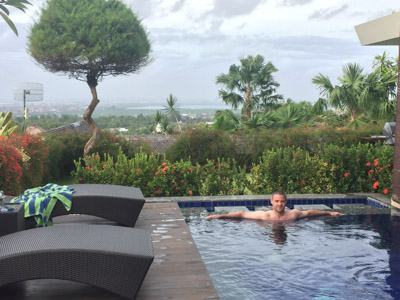 Will's villa
We relaxed and caught up with Will. After a swim in his pool we got dressed for dinner.
---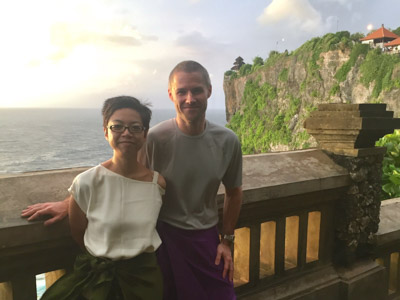 Uluwaru Temple
Will took us to the Uluwaru Temple for a great view of sunset. We met Oyong at a lovely Thai restaurant called Bangso for dinner.
---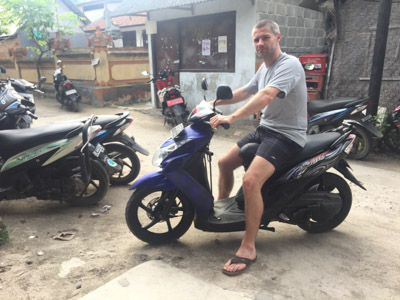 Scooting around Lembongan
Thursday 22, a 7am start and one of Will's friends drove Tammay and me plus the Australian couple to a local McDonalds where we were collected by a mini-bus. After a little breakfast we were taken to Sanur Beach where a ferry took us to the nearby island of Lembongan.
We were travelling to Lembongan to snorkel with giant manta rays. Although the 30 minute crossing was quite calm we were told that the sea was unfortunately too rough for a snorkelling trip. We instead hired a scooter.
---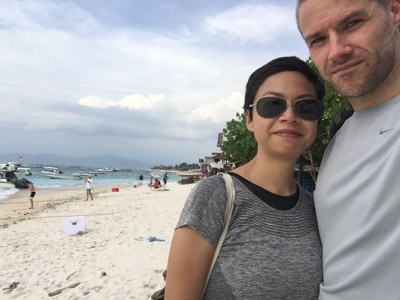 Mushroom Beach - Lembongan
We took the scooter to Mushroom Beach. We found a quiet spot at the end of the beach and spent a couple of hours reading.
---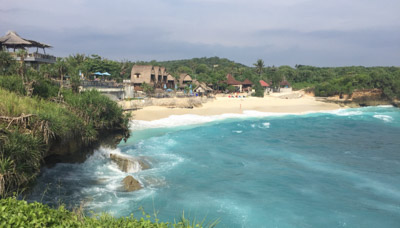 Dream Beach - Lembongan
Following a lovely lunch at Hai Bar & Grill we drove to Dream Beach (via a detour in the total opposite direction into the centre of the island!). After a quick drink in the cafe overlooking the beach we headed back to the "port" to return our scooter.
Unfortunately the journey back wasn't quite so calm. The steward started the journey by saying "it's very rough out there, everyone should sit at the back". She wasn't kidding and we now understood why the manta ray trips were all cancelled!
After we got back to Will's we changed and went out for dinner at GaRaSi, an international restaurant which served a great selection of food.
---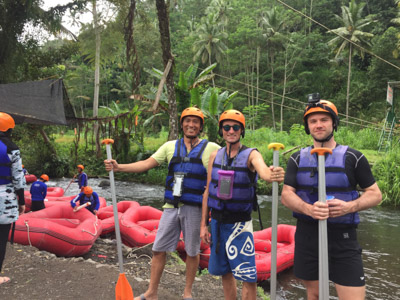 Water rafting
Friday 23, another early start but this time an 8am pick up for white water rafting! We drove about 2 hours into the mountains to start our 10km rafting experience.
---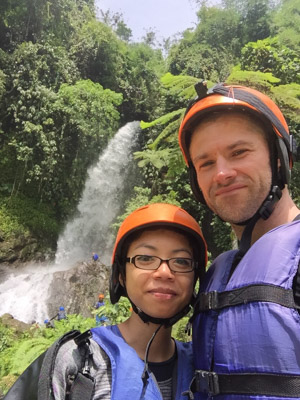 Water rafting
---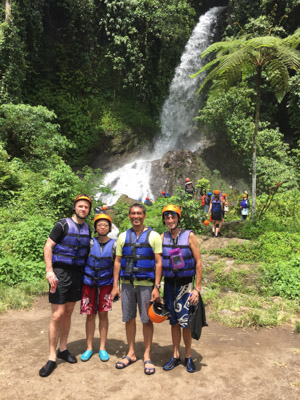 Water rafting
Oyong hadn't been before and you could tell, he screamed quite a bit, but did manage to stay in the boat the whole time. 😜
---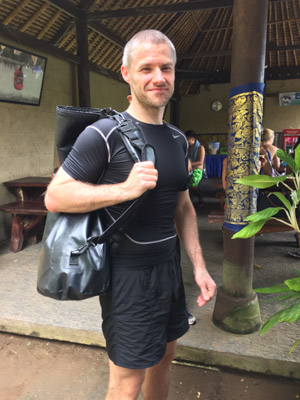 Water rafting
Following the rafting we were given a buffet lunch overlooking the valley. On the way home we suddenly realised that I had left Jordan's GoPro head-mount on my helmet. Not good! Oyong phoned the company to see if they could find it... Wishful thinking!
---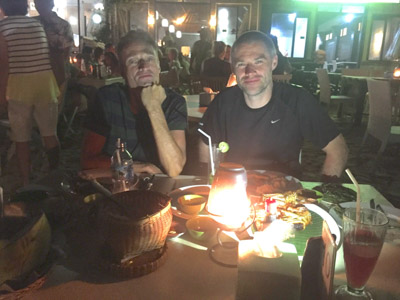 Jimbaran Bay
After the long journey back we all decided to have a swim and a rest. Feeling rejuvenated we drove down to Jimbaran Bay for a seafood dinner right on the beach. As we arrived in the carpark we could see clouds of smoke coming from the back of the kitchens lining the beach. We picked our seafood from the tanks and crates and it was cooked on the grills and brought out to our table on the beach (where there was thankfully no smoke!). Dinner was followed by gelato at the Meridian Hotel.
---
Saturday 24, following our two previous early starts we were able to have a lie-in. After breakfast we visited a famous local ceramic shop that was having a factory sale. We ended up buying way too much and were left a little unsure how we'd get it all home!
After a long and (not so) expensive shopping trip, we had lunch at Grocer & Grind, a nearby cafe. It was delicious and light - a great option after all the eating we'd been doing. After lunch we grabbed another Starbucks and headed to a couple of local supermarkets to pick up food for Christmas lunch (exactly as Will had told us, you could never get all you needed from just one supermarket!).
---
Cocktails at Cacu
It was back to the villa for another swim before getting ready for our big Christmas Eve dinner and cocktails at Cacu.
---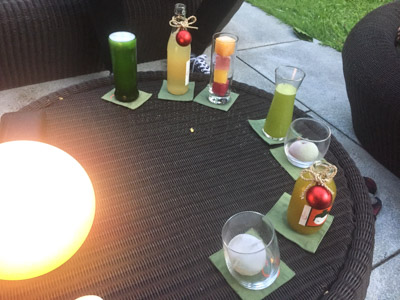 Cocktails at Cacu
We sat outside with our cocktails and enjoyed the lovely evening.
---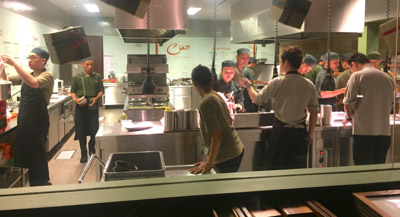 Cacu
We went into the restaurant for dinner which was amazing - excellent quality and really interesting food. We were all so full at the end of it!
---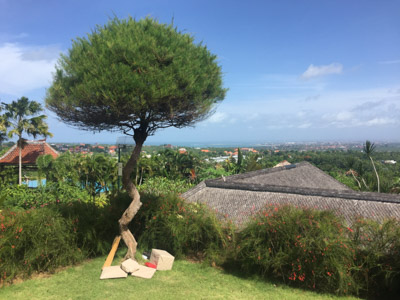 Christmas day
Sunday 25, a very laid-back Christmas Day. Will placed the presents under the tree in the garden... Oyong on the other hand put the cats into the tree!
---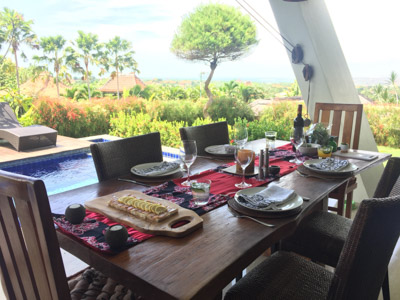 Christmas dinner
A large portion of yellow watermelon for breakfast followed by a session in the pool.
---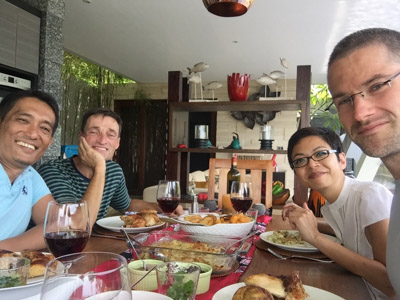 Christmas dinner
We had Christmas dinner with Will and Oyong - roast chicken, roast potatoes, sweet potatoes, carrots and broccoli gratin! Among other things, we had brought Christmas pudding, custard and mince pies with us from the UK, but little did we know that Will wasn't a fan of any of it!
During the day Tammay and I caught up on the remaining episodes of Masterchef the Professionals. We cooled off with another dip in the pool.
---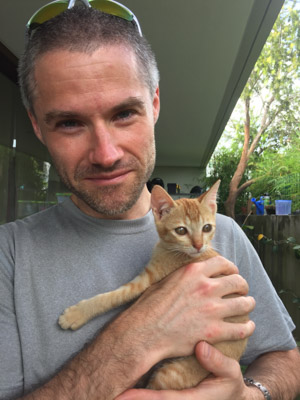 Saying goodbye
Monday 26, our last day in Indonesia. I had to say one last goodbye to Will's orphaned kittens.
After breakfast (more watermelon plus the remaining Christmas pud for me!), Will drove us into Sanur. Tammay found a nail bar for a manicure and pedicure while Will and I took a walk along the beach. There was a long, well paved path, that would have been perfect for an early morning run. After a quick iced tea at a beach-side cafe we went back to meet Tammay only to find her half way through her manicure. Will and I took another walk along the road and stopped at Zula, a vegetarian restaurant where Will had previously eaten. Tammay joined us for lunch with her freshly manicured nails.
It was then on to Denpasar airport for our flight back to Kuala Lumpur. Things at Kuala Lumpur airport weren't so smooth. A 50 minute wait for our bags to appear on the conveyor followed by another 50 minute wait for the check-in staff to start work. Once we got to the Malaysian Airways lounge things were a little easier! Our flight took off at 00:05 the following morning and we finally landed at London Heathrow at 05:30.