Maldives 2019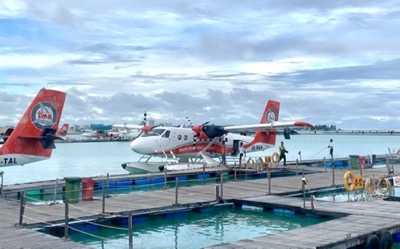 Seaplane transfer
Friday 15 November, I decided not to take the day off work and instead headed home at 5pm sharp to meet Tammay, collect our bags and be ready for our 6pm taxi. The traffic was bad, even for a Friday evening and it took nearly 2 hours to get to Heathrow.
The extortionate £12k price tag to upgrade to BA business meant we opted for Emirates economy via Dubai. It wasn't exactly comfortable but we weren't about to double the cost of the holiday!
---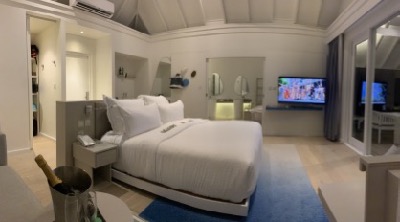 Our water villa
Saturday 16, Gavin's birthday! We had a 90 minute transfer in Dubai before an onward flight to Malé and as it happens Gavin was scheduled to take off for Mauritius at exactly the same time. Sadly it meant there wasn't enough time for us to meet up.
We landed in Malé and made the short transfer to the LUX* lounge where we waited for our seaplane flight to LUX* South Ari Atoll. It was just a 30 minute flight but the sun had started to set by the time we reached the resort.
---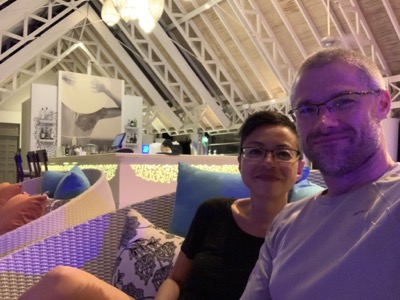 Cocktails
After unpacking we went to the Senses bar for some overpriced cocktails and dinner (thank goodness for all inclusive!).
---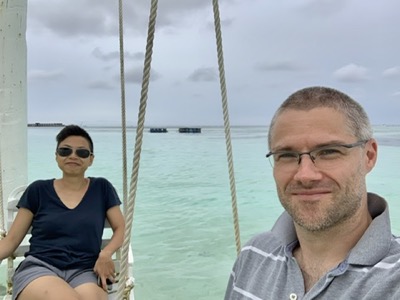 Wasting no time
Sunday 17, a tough day mainly spent moving around the resort between different places to eat and drink! We were also quite productive, managing to arrange my initial dive trips, a whale shark snorkelling trip and some massages for Tammay. I also fitted in a couple of short swims around our water villa testing out my mask and the underwater camera & housing we'd borrowed from Iggy.
One thing that this resort had gotten right is that despite running at a very high occupancy rate (in the region of 80%), it still felt nice and quiet. We never really managed to work out where everyone was!
---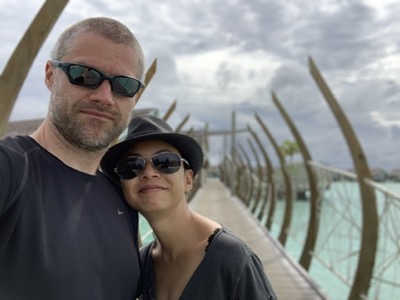 East Market
When walking along the jetty to our villa or out to East Market I often noticed small hermit crabs scurrying along the planks. Some fell between the boards and became wedged while others were at risk of being stepped on or driven over. I found myself having to carefully look for them and take them back to the safety of the beach!
---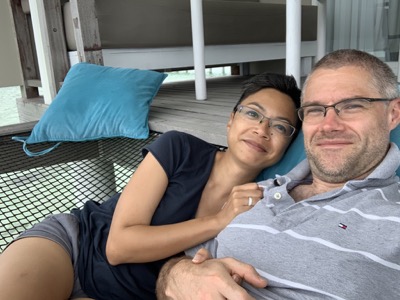 Hammock time
We made use of the hammock/net (or the "Play Dough fat factory" as Tammay kept calling it in a nod to the Friends episode) hanging out over the water from our balcony.
Before dinner we stopped at the arrivals jetty to see the black-tipped sharks swimming through the illuminated water. Followed by more cocktails (a rain storm) and dinner at Allegria. The truffles beef cheeks were good and I'd end up having them on all 4 visits to this restaurant!
---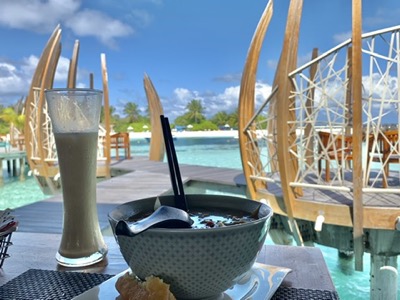 Breakfast
Monday 18 and an early ish start to have breakfast before our 08:45 snorkelling trip.
Our first stop was with a small group of manta rays who were swimming back and forth in formation feeding on the plankton and tiny fish. Tammay managed to shoot some great GoPro footage. Then, after spending some time searching for a whale shark, we were ushered into the water and got to witness it gracefully gliding along the bottom and into the depths. It was great to finally see a whale shark although it was quite deep and therefore not that clear. Our final stop was on the outside of the outer reef near our water villa. We saw lots of smaller fish and a group of divers tracing the edge of the drop-off.
---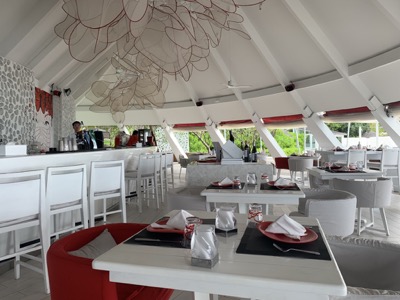 Beach Rouge
The morning's exertions basically wiped us out for the rest of the day but we did find the energy for more cocktails at Senses, followed by dinner at Beach Rouge. Lots of small dished in a tapas style. The prawn croquettes were delicious and we'd end up having those on each visit!
---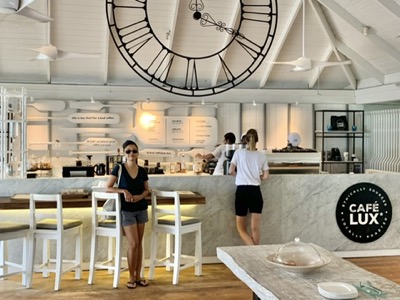 Cafe LUX
Tuesday 19, I had a short pre-breakfast dive refresh in the lagoon with Amir. After kitting up we waded out under the arrivals/departures jetty (for the shade) and sank to the bottom where we demonstrated replacing our respirator and clearing our masks.
After a light lunch Tammay went to the spa and I had my first open water dive at Sunset Faru with Amir. We were about 15 minutes out from the beach at a depth of between 10 and 12 meters. We saw a group of eagle rays, a lone eagle ray, a couple of lone sharks and lots of fish! For a first dive I think it went relatively well. I found that my body tended to want to rise above my feet (probably the result of a little air in my BCD) and Amir told me I needed to slow down a little... I though I was barely moving my legs! The dive lasted for around 40 minutes before I started to run low on air.
We soon came to love the coffees from Café LUX - soon developing our 'usual' order of a "Three men in a boat" for Tammay and a Frappé LUX for me. However, as we started to stop in for coffees more regularly, I soon realised I needed to switch from a coffee with ice cream to a standard latte! Tammay had no such realisation!
---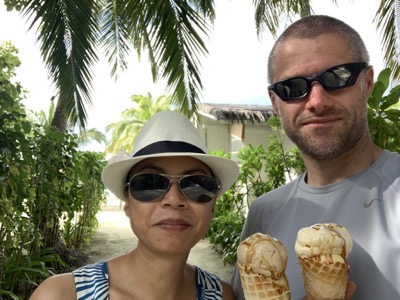 Ice cream
We also made sure to regularly indulge in "free" ice cream (with toffee sauce) from ICI! It was slightly concerning that the ice cream was available all day, not just during the x to x 'afternoon tea' when they also set out a selection of cakes.
---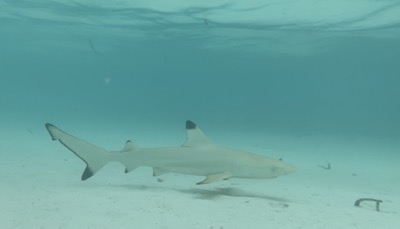 Baby shark!
Wednesday 20, after breakfast we walked along the beach to the spa where we made use of the sauna and steam room. Tammay noticed a baby shark patrolling up and down the small section of beach in front of the spa. I couldn't stop myself getting in the water and taking a video!
---
Beach run
After a light lunch I went out for my second open water dive, once again at Sunset Faru with Amir. On the ascent Amir asked me to fill my mask with water and then clear it, followed by dropping and retrieving my respirator.
The beach around the island looked pristine, likely the result of regular cleaning, but when you looked carefully is wasn't hard to spot pieces of plastic, polystyrene, bottles and rope. While at the resort we often walked along the beach rather than getting a buggy and collected rubbish along the way. During each walk we usually pick up more than enough to fill Tammay's hat, or a bag if we remembered to carry one!
That afternoon I went for a run around the island.
---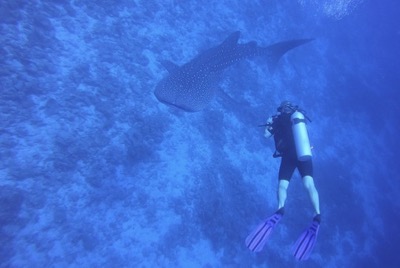 Whale shark!
Thursday 21, an early start for me as I needed to be at breakfast for 7 so I could be at the dive centre by 07:45. I was taking a morning double dive trip to complete my PADI Open Water certification. Both dives were made at Long Reef.
The first dive was clearly beginners luck as we not only encountered a whale shark but he was inquisitive enough to make a couple of passes, to get a good look at us and all the bubbles coming from our respirators. Thankfully, even with my limited experience, I managed to keep up with Amir, get to the whale shark and also managed to hit record on the camera! Both Amir and Alain Heinz, the other guy in the group, were carrying GoPros and managed to get some great footage too. I combines the footage on the 3 cameras to produce a great video. On the ascent Amir got me to remove my mask completely before refitting and clearing it.
By contrast the second dive of the day was always going to be less eventful but we did manage to see a group of about 6 manta rays passing by. As part of the ascent Amir got me to use the SMB - ascending to about 8 or 10m, inflating the bladder of the SMB with the help of the emergency respirator and then releasing it to the surface while making sure the line didn't get caught around anything. We then followed the normal procedure, ascending to 5m (while rolling in the line) where we waited for 3 minutes (monitoring the count-down on my dive computer).
Back on the surface we saw a pod of dolphins pass by.
---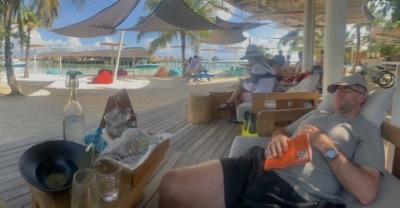 Snoozing
Friday 22, and a more relaxing day, although we did get up for 7am and walk the length of the island in an (unsuccessful) hunt for 'hidden bottles' in the bushes along the way. Each morning the hotel hides around 15 or 20 bottles containing vouchers for a range of prizes deep in the bushes.
We spent much of the day relaxing either at our villa or on a sofa at the beach bar (where I managed to fall asleep!).
---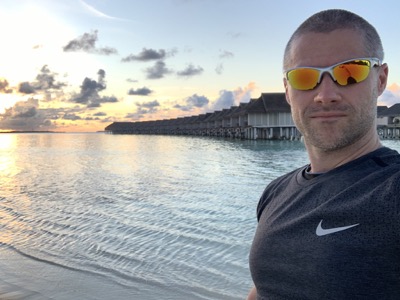 Another run
Just before sunset I went on another run around the island but at a slightly easier pace this time.
---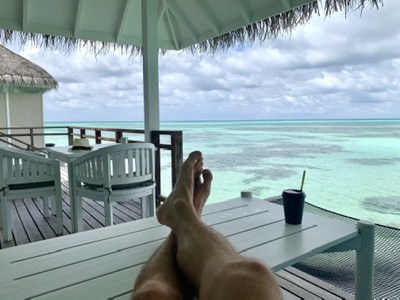 Relaxing with a book and a coffee
Saturday 23, another early breakfast for me before a double dive in search of another whale shark. We took the dive boat out to Long Reef & Back Reef.
After getting back to the dive centre I had a look at the other dives that were in offer. I didn't really want to repeat the dives I'd already done and the only other options were advanced dives to 30m. After a little thought I signed up to complete the PADI Advanced Open Water Diver course. I also ended up agreeing to complete the Nitrox training that evening as it would help with the deeper dives the following day!
---
Study time
Sunday 24, and yet another early breakfast for me before another double dive. This time to the Kushimaa Wreck site and Kida Rah Thila.
I ended up spending much of the afternoon / evening reading through the Advanced Open Water Diving manual and completing the knowledge review questions at the end of the 5 sections I had picked to study: Deep dive, Navigation, Peak performance buoyancy, Underwater photography and Fish identification.
---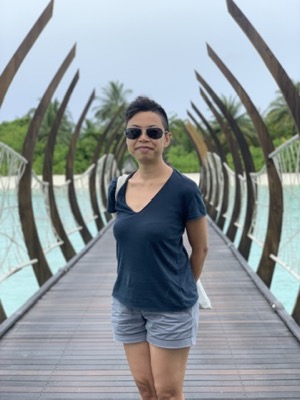 East Market
Monday 25, another 7am walk to reception and Tammay actually managed to find a bottle - under a bush on the beach next to jetty out to East Market. It entitled us to free ice cream but, given we were on an all inclusive package, we were able to substitute it for in-room dining. We ordered coffees and chatted to David (who I had spoken to on a couple of dive trips) and Pascal before they left for their sea plane transfer.
---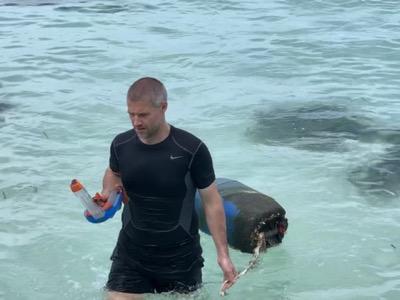 Eco warrior
While relaxing on our balcony we spotted an old barrel floating out into the lagoon (which was probably a marked for the sand pipe that had come loose) so I snorkelled / waded out and retrieved it.
I think Tammay is now genuinely getting concerned by the number of Chinese couples she has seen that only dress in matching outfits.
---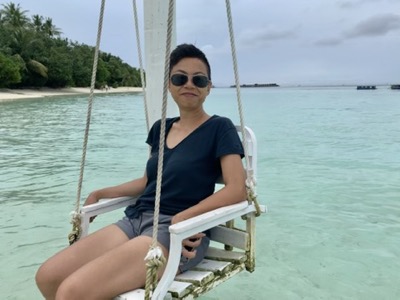 Another tough day
Tuesday 26 and my final two dives, firstly at Rheeti Thila, and then at Vakarufalhi Thila. There was only one other diver signed up for the trip so the boat was unusually quiet! To complete my PADI Advanced Open Water certificate I made an "underwater photography" dive and a "fish identification" dive respectively. During the return journey on the boat Tomoko reviewed my answers to the 5 sections of the Advanced Open Water Diver manual. Thankfully I passed!
After the dives I once again met Tammay at the spa and spent some time in the sauna and steam rooms.
---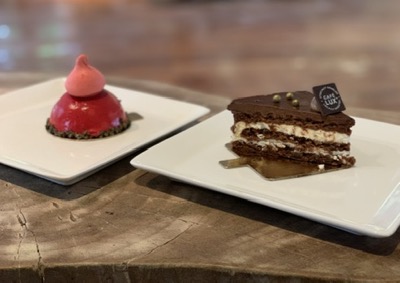 Cake!
Wednesday 27, a properly relaxing day! I even managed to start looking at my photos from China!
We had planned to go on the 4pm snorkelling trip in the lagoon but heavy rain meant it had been called off. We instead comforted ourselves with cake and another coffee!
---

Reading on the balcony
Thursday 28, before the sun had had a chance to rise overhead, I spent a little time on the balcony with my book.
---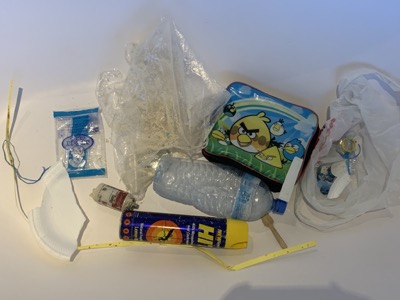 More beach cleaning
After breakfast we once again walked back to our villa along the beach picking up any pieces of plastic or rubbish we could find. On the plus side we remembered to carry a bag with us to avoid filling Tammay's hat with the collection! During the 2 weeks I think we collected enough rubbish to fill a refuse bag.
---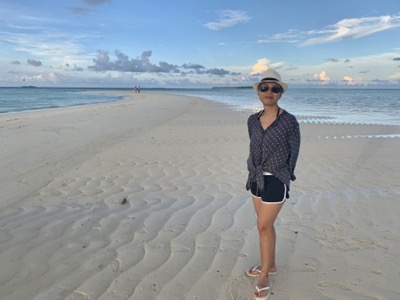 We spent a bit more time relaxing on the balcony before going to the spa and then to the Lagoon Bar for lunch.
After lunch the snorkelling trip was a go! A group of about 15 of us went out to the house reef where we spent around 45 minutes. I managed to spot a turtle and a shark among other things.
---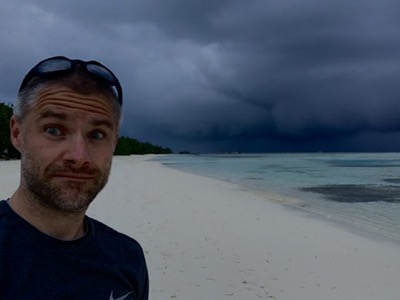 Running in the rain
After getting back to the room and having a quick shower to wash off the salt I was straight back out for a run, however the very ominous black clouds soon opened and drenched me in a tropical down-pour! I had to cut the run a little short, heading off the beach to reception and back to the villa along the road.
---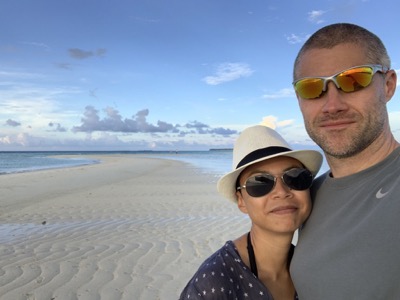 Walking on the beach
Friday 29 was quite wet and another lazy day much like Thursday. A few more coffees from Cafe LUX, some time spent in the spa, walks on the beach, plus some snorkelling around our villa and along the beach next to the jetty.
We called in at the dive centre to check my final dive bill. I got my paper log book stamped and got a 'free' Euro-divers t-shirt (after spending $2k).
I took advantage of the overcast sky and went for a final run, covering the full distance between both piers, which made 5.1km. It was trying to rain for much of the circuit and the humidity made it really hard.
---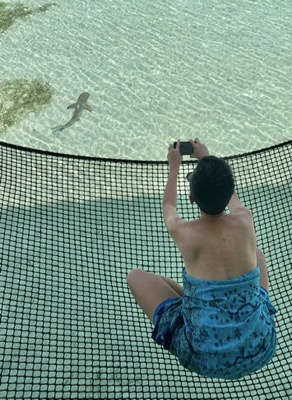 Baby shark!
Saturday 30 our final day and, given the weather, probably not a bad time to head home! As we walked along the pier we made one final check for lost crabs and spotted an eagle ray plus a couple of small sharks wishing us farewell!
As we waited for the sea plane to arrive someone from the dive centre hurried over clearly glad to still see us. There was an extra $80 fee they had forgotten to charge for my PADI Open Water Diver certification.
---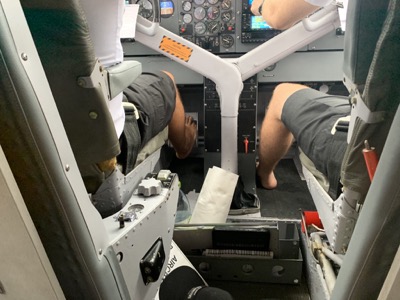 Super relaxed pilots
As we finally boarded the sea plane we were amused to see the pilots in bare feet.
The weather had caused a few delays with our sea plane transfer to Malé so by the time we landed we had about 50mins to transfer to the main airport and navigate check-in, security and boarding. As we got off the sea plane an agent ushered us away and raced us through initial security and check-in. When we saw a large queue for main security we tried to go around but the guard assured us that once we had the boarding card the plane would wait. In the end the plane managed to push back from the gate at our scheduled 11:10 take-off time.
---