…Vietnam...
Sunday 2nd December. Following our flight from Hong Kong we arrived in Saigon at around 17:00. As we approached our hotel we were amazed at the line of shops on the street: Rolex, Chanel, Hermes, Gucci, Bulgari, Ralph Lauren to name but a few... Saigon had changed a lot in the 20 years since Tammay was last here.
After checking into the Hotel Catina we took a short walk around the block and picked Vietnam House for dinner. We basically ordered the same food as we often have from Cay Tre in Hoxton.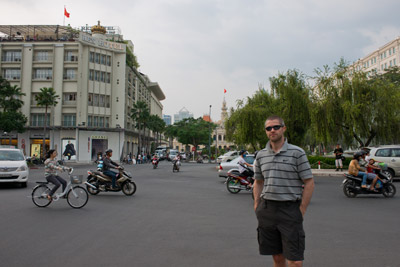 Saigon
Monday 3rd We had arranged for the taxi driver from our airport transfer to take is to the Chua Tu Nghiem temple (415-417 Duong Ba Hat, Phuong 4 Quan 10) where Kim had lived with her aunt while in Saigon.
---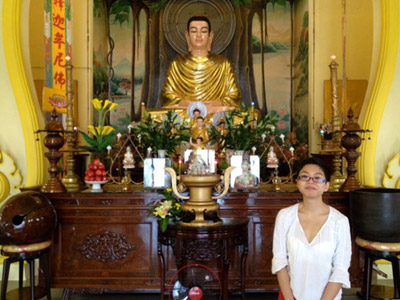 Chua Tu Nghiem temple
We cautiously walked through the entrance and saw an old lady sweeping up leaves. After a little consideration she ushered us forward.
We were then greeted by another nun who pointed us in the direction of the stairs. We ventured into the building and up a couple of flights of stairs, passing a small group of nuns eating. We made our way along a corridor.
I assumed Tammay knew the way but she didn't remember this part of the temple. We came across another nun who guided us into a large room with a huge Buddha.
Tammay made use of her limited Vietnamese but the nun soon disappeared to find someone who spoke English.
---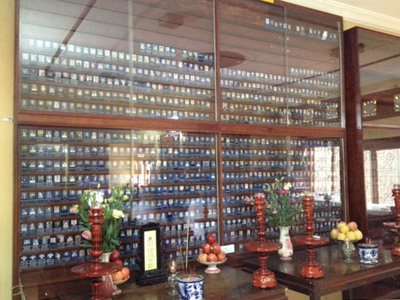 Chua Tu Nghiem temple
After about 10 minutes the English speaking nun had made the connection and realised we had known Kim. We were then ushered around the temple to meet different people and see different things. We were even able to find Kim's photo on the wall. Before we left Tammay donated some money for them to create a new illuminated photo of Kim.
---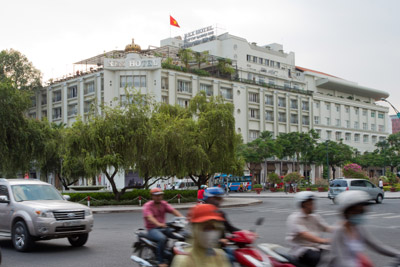 Rex Hotel
The busy streets of Saigon. There's a real art to crossing the roads here!
---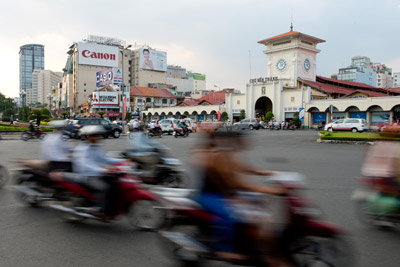 Cho Ben Thanh market
We walked to the Cho Ben Thanh market where we bought some T-shirts and dresses for gifts. The weather was really hot which was quite nice outside with a gentle breeze, but it soon became uncomfortable indoors.
---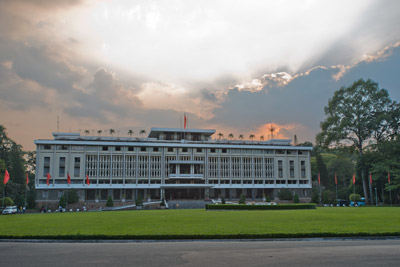 Reunification Palace
After a short siesta we took a walk around town, passing the Reunification Palace, also known as the Independence Palace.
---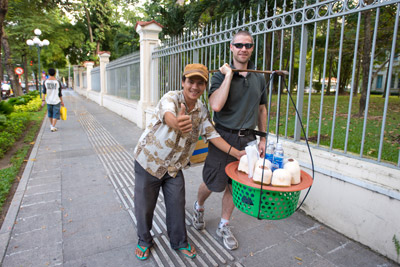 Street vendors
We were accosted by a guy selling coconut milk who swiftly placed his wares on my shoulder and said we should take a photo. We felt obliged to buy a drink from him (clearly a well used tactic) but didn't hand over the 150,000 requested, only stretching to 50,000 (about £1.60 and more than enough in my opinion!).
---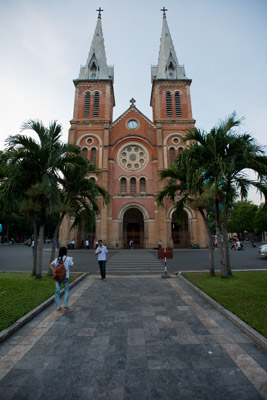 Saigon Notre-Dame Basilica
---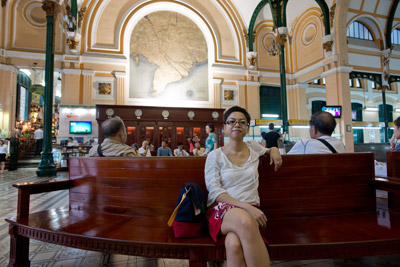 Saigon Central Post Office
We stopped at the Central Post Office building and bought a couple of souvenirs.
We stopped for a Vietnamese coffee with condensed milk and an ice cream at a Trung Nguyen Coffee shop located just across the road from our hotel. Trung Nguyen Coffee is a large coffee producer / processor which has more than 1000 coffee shops across Vietnam. I was amazed to see their prices were comparable with those of a London Starbucks and had to wonder if the many Vietnamese patrons were paying the same prices.
---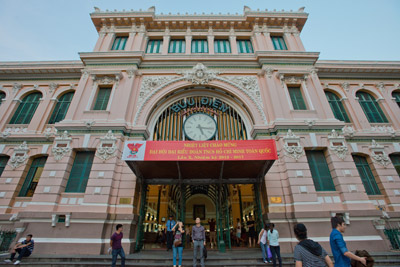 Saigon Central Post Office
That evening we decided to have dinner at nha hang ngon but it was after 21:00 by the time we arrived. After the waiter returned for the third time to say they didn't have what we had ordered we decided to return to Vietnam House.
---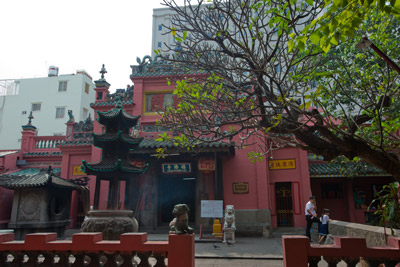 The Jade Temple
Tuesday 4th We walked to the Saigon River and then on to the Jade Temple which was very underwhelming. It took us a while to actually find so we stopped at a Trung Nguyen Coffee for a quick drink and directions. We were well off the tourist path so I wasn't surprised when the waitress couldn't speak English. We walked back towards the the Notre Dame cathedral and Tammay decided to eat at a Pizza Hut in a shopping mall!
---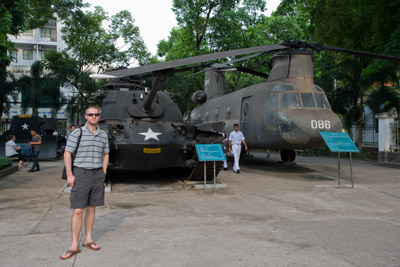 War Remnants Museum
We spent the afternoon at the War Remnants Museum.
It's interesting to see how a war can be remembered differently by the opposing sides.
---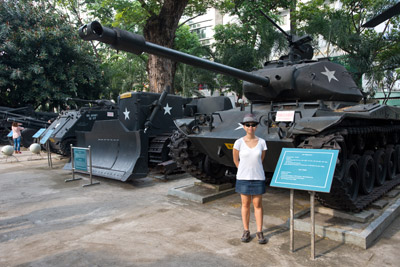 War Remnants Museum
---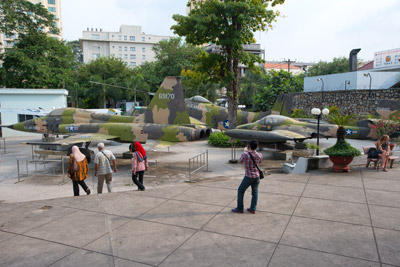 War Remnants Museum
---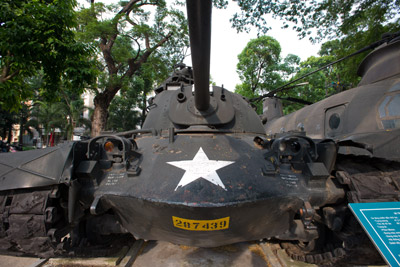 War Remnants Museum
---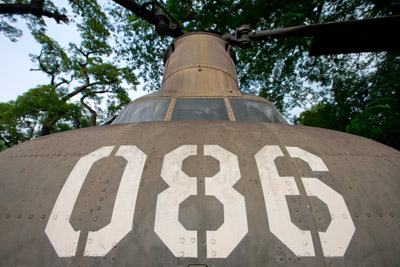 War Remnants Museum
---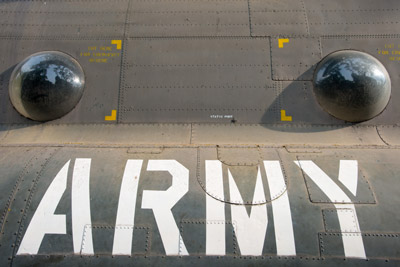 War Remnants Museum
---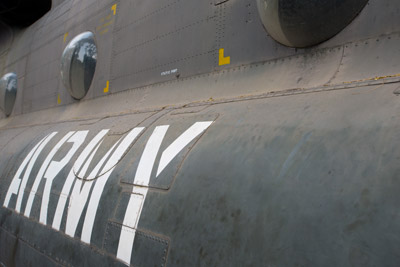 War Remnants Museum
We made another stop at Trung Nguyen Coffee opposite our hotel before a short siesta.
---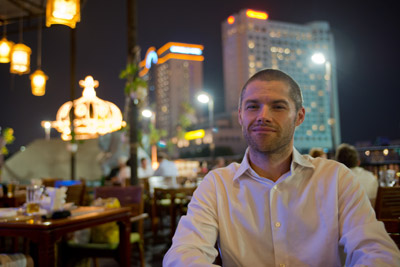 The Rex Hotel
That evening we went to the Rex Hotel for cocktails on the roof-top bar.
---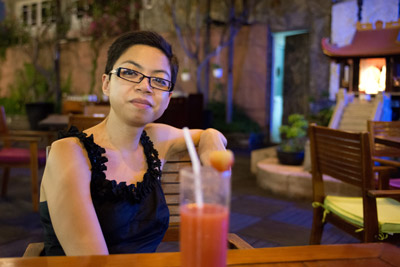 The Rex Hotel
---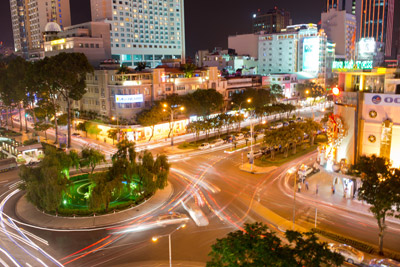 The Rex Hotel
A view of the busy streets from the rooftop bar of the Rex Hotel.
---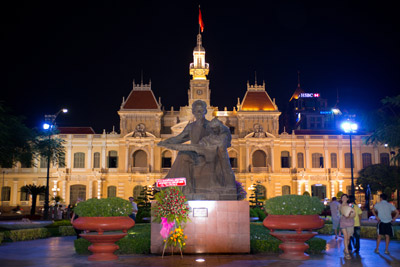 Ho Chi Minh City Hall
The Ho Chi Minh Statue in front of Ho Chi Minh City Hall.
---
Our room
Basic, but perfectly nice.
---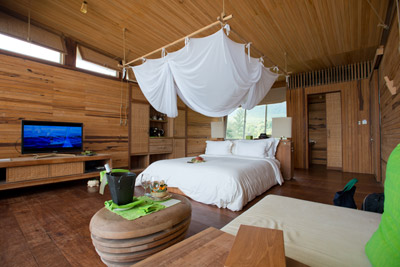 Six Senses Resort: Con Dao
Wednesday 5th A 11:05 flight from Saigon to Con Dao where we were staying at another Six Senses Resort (the same resort chain that we had stayed at in Thailand in 2011).
Our villa - much nicer than the room we'd had in Saigon!
---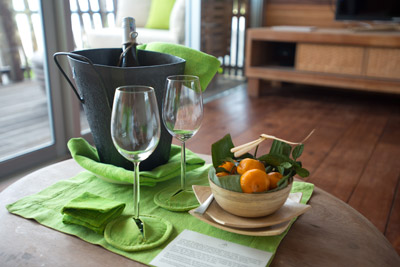 Our villa
---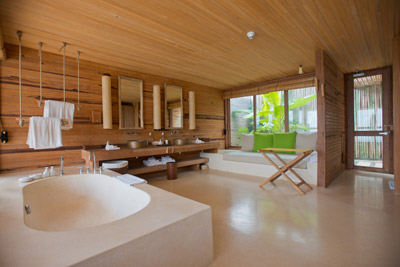 Our villa
Our ground floor 'en-suite'!
---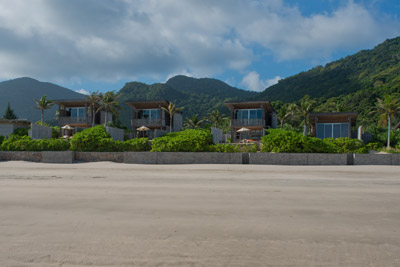 Our villa
Located right on the beach.
---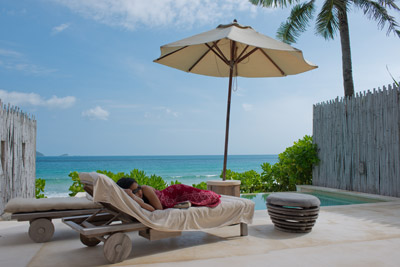 Our pool
We also spent plenty of time sat by our villa's pool with a book.
---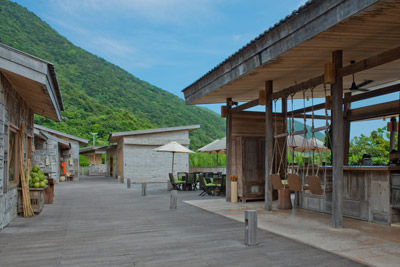 The bar and restaurant area of the resort
---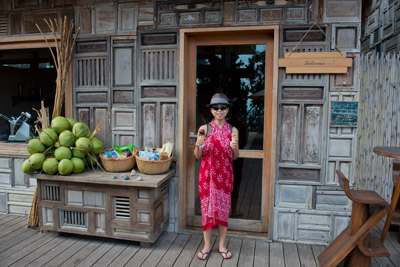 Free ice-cream
While staying at the resort I fell into a regular routine. Wake up with a trip to the gym and 30 mins on the treadmill. After a refreshing shower a big breakfast. Free ice creams in the afternoon were hard to pass up.
---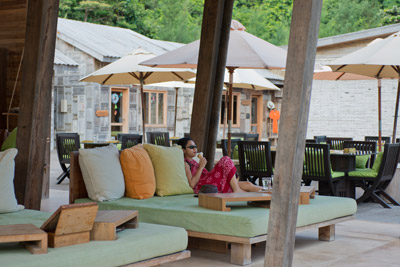 Cocktails and nibbles at the bar
Happy hour from 5 until 7 each afternoon meant we could always be found at the bar sipping cocktails, eating the nibbles and either looking at properties for sale in London (shortly after we got back we bought our first investment property) or playing cards.
---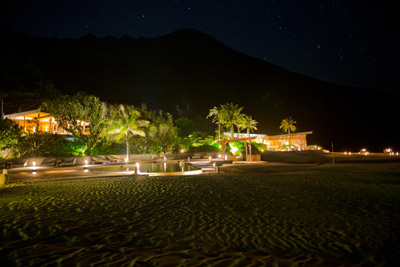 Night on the beach
Our dinner on Friday was on the beach, surrounded by candles.
Saturday 8th we treated ourselves to a massage.
---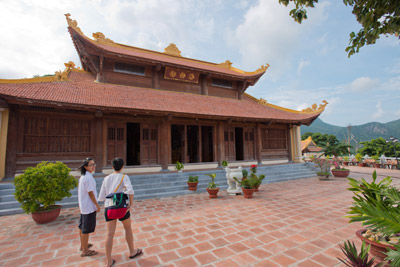 Tour of Con Dao
Sunday 9th We took a tour of Con Dao - a temple, a pagoda and a market.
---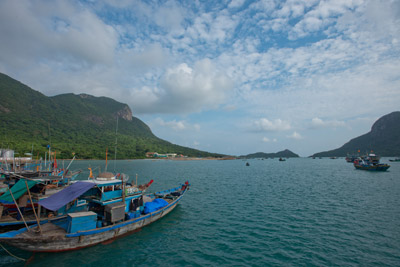 Tour of Con Dao
The port.
---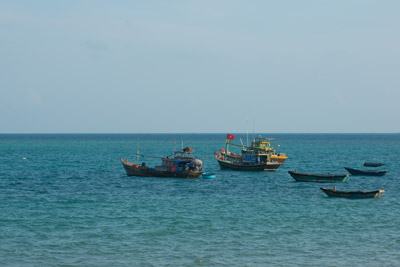 Tour of Con Dao
We stopped at a small shop on the sea-front for a Vietnamese coffee.
---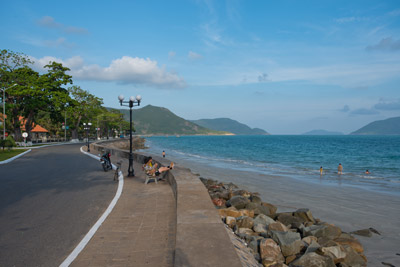 Tour of Con Dao
I couldn't help but be amazed at how clean and well maintained the town appeared.
---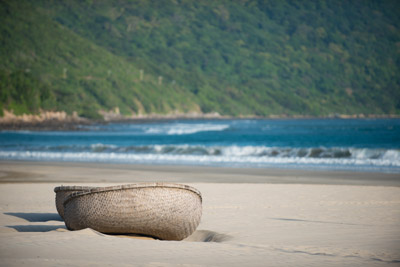 The beach
Monday 10th We went kayaking out to a point about 100m off shore for some snorkelling. I have to say I was a little disappointed with what we could see. I don't think anything will quite live up to what we saw in Thailand in 2003!
---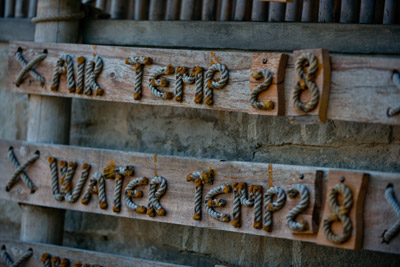 Warm seas
Each day the the sea temperature was notched up at 28 degrees.
---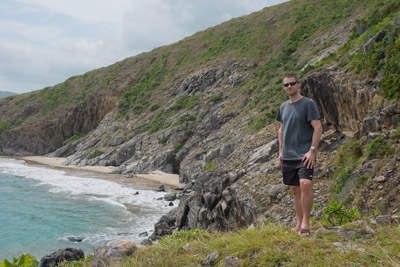 A walk along the beach
Wednesday 12th We took a walk to the end of the beach and over to the neighbouring beach.
---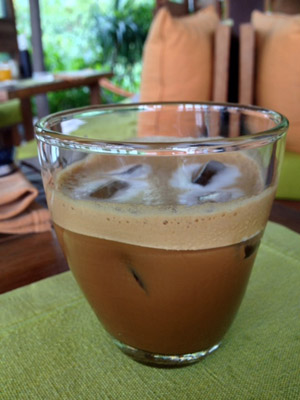 Breakfast
Tammay introduced me to the wonder of Cafe Sur Da, a Vietnamese iced coffee made with half espresso and half condensed milk. They were absolutely amazing and it would have been easy to drink them all day long.
---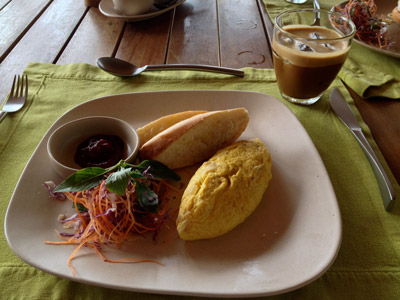 Breakfast
Much like the Banyan Tree resorts, the selection of breakfast food at the Six Senses resorts is amazing.
---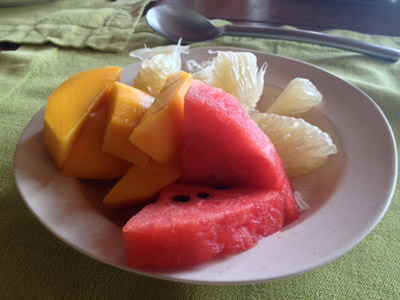 Breakfast
Round 2, a nice healthy plate of fruit.
---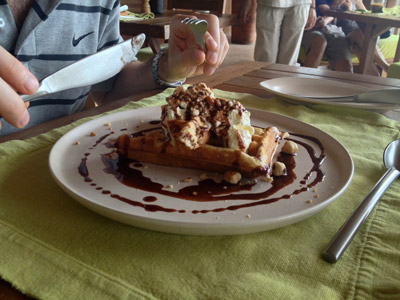 Breakfast
Round 3, waffles. Even after spending 30 minutes on the tread mill each morning, I think I only went with this option once!
---