Slovenia 2019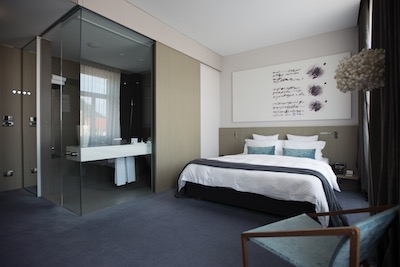 Hotel Cubo
Thursday 22 August, we took the Stanstead Express from Liverpool Street for our 13:05 flight. "Speedy boarding" with easyJet made for a painless departure.
We landed in Ljubljana a little after 3pm and a much welcomed pre-booked private transfer meant we were soon checking-in at Hotel Cubo. Our room was very nice and located nice and close to the centre of town.
---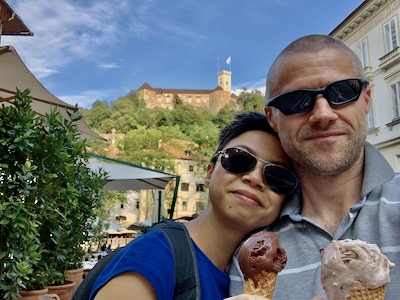 Ljubljana
Our first adventure was a walk along the river and into the old town. We picked up a very nice ice cream at Gelateria Romanitika along the way.
---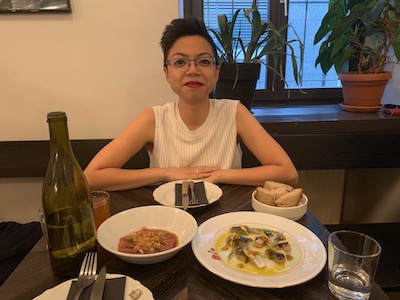 Dinner at Luda
We ended the evening at a restaurant called Luda that Tammay had read about.
---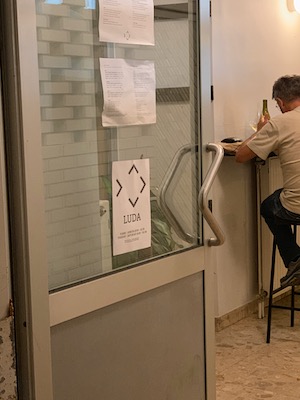 Luda: Unassuming
Standing outside looking at a rather sad little front door with a piece of A4 paper marking the restaurant I was highly sceptical about the evening ending well. Thankfully we pressed on and found the food to be excellent and great value for money.
---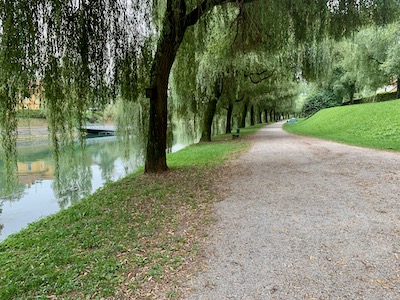 Out for a run
Friday 23, my birthday! A 7am alarm got me up for a 6km run along the river. Some really good footpaths and pedestrianised roads made for a very pleasant route.
---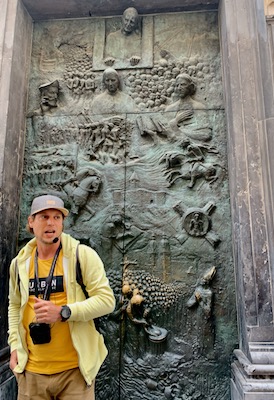 Ljubljana Free Tour
After breakfast we joined a Ljubljana Free Tour group. Well over a 100 people had the same idea and had turned up in front of Cerkev Marijinega oznanjenja. Even after we'd been separated into groups there were still about 35 in our party. Nevertheless we somehow managed to navigate the streets of Ljubljana and didn't have a problem hearing Peter our guide.
---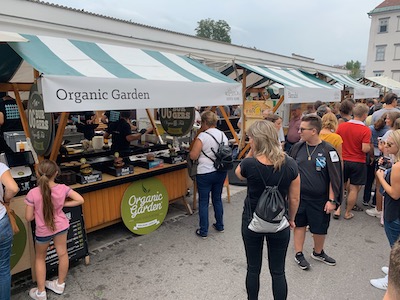 Vegan burgers
After the tour we stopped at the food market where we picked up a couple of really tasty vegan burgers from the Organic Garden stall. After eating them at one of the nearby benches we followed it up with another ice cream!
---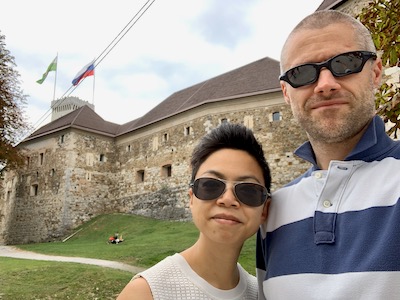 Ljubljanski Grad
That afternoon we made the trip up to the top of the hill in the Old Town and walked around the castle, Ljubljanski Grad.
That evening we had dinner at Restaurant JB. The restaurant was relatively quiet. We opted for the fish tasting menu.
---
Running in Tivoli Park
Saturday 24, not quite such an early rise for me but I still managed to fit in a run before breakfast. 5km around Tivoli Park with a short loop into the trees that gained me some elevation.
After breakfast we checked out and took another private transfer back to the airport where we collected our hire car. The Avis office was the picture of efficiency (and also empty!) and we had the keys, to a Skoda Karoq 4x4, within a few minutes. However, the way the next guy checked over the car and noted down a few tiny scratches left me worried they'd try to manufacture some damage on our return. I decided to take a few photos of some of the damage he seemed to dismiss.
---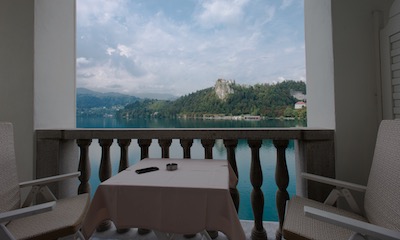 Hotel Toplice
Just a short drive to the north west of Ljubljana got us to Lake Bled where we checked into Hotel Toplice. The room was rather dated and a little musty but it had a lovely balcony and a spectacular view over the lake.
---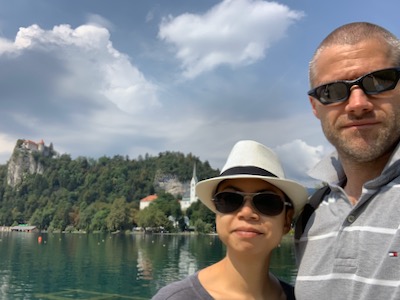 Lake Bled
We wasted no time and headed straight out on the path around the lake.
---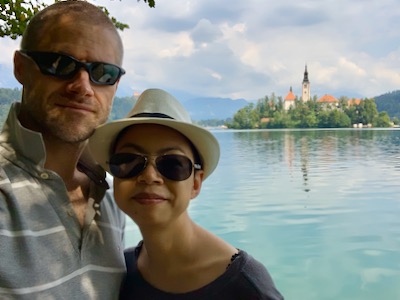 Lake Bled
We initially planned to only walk a short distance before picking up some lunch but soon found ourselves making a full circuit.
---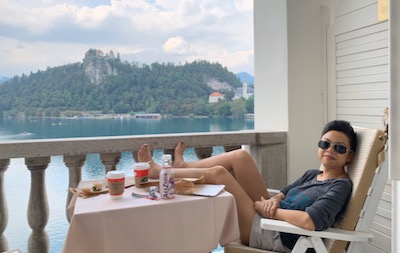 Relaxing on the balcony
We then sat on our balcony with coffee and toasted sandwiches that we'd picked up from a very happy lady at the local convenience store.
The balcony proved a little too comfortable and we both soon found ourselves having a snooze and in the process abandoning plans to hire bikes and trek to the top of Mala Osojnica.
---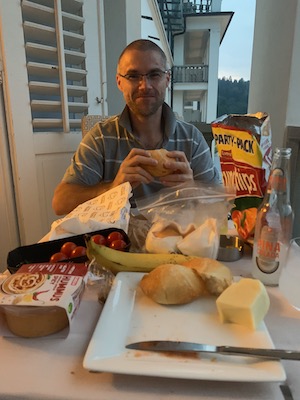 Settling in for the evening
We headed back to the local supermarket for dinner - fresh bread, cheese, cherry tomatoes, hummus which brought back wonderful memories of our trip to Italy in the summer of 1998... 1998! We also added a few bottles of 99c alcopops to the basket.
As we finished our dinner the rain started to come down and this was soon followed by thunder and lightening. There was a blinding flash of light immediately followed by the building's power going out and deafening thunder crack. The power was only out for about 5 minutes but we did get a second shorter power cut soon afterwards.
We had planned to watch a few episodes of Succession but ended up getting surprisingly interested in a NatGeo documentary on the building of Machu Picchu!
---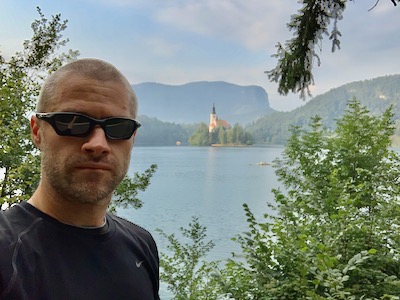 Another circuit of Lake Bled
Sunday 25, I started the day with a 6km run around Lake Bled. I had some lovely views of the island in the early light.
---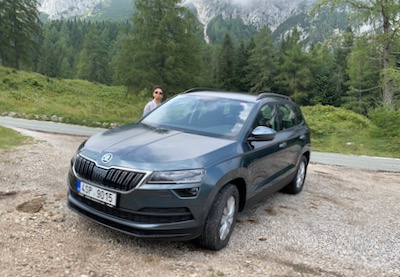 Driving in the national park
After breakfast, which felt like a slightly sad affair in a hotel stuck in a time warp, we set out on a mammoth drive through Triglav National Park on the Vrsic Pass in the west of Slovenia.
---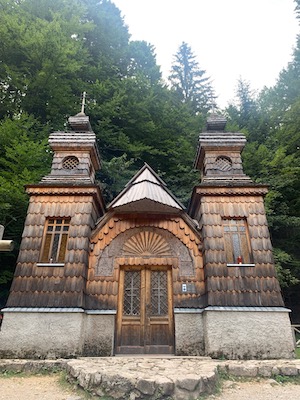 Ruska Kapelica
We made a very short stop at Ruska Kapelica, a Russian orthodox chapel. In fact we spent longer parking the car and worrying about the possibility of us getting blocked in (in the very small roadside parking area) than we did looking at the tiny chapel.
---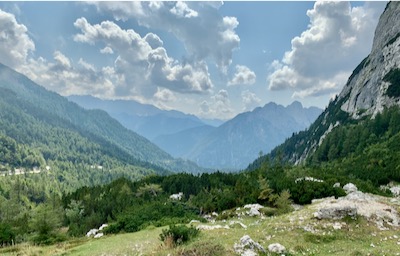 Switchback 24
Our next stop was at the top of the mountain, at 'switchback 24', where we had views down the Soca valley.
---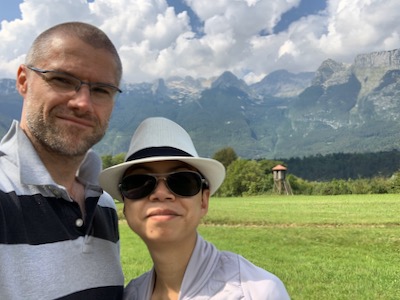 Soca valley
We made the decent down into Trenta and the Soca valley. The satnav took us on a little detour through Bovec.
---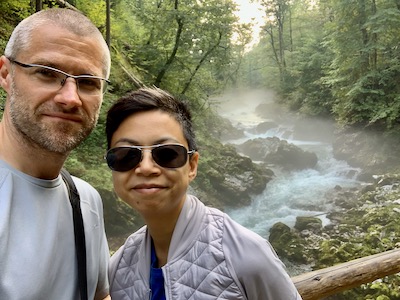 Kozjak Waterfall trail
We made the 20 minute hike to Kozjak Waterfall.
---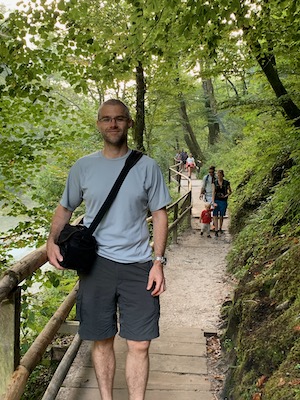 Kozjak Waterfall trail
We sat on the wooden floor in the cramped viewing gallery eating some of the snacks we had brought along with us.
After getting back to our room we again opted for more pizza & sandwiches on our balcony rather than going out for dinner.
---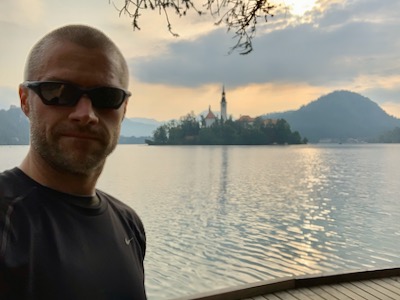 One last run
Monday 26 and for the fourth day in a row I managed to put in a run with another 6km loop around Lake Bled.
After breakfast we relaxed on the balcony for a while before having to check out at 12. After some consideration we ended up leaving our case with hotel concierge rather than leaving it in the boot of our car (which I'm still confident would have been more secure than being left unattended in the hotel lobby).
---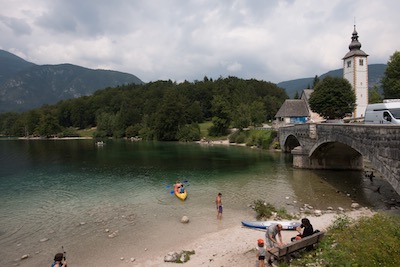 Lake Bohinj
We drove for about half an hour to Lake Bohinj where we sat next to the lake in the beautiful sunshine, eating an ice cream and listening to the rumbles of thunder coming from all around. We drove on to Vintgar Gorge where we made the walk... the mist... stopped at the end of the trail for some snacks.
The return journey took us back through Bled, where we were greeted by some terrible traffic jams. We called at Hotel Toplice to pick up our case and change clothes. I then parked up on a side street to avoid the traffic while Tammay picked up some food. By the time she returned the worst of it seemed to have passed.
When returning the car at Ljubljana Airport we were relieved not to be threatened with charges for fictitious scratches.