Brazil
Friday 27 February up at 3am for a 6:30 flight to Madrid. Next time I need to remember not to leave too early - BA Business check-in doesn't open until 5am!
---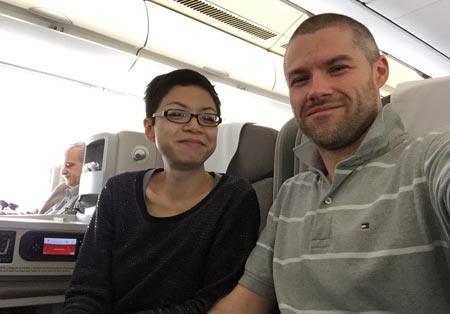 We chose to fly Iberia business as it was half the cost of BA and I was surprised to find the quality of the service to be very similar - the only downside was the food and entertainment selection. From Madrid we connected with a flight on to Rio de Janeiro.
---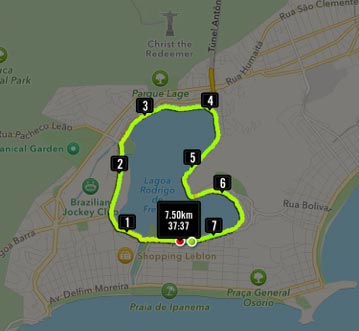 Saturday 28 February up early for a 7.5km run around Lagoa Rodrigo de Freitas - the only Nike+ top route in Brazil. It was really hot & humid but I managed a reasonable pace and wasn't overtaken (I even managed to pass a guy on a bike!).
We walked along the beach from the hotel to Cafeína for a very good breakfast and then walked along the busy streets to the Shopping Leblon mall for a welcomed Starbucks Frapaccino and some air conditioning! We walked back to the hotel along Leblon Beach, where there was a lot of kite surfing going on, and along Ipanema Beach. That afternoon we walked up to Lagoa Rodrigo de Freitas and walked around the Western side of the lake.
---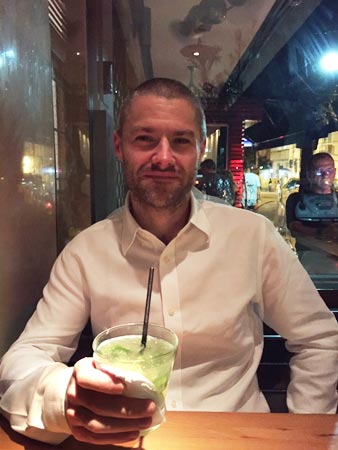 That evening we had dinner and a few cocktails at Sushi Leblon.
---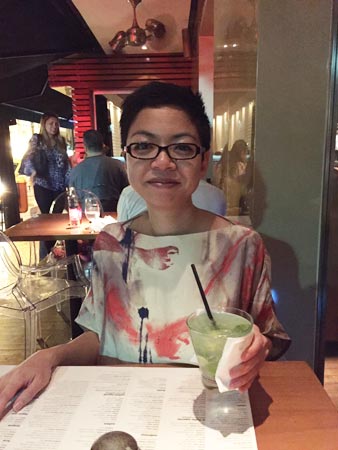 A hugely popular restaurant with what seemed like a slightly strange setup. Unable to book a table, we turned up, and put our name on the list. Most people were just waiting on the sidewalk but we managed to order a drink and opted for a table on the veranda within about 15 minutes.
---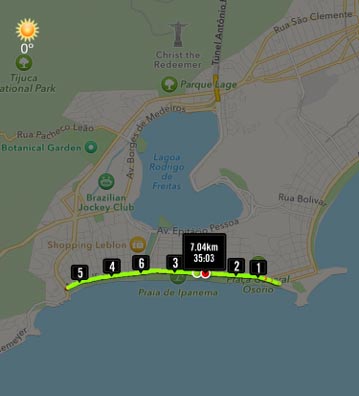 Sunday 1 March, the first Sunday of the month and the main road running along Leblon & Ipanema beaches is closed in a easterly direction. I went for a 7km run from one end to the other.
---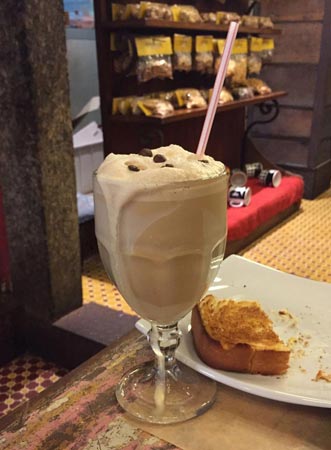 We returned to Cafeína for breakfast and a couple of great iced coffees. We spent a few minutes walking around a little market outside the Gal. Osorio subway station and then took the train to Carioca where we went into the Catedral de Sao Sebastiao - a 1970s cathedral built in the form of a canonical shell.
Passing the Arcos da Lapa (an aqueduct now being used as a tram line) we walked to the bottom of the Escadaria Selarón - 215 steps that have were decorated with ceramic tiles by the Chilean born artist Jorge Selarón between 1990 and 2013.
---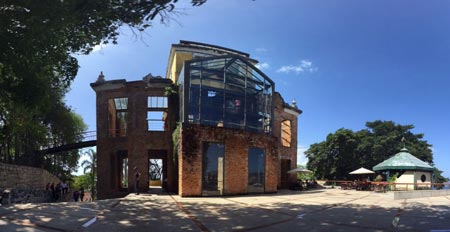 A short climb from the steps brought us to Parque das Ruinas where we were able to get a good view of the city.
We took the subway from Glória to Siqueira Campos and walked along Copacabana Beach which definitely had a more touristy feel than Ipanema beach.
That evening we had dinner at 'Gero, a modern high-end Italian restaurant. The doorman gave a double take at my flip-flops but my white shirt and tailored shorts must have swayed his decision. Great food although a little expensive.
---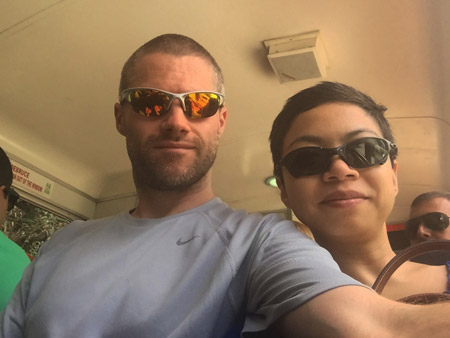 Monday 2 breakfast at the hotel before getting a cab to Cosme Velho where we caught the tram to Corcovado Station - for the Christ the Redeemer statue. At 38 meters high it's considered to be the World's largest art-deco statue. It opened in 1931 following 10 years of construction. Anyone who knows me will be well aware of the dim view I have on religion but I could still admire the aesthetics of the statue.
---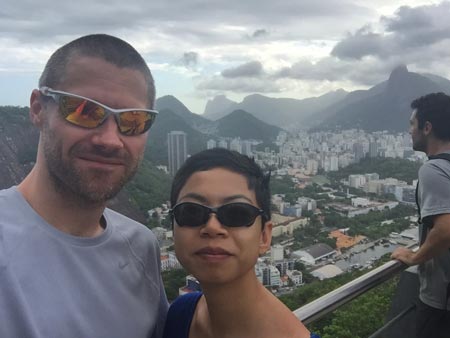 That afternoon we took the cable cars to the top of the sugarloaf, giving us views over the city and back towards Corcovado. Thankfully our timing was spot-on and there were minimal queue at each of the stations.
---
We had our evening meal at Zaza Bistro, kicking off with a cocktail...
---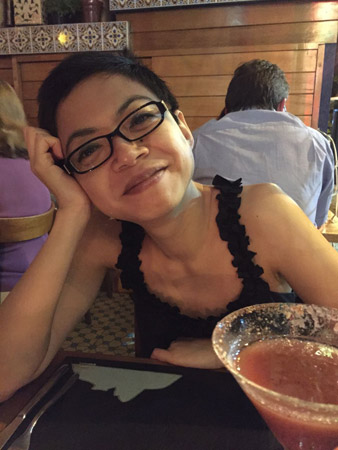 ...or two.
---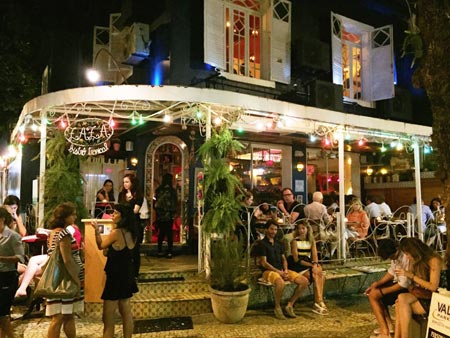 The restaurant was pleasant and the meal seemed nice but it didn't sit well with me that night and I was quite ill!
---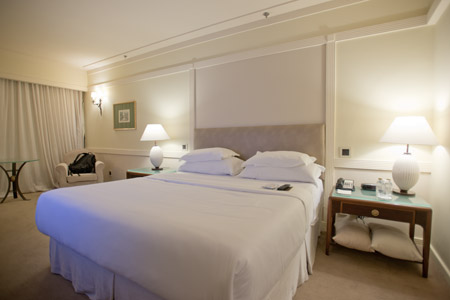 Tuesday 3 I really didn't feel like doing much so we simply stayed in the room and ordered room service just before heading back to the airport for our onward flight to Iguazu Falls.
---
We were met at the airport by a young driver from the hotel for an efficient transfer. While in Iguazu we stayed at The Belmond which was located right next to the falls.
---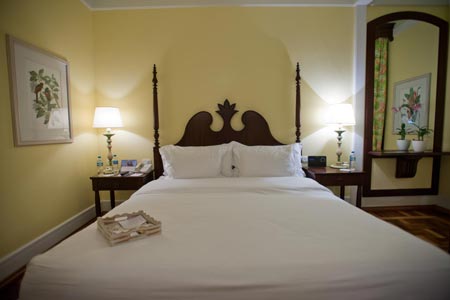 Our room was really quite nice and I'd be happy to recommend The Belmond. We were even given matching complementary pairs of Havianas.
---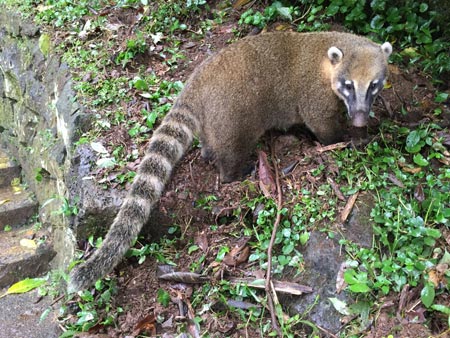 As soon as we had finished with check-in we did a quick recce of the falls and had our first encounter with the coatis. We watched as they climbed into the bins and pulled out any food scraps they could find. They were on the trail in large numbers so we could see they were a real pest but they were so cute wondering about making their high-pitched squeaks.
We retired to the hotel bar for a bite to eat, although I still wasn't feeling particularly hungry.
---

Wednesday 4 we paid an early visit to the falls to make the most of the early morning light and managed to get a few great photos.
There were a number of vantage points along the length of the trail. At the far end we found this branch leading out into the middle of the river. At its end it was as wet as it looked!
---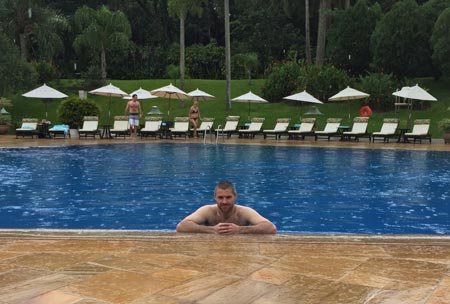 After breakfast we spent the early afternoon by the pool, enduring some light rain.
That evening we had booked a place on a moonlit tour of the falls but heavy rain meant we spent the evening in the hotel bar where we had dinner followed by a couple of cocktails and little bowls of complementary nuts & olives!
---
Thursday 5 we left the hotel at 7:15 with Flav, our driver & guide, for a tour of the falls from the Argentinian side. We drove over the border into Argentina.
We returned to our hotel that afternoon and spent time by the pool having lunch and a swim... that was until a thunder storm forced us to retreat to our room.
We had our evening meal in the a-la-carte restaurant and felt very underdressed - us in our T-shirts and flip-flops, everyone else in shirts and trousers. For a second evening heavy rain foiled our plans for a moon-lit view of the falls.
---
Friday 6 we were up early for one final walk along the trail. It was more overcast than the previous day and the mist from the falls filled the air. The same young hotel driver ferried us to the airport for our flight to São Paulo where we connected with an onward flight to Recife.
The driver who met us at the airport was an enthusiastic user of Google translate, furiously typing away at his phone and then passing it to us for the spoken English translation. We finally arrived at our hotel at around 8pm and had dinner in a very sad looking hotel restaurant.
---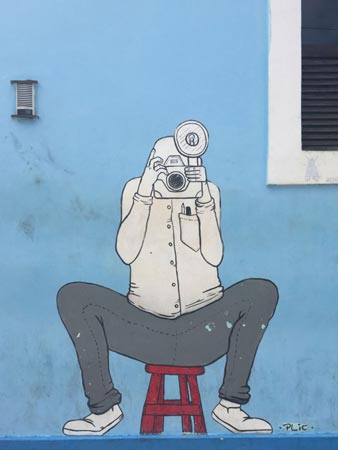 Saturday 7 we started the day with a breakfast that consisted of lots of cake!! Only in Brazil could breakfasts primarily consist of cake and cheese!
We took a walking tour of Olinda taking in all the architecture and colourful buildings. Olinda is a UNESCO World Heritage site for its well preserved colonial style buildings. We stopped for lunch at Tribuna Sabores Ibéricos where we found the chef outside grilling fresh sardines. As it turned out, he wasn't the chef but the owner's son, helping out on a Saturday. They were such an enthusiastic father-son team that we had to go back for dinner that evening!
We spent the late afternoon sat by the pool, swimming and relaxing.
---
Sunday 8 we woke up for an early breakfast before our 8:45 pick-up for the journey to the airport. We had a flight from Recife to Fernando de Noronha. After some help from a friendly agent we located our transfer (which was late) and arrived at our hotel (with atrocious Internet!).
We had lunch at the hotel restaurant before going for a walk to buy access cards for the national park (which we failed to get!). We then went for a walk to one of the nearby beaches called Praia do Boldro. It was a lovely beach - you could see why this island is regularly voted as having the nicest beaches in the world. Afterwards we turned around and went for a walk into town but on the return it started pouring with rain and we got soaked to the bone!
---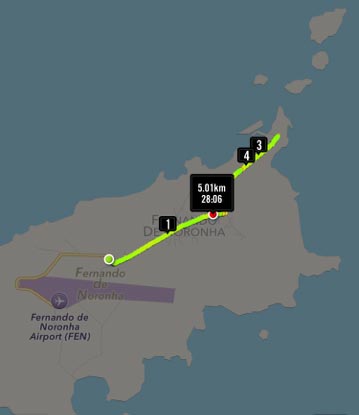 Monday 9 I woke up early for a run. Even early in the day the humidity was uncomfortable, coupled with the many climbs and descents, I only managed 5km before I had to give in. I was broken!
---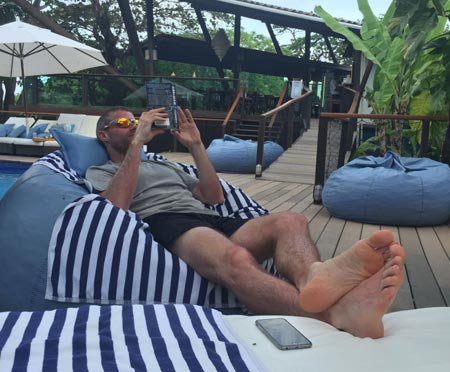 The 'pre-ordered' breakfast at the hotel turned out to be quite filling so I had to recover with a lie down! We went for a walk to Praia da Conceicçã where we set up camp on the beach with some towels and an umbrella that the hotel had provided. I had a quick dip in the sea and spent the rest of the morning relaxing and reading under our umbrella.
After getting back to the hotel we decamped to the poolside for lunch and more relaxation. I soon realised I'd caught the sun and had suffered nasty sun-burn!
---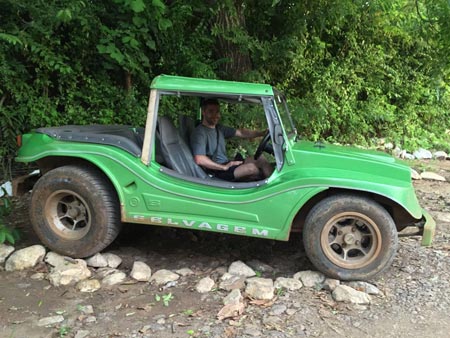 Getting around on the island was quite difficult given the muddy tracks so we decided to hire a buggy. This arrived at 6pm and we took it for a spin to get our park access passes.
We had dinner in town at a pizza place called Sāo Miguel.
---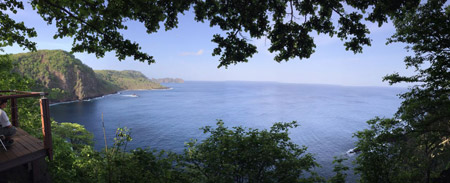 Tuesday 10 we woke up early and drove to Golfinhos Bay where we were able to catch a glimpse of a small pod of Dolphins and a lone turtle. Just beneath the platform upon which we were standing a few crabs wondered about and small rabbit/rat creatures hopped across the rocks 😀.
---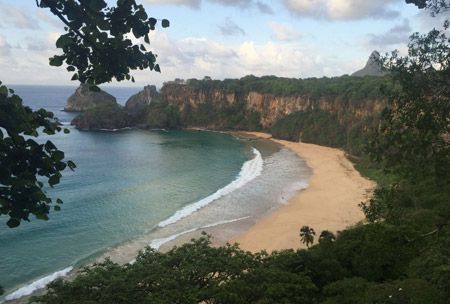 We completed the rest of the trail which took us passed the overlook of Sanchos Beach and Porcos Bay. We decided that Sanchos Beach looked to be the nicest on the island and that we should return for sunset. After completing the trail we headed back to the hotel for breakfast.
We lazed about in our room, out of the midday sun, and headed back out at 4pm. We stopped at Sueste Bay and Leão Beach before travelling back to the overlook of Sanchos Beach for sunset. It was a lovely evening.
We drove into town for dinner and found a nice place called Flamboyant in the middle of the town square. After dinner we picked up an ice cream at the corner shop and headed home.
---
Wednesday 11 we woke for an early breakfast before driving to Sueste Bay for a snorkelling trip. We hired a keen guide named Elvis who dragged us (mainly Tammay) around with a buoy. He was great and managed to find us 5 turtles including a small baby, a couple sharks, lobster, octopus, eel and lots of brightly coloured fish.
We had lunch at a small restaurant near the port. Speaking no Portuguese, we simply asked them to bring us a (single) plate of fish... It was enormous, far too big for one! However it did mean we had enough left to make friends with a stray cat who ended up camping out under our table for "dropped" bits of fish 😸.
---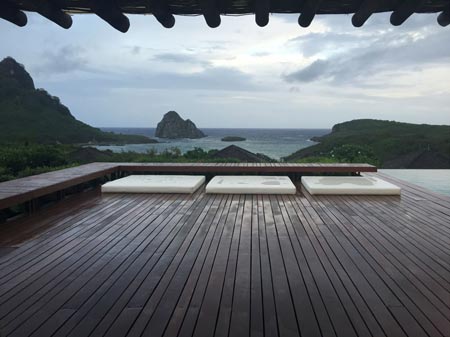 We arrived back at the hotel just in time for a burst of heavy rain. Once it passed we went to Maravilha (the 'uber fancy' hotel option on the island) for drinks and dinner. It had a beautiful overlook of the bay and we got there in time for sunset. The hotel was very different to ours but at twice the price you'd hope so!
---
Thursday 12 we visited Golfinhos Bay for a second time, arriving a little earlier than before. We were rewarded with a view of what must have been many dozens of dolphins spread across several pods.
We arrived back at the hotel for breakfast only to discover that the 'turtle display' at Sueste Bay was starting in 25 minutes rather than that afternoon as we had originally been told. One of the wardens caught a turtle in the bay and brought it up onto the beach to be measured and tagged. The whole talk was in Portuguese so we didn't understand any of it! We hoped the little turtle didn't have too much difficult in catching up with its family once it was returned to the water.
---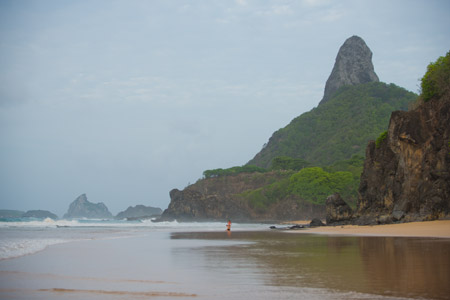 We once again retreated to our room and escaped the midday sun. That afternoon we sat on Cacimba do Padre beach (firmly in the shade this time) reading and watching the birds dive-bomb the water as the sun went down.
We had dinner at Opico, a small gallery/shop that doubled as a little restaurant (open every evening apart from a Tuesday when we had first tried to eat there).
---
Friday 13 after breakfast we drove back to Sueste Bay for another snorkelling trip and once again asked Elvis to take us out. While we were in the shallow water kitting-up it was a little unnerving to have a shark swimming around us! We swam to the far end of the bay where we encountered a couple of sharks that were happy letting us swim along side. The cliff face at the far end of the bay was plastered with crabs.
This time we spotted an adult and baby turtle, plus a really large lone adult who was happy to graze beneath us while we watched for quite some time. We saw a stingray, a couple more lobsters and an octopus, plus lots more fish.
That afternoon we walked along a couple of new trails to see Caracas Belvedere (beautiful outcrop with lots of rock pools below) and Sueste Fort. We met a couple on the trail and gave them a lift back to the main road.
The Capim Açu trail was listed as requiring a guide so we instead decided to go to Porcos Bay lookout which, in the late afternoon light, had nice views of Porcos Bay and Sancho Beach.
We returned to Maravilha for drinks and dinner.
---
Saturday 14 we woke up early to hike down the cliff to Sancho Beach. This involved two ladders in very tight quarters and a steep set of steps down to the water. We strolled up and down the beautiful beach, noticing the turtle trails leading up from the water from the previous night.
After breakfast we drove to the port so that Tammay could buy a T-shirt for Lucas.
That afternoon we walked along Praia da Biboca beach. We also went to Praia do Cachorro and Praia do Meio and watched the surfers and swimmers as the large waves rolled in.
We had only hired the buggy until 6pm so that evening we ate dinner at our hotel.
---
Sunday 15 we made one final early morning trip to the beach next to our hotel, Praia da Conceicçã, making friends with a small dog as we walked along the sand.
---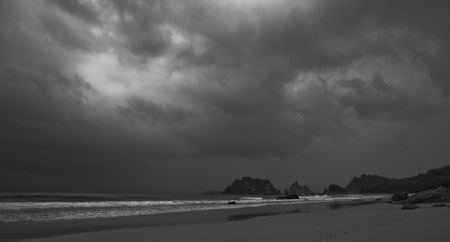 We sat on the sand for about 10 minutes, watching as imposing clouds moved in. Sure enough it soon started to rain so we made our way back to the hotel. When checking out we had the expected issue with charges for Nespresso coffee and water but these were easily clarified. I couldn't believe that a hotel charging this much would not provide free water and coffee in the room!
We flew from Fernando de Noronha to Rio with a two hour wait at Recife. After checking back in at the Caesar Park hotel we had dinner at Balada Mix.
---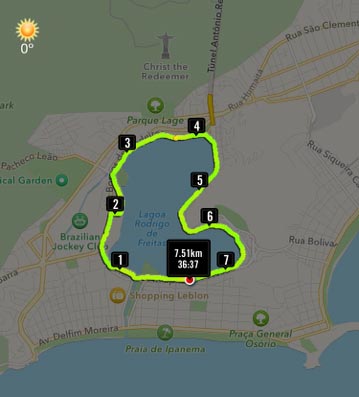 Monday 16 I went for an early 7.5km run around the lake and found it a lot easier than before. We once again returned to Cafeína for a well deserved breakfast.
---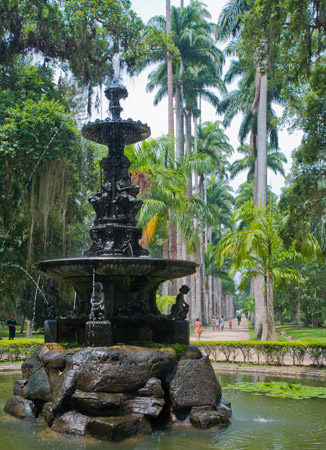 Rather than taking a taxi we opted to walk to the Botanical Gardens but Tammay quickly became unamused when the temperature and humidity suddenly rose! Learning our lesson we decided to take a cab from the Botanical Gardens to Shopping Leblon where we treated ourselves to our first Starbucks in a couple of weeks.
---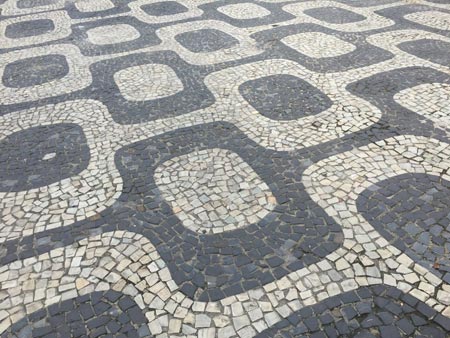 On the walk back to the hotel we stopped at Forneria São Sebastião (the restaurant we failed to find the previous night). During our stay in Rio I'd come to love the mile upon mile of mosaic pavements. So much nicer than the tarmac and uneven concrete slabs of London.
---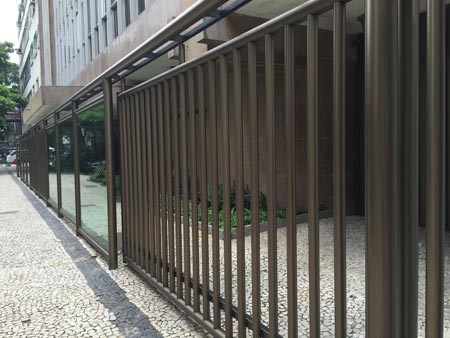 Prior to our trip I'd expected to feel unsafe on the streets of Rio, but in realty it felt perfectly normal. However, you couldn't help but notice the very smart, but secure, railings fronting every building. Perhaps an indication of a less secure past?
After a well needed refresh in the hotel's spa we caught a cab back to the airport for the return flight to Madrid.
---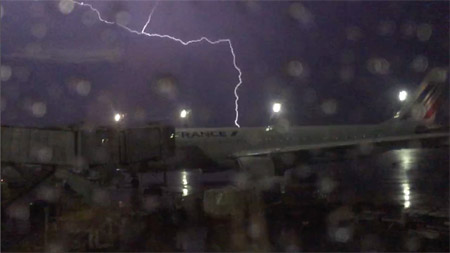 Just as we were due to taxi out to the runway a huge electric storm moved in and grounded us for an hour. Thankfully we were able to get on the move before they had to cancel our flight entirely. The delay unfortunately meant we missed our connection in Madrid and ended up having to wait around 4 hours for the next available flight back to London.