India
Friday 29 September, we left the office at 15:30. It may seem way too early for a 21:25 flight but leaving at 16:00 on a previous trip left me in very heavy traffic. That said our driver still ended up taking a lot of back streets through west London in an effort to avoid traffic.
We made ourselves comfortable in the lounge. I had once again booked a tour in Mumbai with Mala and she had asked me to pick up some Crunchy Almond Toblerone (6 large packs!). I toured around the terminal and each shop seemed to have every variety apart from the one I was looking for. I reached the far end of the terminal, and had given up hope of finding any, when I spotted a small rack in the very last shop. Two laptops plus 2.4Kg of chocolate left my hand luggage very heavy!
After making ourselves comfortable in the lounge once again I busied myself sorting through my emails. It was only when Emma pointed out we should make our way to the gate that I realised the flight was already boarding. It was only 5 or 10 minutes later than I'd normally want to leave the lounge but Emma wanted to change before boarding the flight, plus we had to wait several minutes for staff to conduct a 'security sweep' of the shuttle before we could board. As we got to the gate we saw a group of people running and thought we'd better join them! We were a little late arriving at the gate, but not the last to board the plane! In the end the plane remained at the gate for a further 40 minutes before pushing back.
---
Saturday 30, we landed in Mumbai a little after 11:00. Unfortunately the pilot stopped a few feet short of the gangway and we had to wait half an hour for a lorry to tow us closer.
We had used the new e-Visa service for the first time and having got to the front of the immigration queue discovered they were not set up to deal with them! We were told to go to the far end of the immigration hall and queue again. Incidentally it's not really an e-Visa. Although you apply online you have to print a copy of your approved application and present this at immigration.
Upon entering the arrivals hall I found an ATM but was unable to withdraw money from my Rupee account with Revolut (I had managed to pre-exchange £250 at R87.9:£). The ATM wanted to apply its own FX to convert back to Sterling. I ended up getting a rate of 87.085 compared to a spot rate of around 87.5 which was still very good. Later in the trip I had to withdraw more cash from the ATM at the office. Although this did take money from my Rupee account it charged a R200 fee, which given I was only withdrawing R3,000, was a very poor deal. For my next trip I need to try and find a bank that doesn't charge a withdrawal fee.
By this point our poor driver had been waiting a while but was still standing at the exit when we finally emerged from the terminal.
---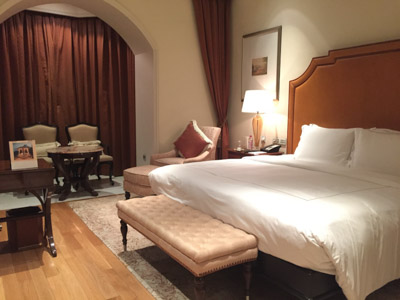 Taj Mahal Palace
We drove through Mumbai to the Taj Mahal Palace hotel where we were pleased to hear we had been upgraded to a room in the palace wing.
---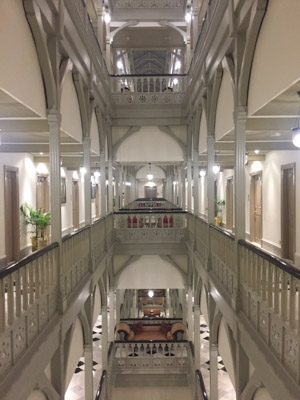 Taj Mahal Palace
The Palace wing was nice and clearly a very different style to the tower wing.
---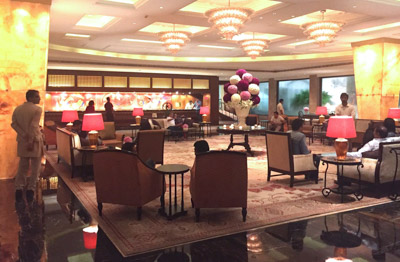 Taj Mahal Palace
After freshening up we met Mala in the lobby, she was very happy to hear we had her chocolate! We spent the afternoon touring the city, starting with Banganga Tank, which also gave us an opportunity to get a little deeper into the residential areas. We then visited a small Dhobi Ghat (open laundry) nearby. Next on our tour was Mani Bhavan (the Mahatma Gandhi museum). We stopped outside Chatrapati Shivaji (Victoria Terminus Station) and took a few photos from the road. I wanted to go inside the station again so we purchased some R10 tickets.
---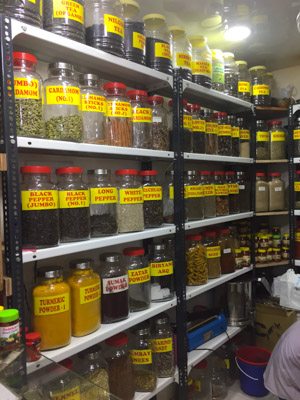 Crawford Market
Lastly we stopped at Crawford Market where we bought some custard apples and Emma stocked up on spices, cinnamon sticks and vanilla pods!
Quite a few of locals stopped us to ask for photos. Initially I assumed they wanted us to take a photo of them, but they wanted us to be in their photos! Clearly it was Emma they wanted in the photo - I'd never been asked this in my earlier visits!
---
Sunday 1 October, before breakfast we crossed the road and took a short walk around the Gateway of India. We spent the rest of the morning on a tour of the Dharavi slum. I had been on the slum tour twice before but I thought it would be a great opportunity for Emma to see the area. Upon arrival back at the hotel we had to be quick getting out of the car as traffic was very heavy. As I walked through the lobby I suddenly realised I didn't have my bag. I was sure I wouldn't have left it in the taxi but I quickly called our driver and he confirmed it wasn't there. As I stepped back out of the hotel I realised I'd not picked up the bag after putting it through the scanner!
After a much needed freshen-up, we met our new driver in the lobby and started on our journey to Pune, spotting monkeys and camels along the way.
---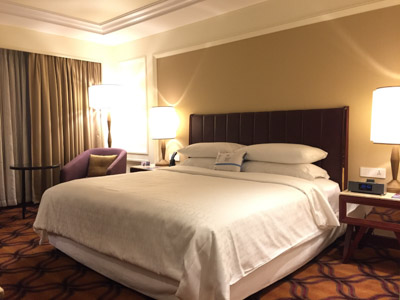 Sheraton Grand, Pune
We checked in at the Sheraton Grand. Comfortable rooms and really friendly staff.
---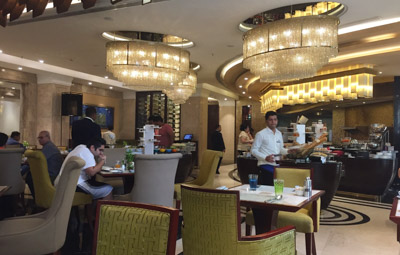 Sheraton Grand, Pune
The hotel also had a great breakfast.
I made the effort to get to the gym every morning (only skipping the first Thursday and last Friday). It was the only way I'd get any exercise while in Pune.
It was great to spend time with the team in Pune once again. It had been about 18 months since their visit to the U.K.
---
Friday 6, we arranged to leave the office a little early and have dinner with the team. Mayuri had provided us with a selection of restaurant choices and we opted for Polka Dots which looked really nice on the website. Unfortunately upon arrival we found it to be closed for refurbishment. We instead picked up another taxi and went to Atmosphere 6 which was nearby. The food was good but it was more of a nightclub than a restaurant and they were charging extortionate prices for their drinks (they must have had a separate menu for westerners!).
---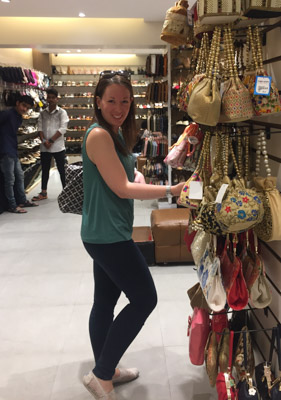 Pune
Saturday 7, the team very generously offered to provide a tour around the central shopping districts of Pune. They organised a taxi and picked us up from the hotel. We spent the morning walking around some of the shops in Pune - the Clover Centre, MG Road, Laxmi Road. It was hot and humid but great to see this side of Pune - far better than walking around a giant mall.
---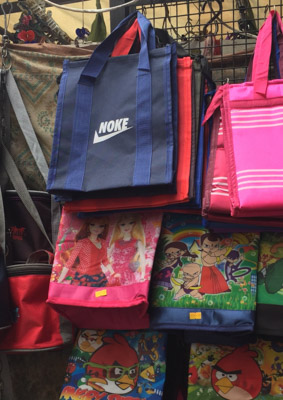 Pune
The items on sale were all clearly genuine.
The team were eager for us to go to FC Road for snacks but we were far from hungry. It was also threatening to rain so we decided to head back to the hotel. After a good gym session we headed down to the Feast restaurant for dinner but found we were an hour too early. We instead decided to make use of 'happy hour' and had a few cocktails in the hotel bar.
---
Sunday 8, after breakfast we made the most of the nice weather and spent some time on the roof terrace. For the rest of the week the rains came and went, but the little time we spent outside meant it wasn't an issue.
---
Thursday 12, we left the hotel early so we had time to stop at some of the shops on MG Road on our way into the office. Anthony, who had been our driver for the whole fortnight, dropped us off outside the Clover Centre and we arranged to meet him there 25 minutes later. We picked up some sweets for the team back in London and a few more pairs of sandals for Emma.
That evening, after a little encouragement from Seema (hotel concierge with an obsession for Irn-bru likely the result of having a Scottish husband), Emma and I took our last opportunity for a quick cocktail in the bar.
---
Friday 13, our last day in the office. A few last minute requests, a desire to cover off any remaining point, plus some quick one-to-ones with each of the team, meant it was as hectic as could be expected. As we left the guys gave us each a bag of dried fruits for Diwali plus even more treats for the team back in London. So kind of them!
---
Saturday 14, we left the hotel at 6am and arrived at Mumbai airport a little after 09:00. We were very early for our 13:10 flight but only had to wait about 20 minutes before being able to check-in. The BA club world check-in at Mumbai airport is still a pleasant experience! We decided not to cut things quite as fine as on our journey out so made our way to the gate a whole 15 minutes early!