Japan
Thursday 24 September and an early taxi to Heathrow airport before a leisurely check-in at the First Class desk and access to the Concorde Lounge!
---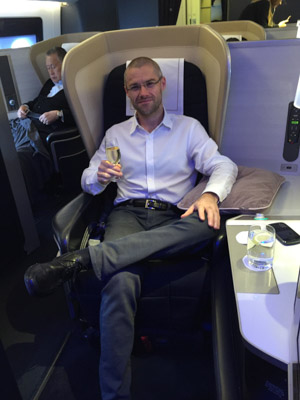 Flight to Tokyo
The long flight to Tokyo was made all the more pleasant by a big seat and nice food on real plates!
---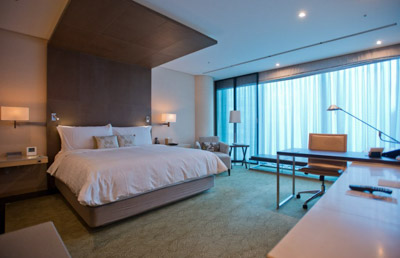 The Four Seasons
Friday 25 We arrived into Tokyo Haneda airport early the following morning and after prompt passport control and baggage retrieval, we were soon in a taxi to The Four Seasons (Marunouchi). Fortunately Tammay had already requested an early check and the hotel did have a room available. We were amazed to be able to access the room at 8am, excellent service! We had a short lie down and a shower.
After freshening up we went for a walk around Ginza (the equivalent of London's Bond Street), picking up a customary caffeine hit at Starbucks.
---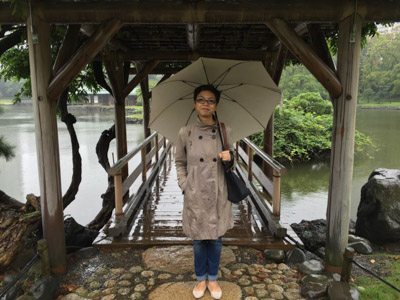 Hamarikyu Gardens
After some window shopping we walked over to Hamarikyu Gardens. A beautifully manicured garden with traditional houses and bridges. Shame it was raining but we still enjoyed ourselves.
I got quite tired so we hailed a taxi and headed back to the room for a mid afternoon snooze.
That evening we had dinner at Higashi-yama Tokyo where we had pre-ordered the chef's 9-course tasting menu. The food was great - even the corn soup was excellent. Following dinner we went down to their very cool little underground bar for a nightcap.
---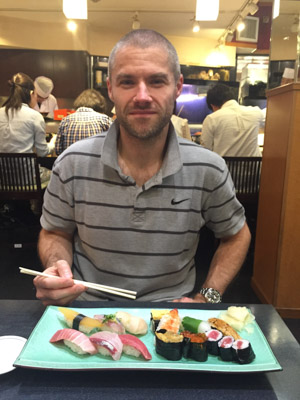 Sushi breakfast
Saturday 26 After a nice lie in we went to the Tsukiji Fish Market for its 9am opening to tourists. You can queue up from about 4am for one of the 120 daily tickets to see the tuna auction but we clearly weren't up early enough! The fish market was amazing. A huge variety of fish, many of which we'd never seen before (and most of it was still swimming about!). After a long walk around we had breakfast at one of the many restaurants in the outer market. Sushi for breakfast! I was the only white guy in the restaurant - which must have been a good sign!
We then took the metro to Ueno Park where we walked around the boating lake and the numerous shrines & museums. On the way back to the metro, we walked along Ameyoko Shopping Street.
We hopped back onto the metro and made our way to Asakusa, one of Tokyo's older districts. We started by going to the top of the Civic Centre which had a lovely outdoor viewing platform on its 8th floor. We could see the whole of the shopping street that connected the Kaminarimon Gate with the Senso-ji Temple as well as the Sky Tree. We took a walk along the street, passed the rather touristy shops, and around the temple complex.
---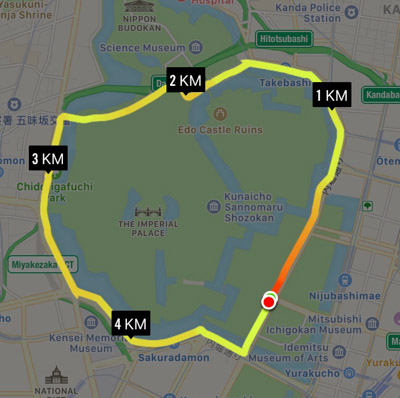 Nike+ run
We took the metro back to Ginza and made our way to our hotel. I made my way to the Imperial Palace and completed the 5km Nike+ route around the gardens. In my mind I had planned to run clockwise around a circuit but as I approached I noticed EVERYONE was running anti-clockwise. I soon noticed that everyone was also running with a pace of about 5:30/km meaning that my pace (4:29/km) left me feeling like a teenage driver blasting past one person after another.
---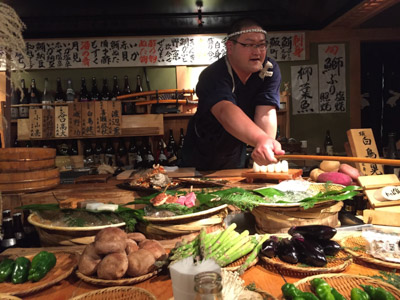 Robatayaki
We had dinner at Robatayaki in Tokyo Midtown. There was an interesting stag party also eating there and although they were loud they didn't really bother anyone. It was a very small restaurant with everyone sat around the chef. The food is all laid out in front of us on plates and swimming around the fish tanks!
---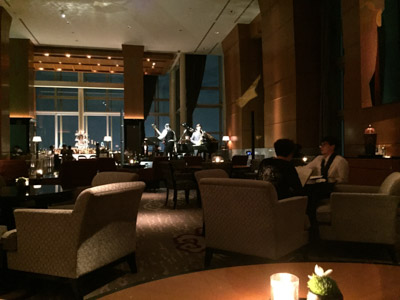 Drinks at The Ritz Carlton - 45th floor bar
Following dinner we headed across the road for a nightcap at the 45th floor bar at the Ritz Carlton.
---
Sunday 27 I started the morning with another 5km run around the Palace and made it back to the hotel in the nick of time for breakfast.
One of the hotel staff very kindly escorted us to Tokyo station to pick up our Japan Rail passes and helped us book tickets for our journeys to Nikko and Miyajima. We spent the rest of the morning walking around the Imperial Palace with its beautifully manicured trees, moat and bridges.
We picked up a Starbucks before jumping on the tube to Kamiyacho to see the Tokyo Tower. Tammay tried to convince me it was a replica of the Eiffel Tower but it clearly wasn't! We then took a taxi over to the National Arts Centre. An architecturally significant building near Tokyo Midtown and Roppongi Hills. We walked around inside and out.
Before heading back into town we had a short walk around the Tokyo Midtown Complex which included the Ritz Carlton Hotel. After arriving back in Ginza we called into the Apple Store where Tammay bought an Apple Watch.
That evening we had a complimentary 10-course tasting menu with Champagne at 'Motif", the hotel restaurant. After dinner we sat in the bar area enjoying the views out over Tokyo station.
---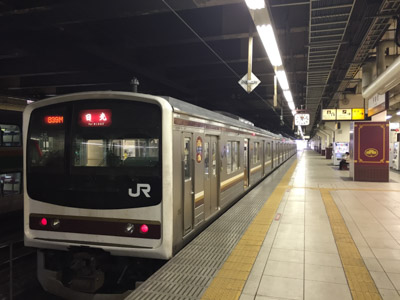 Utsunomiya: The Nikko Line
Monday 28 We had breakfast at the cafe I'd spotted at the bottom of our building. It didn't turn out to be that great. The food was fine but they offered little choice. The member of staff from The Four Seasons escorted us to the station again and deposited us on the correct platform for our train to Nikko.
The bullet trains were great. Comfortable, quiet and fast. It wasn't long before we arrived into Utsunomiya where we changed onto the slower Nikko line.
---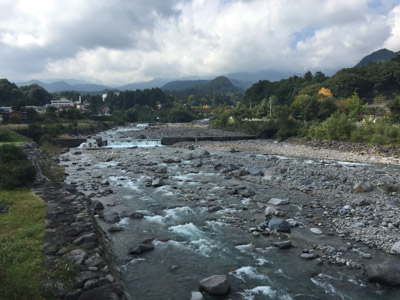 Nikko: The Daiya River
From Nikko station we walked along the Daiya River towards the famous Shinkyo Bridge. As we arrived we saw a wedding party walking out onto the bridge in what looked to be part of the ceremony. As we watched them we noticed the occupants of the tour buses clapping and waving as they passed. We stopped at a noodle bar for a quick bowl of ramen/soba for lunch.
After lunch we climbed the steps into Nikko National Park. The first stop was the world famous Rinnoji Temple which had been totally covered in scaffoldings part of a 10 year restoration project. We had a quick look around the Buddhas and climbed the 7 flights of stairs to the viewing gallery.
We made our way around the park to the Five Story pagoda. We walked around to the Toshogu Shrine, which was probably the prettiest one in the park. Our last stop in the park was the Futurasan Shrine.
We were quickly running out of time so legged it back to the river to walk along the Kanman-ga-fuchi Abyss. A lovely walk along the river lined with old stone Buddhas wearing knitted beanies and a bibs. Only in Japan! 😆
Rapidly running out of time to catch the 17:07 back to Tokyo, we made our way back to the station with just enough time for one more photo at the bridge.
---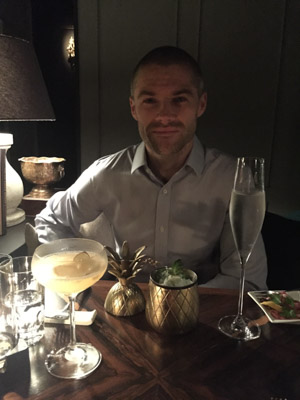 Drinks at Mixology Laboratory
Based on a recommendation we booked a table at Mixology Laboratory, a proper 'speakeasy' style place located across the road from Tokyo Station. It was very interesting and similar to the Experimental Cocktail Bar in London's Soho. I ordered a 'Nitro Mojito' which was very good, but separating the drink into a Champagne glass of soda water and a brass pineapple with a sorbet, did make it rather difficult to drink! We'd planned to also have dinner at Mixology Laboratory but the tiny bar was thick with smoke from the two guys at the next table. We instead shared a small margarita.
---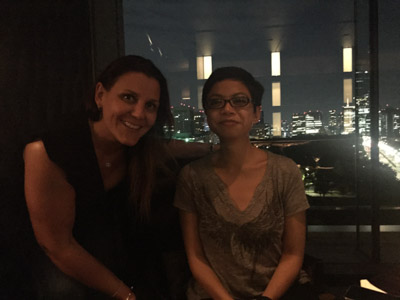 Drinks with Leah
That evening we went to the Palace Hotel bar to catch up with Leah, one of Tammay's previous colleagues. Before she arrived we ordered a very un-Japanese tuna melt each. We had a few more drinks than we'd expected and ended up getting a taxi back to our hotel at around 1am.
---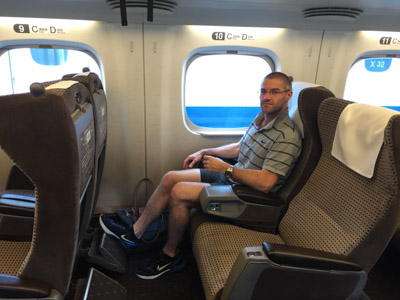 Shinkansen SuperExpress to Shin-Osaka
Tuesday 29 After an early breakfast at The Four Seasons we embarked on our journey south to the island of Miyajima. A member of staff from the hotel once again accompanied us to our platform at Tokyo Station.
The trains ran very smoothly once again.
---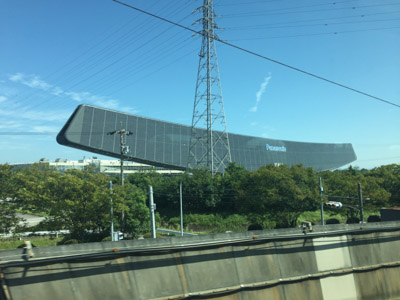 Panasonic Solar Arc
We caught the Shinkansen SuperExpress (Bullet Train) from Tokyo to Shin-Osaka, passing the giant Panasonic Solar Arc along the way.
Once at Shin-Osaka we changed for Hiroshima. The local train service from Hiroshima to Miyajimaguchi was nowhere near as comfortable but it was fine for the 25 minute journey. Finally there was a short walk to the ferry port and a shuttle service across to the island of Miyajima.
---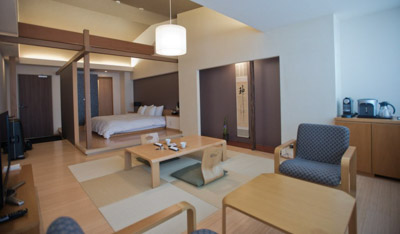 Our Ryokan at Kurayado Iroha
We had booked a 'Ryokan' at Kurayado Iroha. It was located within walking distance of the ferry terminal and they had provided us with very precise directions including photos!
---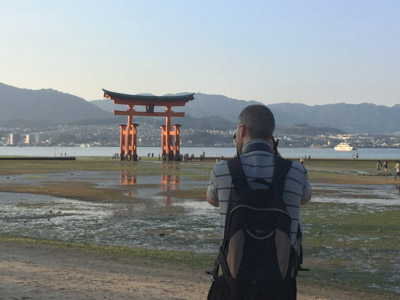 The great Torii
That afternoon we took the short walk along the seafront to the great Torii which appears to float in the sea (at high tide). Torii gates supposedly represent the boundary between the spirit and human worlds.
That evening we had a 9-course tasting menu in the hotel restaurant. The desert was billed as a cheese cake but Tammay's face when she tried it put us both in hysterics. She described it as tasting like a cross between Laughing Cow and yoghurt! After dinner we went out to view the great Torii gate.
---
Wednesday 30 I started the day with an 9km run around the north coast of the island.
It was then back to the hotel for a traditional Japanese breakfast. Lots of small individual plates including sushi, sashimi, vegetables and a very strange egg. Apart from the octopus it was generally very good, that said, I was quite happy with the thought that our following breakfast would be Western style.
---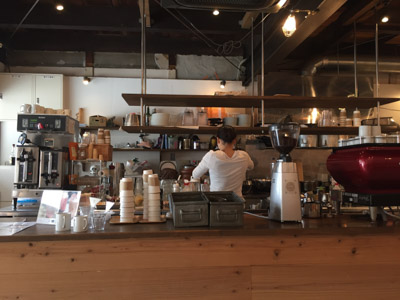 Trendy coffee shops of Miyajima
We made our way to Daishõ-in, the historic temple complex located at the foot of the thickly forested holy mountain of Mount Misen. Daishõ-in is the main temple of the Shingon Buddhist school of Omuro which consists of a number of different buildings. We picked up a few tacky souvenirs and a couple of coffees at a rather trendy looking coffee shop along the way (very good they were too!).
---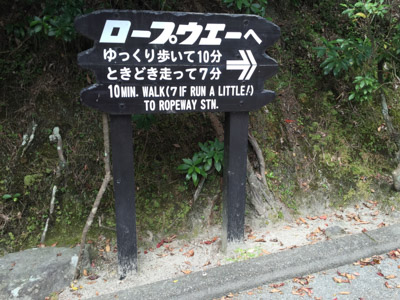 Funny signs of Japan
We passed this rather amusing sign along the way. At Momijidani Station we boarded the first of two cable cars. The second took us from Kayadani Station to Shishi-iwa Station. From there it was a 30 minute walk/hike to the summit of Mount Misen. We had a great view of the bay, from Miyajimaguchi to Hiroshima.
After descending the mountain we walked past the Torii Gate and through the back streets to our hotel, picking up a couple of boxes of the local cakes for our colleagues.
That evening we had another very similar 9-course tasting menu in the hotel restaurant. Before turning in we made another short walk to the Torii Gate.
---
Thursday 1 Upon sitting down for our 'Western style' breakfast I thought I was going to be very disappointed. A small salad, a dozen cornflakes, a tiny bowl of fresh fruit pieces and a couple of spoons of yoghurt. Thankfully, after waiting a little while they brought out an omelette with vegetables, a piece of cooked fish (with a massive slice of cheese!), toast & croissant and a small bowl of corn soup.
There had been heavy rain all morning and as we checked-out it didn't lighten up. Thankfully the hotel offered to drive us to the ferry terminal! Following the 10 minute ferry ride it may have only been a short walk from the terminal to Miyajimaguchi train station (partly via a subway), but we still managed to get quite damp!
---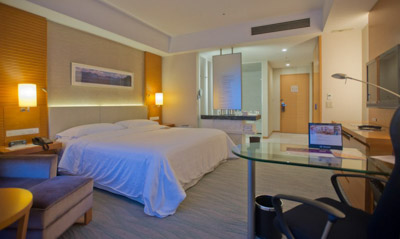 The Sheraton, Hiroshima
We arrived in Hiroshima at 12:00, 2 hours earlier than the standard check-in time at the Sheraton, unfortunately the hotel didn't let us check-in early (even though the room was ready!!). We left our bags with concierge and got a taxi to the Peace Museum.
---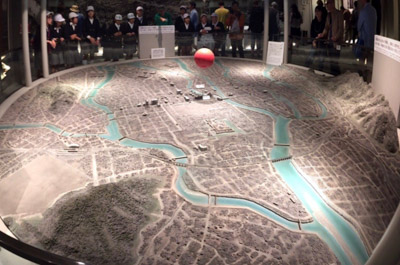 Hiroshima Peace Museum
We spent a couple of hours walking through the exhibits and listening to the audio guide. It was interesting to see the factual portrayal of the events - very different to what we had seen at the Vietnam War museum in Ho-Chi-Min during our visit to Vietnam.
---
Peace Memorial Park
We had lunch in the museum coffee shop before walking through the Peace Memorial Park (in the rain). We visited the Memorial Cenotaph, the Peace Flame and the Children's Memorial. We then crossed the river to the A-Bomb Dome.
---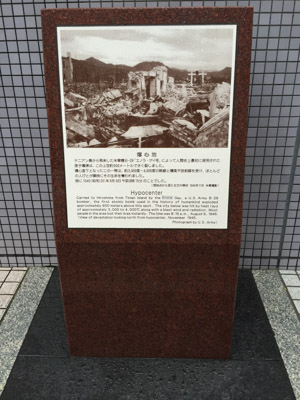 Hypocentre memorial
With the help of GPS we also found the hypocentre where we found this very understated plaque.
We visited Hiroshima Castle before reaching the Shukkeien Garden (which translates to the Shrunken Scenery Garden) which lived up to the billing of most beautiful garden in Hiroshima.
That evening we took a short walk from the hotel to Hiroshima station. We had planned to eat at a tiny noodle bar inside the station but realised nothing was in English and there were no photos (who'd have thought we'd be actively looking for restaurants with photo menus!?). We ended up eating at a small restaurant located on the 6th floor.
---
Friday 2 Breakfast consisted of instant noodles in our room. We had reserved seats on the 08:06 train to Kyoto so made a quick dash to the station. The trains seemed particularly busy and we had struggled to reserve seats. We had to change trains in Shin-Osaka and put the 30 minute wait to good use by calling in at Starbucks!
While in Kyoto we were staying at the Hotel Nikko Princess. They too weren't able to offer us an check-in. Instead, we went for a walk to the Daimaru Department Store, which we were told had a great food hall, they weren't wrong! We walked around the basement food hall which had an amazing selection of cakes and pastries. After buying some snacks and headed back to check-in.
---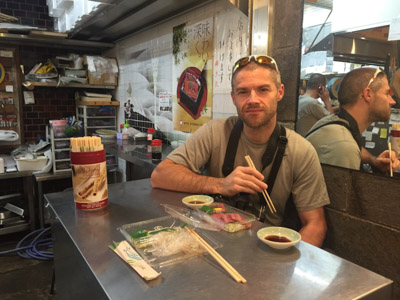 Nishiki Food Market
After settling in, we headed out for the afternoon. Our first stop was lunch at Nishiki Food Market. We stopped at a small fresh-fish store and purchased a few trays of sashimi. They had a small bench just inside the store and we ate right there. We carried on through the market looking at all the nice food and picking up a small selection of fried items which we ate along the way. To make ourselves feel a little better we also picked up a bunch of bananas and 4 sharon fruit.
We then took the train to Fushimi Inari Station, for the Fushimi Inari Taisha Shrine where we walked along the path of Torii gates.
---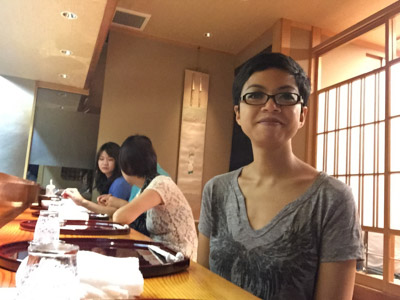 Dinner at Gion Nanba
We took a taxi into Gion and walked along Pontocho, a traditional street filled with restaurants and tea houses. We had hoped to see a Geisha but it wasn't to be. We also walked along Shinbasi, which is considered to be the nicest street in all of Japan! A beautiful road along a canal, covered in trees and lanterns. We finally arrived at Gion Nanba, a Michelin Star restaurant, for a 10-course tasting menu.
---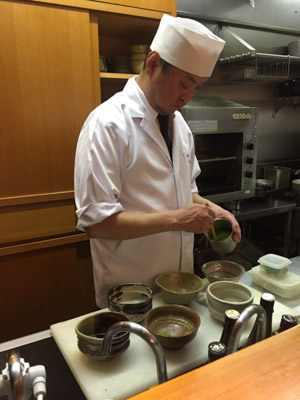 Dinner at Gion Nanba
By the end of the evening Tammay was feeling extremely full and desperate to get back to the hotel.
---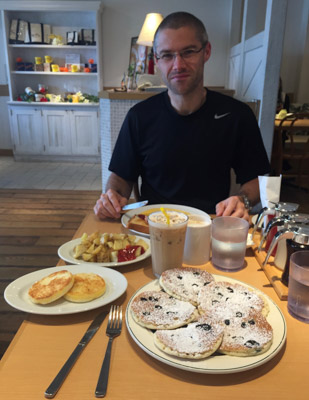 Breakfast at Eggs & Things
Saturday 3 We had breakfast at 'Eggs & Things' an Hawaiian themed cafe around the corner from our hotel. From there we took the bus (not a common occurrence while we're on holiday, particularly when we're not in an English speaking country) to Ginkakuji Temple. It was great to see that the busy stops had a couple of attendants - probably to assist foreigners like us.
We walked around Temple known as the Silver Pavilion and viewed the sand garden. It wasn't actually silver as they had run out of money before completing construction.
We made our way back into town along the Philosopher's Walk which traces the path of a canal lined by hundreds of cherry trees (which must look amazing in early April). We stopped at Nanzenji Temple (with an aqueduct) and passed the giant Torii gate at the Heian Shrine (which we didn't visit).
We briefly rested our weary legs in Starbucks before making our way around the corner to Hanami-Koji, another traditional street containing a selection of tea houses and restaurants. This time we were successful in our Geisha hunting! Spurred on by our victory we went for another walk along Pontocho and this time spotted a further 2 Geisha hurrying between tea houses.
That evening we kept dinner simple! Tammay was craving a pizza from a Pizza Hut we had spotted near our hotel. I refused to eat pizza so picked up a sushi selection box and sandwich from a small convenience store (and also helped Tammay finish off her pizza). The sushi had only cost £3 (a third of what it would have cost in the UK) but tasted excellent.
---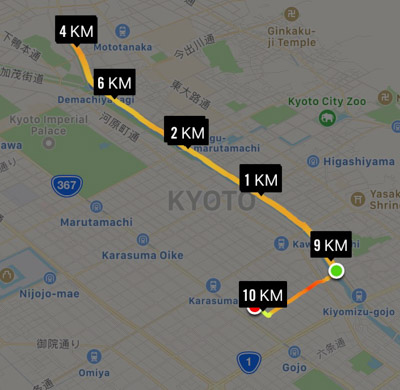 10km morning run
Sunday 4 I went for a morning run, heading north along the Kamo River just beyond the point where it joins another river.
---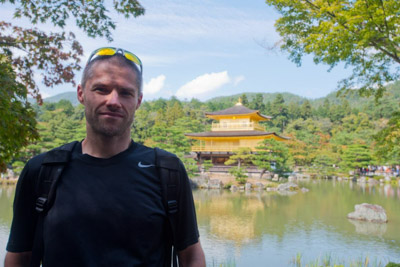 The Golden Pavilion
We once again had breakfast at Eggs & Things. Feeling extremely full, we took the bus to Kinkakuji Temple for The Golden Pavilion, and strolled around the gardens.
We walked on to Ryoanji which has a famous rock garden (which is supposed to resemble tigers crossing a river).
Next was a train ride to Arashiyama station for the Tenryuji Temple where we walked through the gardens, around the lake and on into the bamboo groves.
---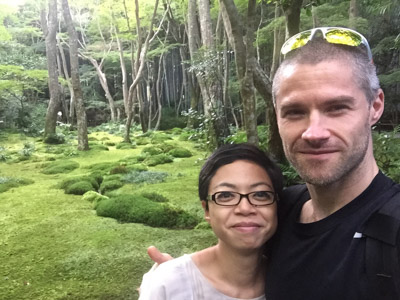 Gioji Temple Moss Garden
Finally we made our way to Gioji Temple, a small temple with a beautiful moss garden.
We had dinner at Ippudo, a noodle restaurant a few blocks from our hotel. It had been given rave reviews by one of Tammay's colleagues and there seemed to be a small but constant queue for a seat. At the end of the day it was just noodles so it wasn't going to be a culinary highlight of our trip but it was cheap and it filled us up.
---
Monday 5 Another bowl of instant noodles in our hotel room before catching the train to Nara. It was only 43 minutes on the train and we were getting ever closer to the famed "bowing deer of Nara".
We walked up the main high street into Nara Park and picked up 3 packets of deer crackers which were a bargain at only ¥450!! We started looking out for lone deer because you wouldn't want to be next to a group when they smell the crackers coming out!! We took advice from some YouTube videos and soon got the deer bowing politely for their crackers. It was more fun than you'd think.
The park is famous for these deer as the locals revere them for their role in the mythical origins of the area. You are not allowed to hurt them and as a result they have become incredibly tame. We saw one group napping on the ground whilst tourist sat between them taking selfies.
As we progresses through the park, we headed up to Todaiji Temple, the largest wooden structure in the world. It in turn houses the largest Buddha in the world. Both were quite impressive! As with all of the temples we had seen, this wasn't the original building, it had been rebuilt a number of times with the current version actually only being 2/3 the size of the original.
After a short walk around the temple, we visited the Kasuga Taisha Shrine, a complex containing hundreds of stone lanterns, with lots of deer interspersed. 😊
Our final stop in the area was the Kofukuji Temple and the Five Story Pagoda. The main temple itself was under reconstruction but the rest of the site was still impressive.
We slowly made our way back to the station, walking through a covered market along the way where we picked up some generic "fish" and vegetable patties (tasty nonetheless!).
After getting the train back into Kyoto we took a taxi back to Nishiki market for more sashimi!
---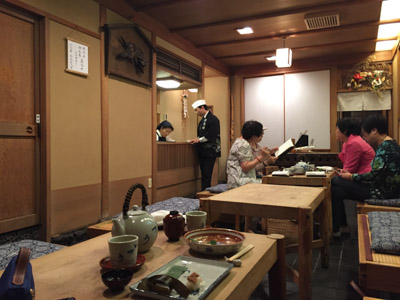 Dinner at Izuu
Still feeling a little full from the sashimi we took a taxi into Gion for dinner at Izuu. Tammay had found it mentioned in a blog. It was a little off the beaten track and popular with locals rather than tourists. The staff didn't speak much English and Google translate was being used on both sides! The food was great.
---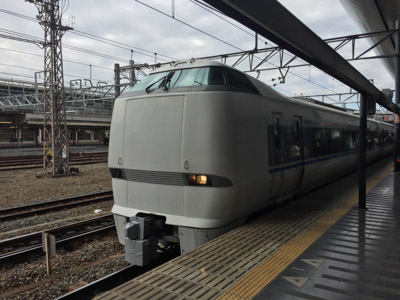 Thunderbird 9 to Kanazawa
Tuesday 6 The day started with a train ride to Kanazawa. This required a switch to local routes and we suffered a 4 minute delay - not like the bullet trains! I found it strangely amusing that we were travelling on Thunderbird 9.
We picked up our usual coffees from Starbucks and I got a sandwich for the train which was possibly the worst thing I'd eaten while in Japan!
---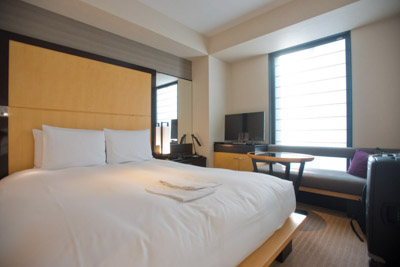 Hotel Trusty, Kanazawa
We got a taxi to Hotel Trusty but our room wasn't ready so we dropped off our bags and took a walk around Omi-chi Market.
---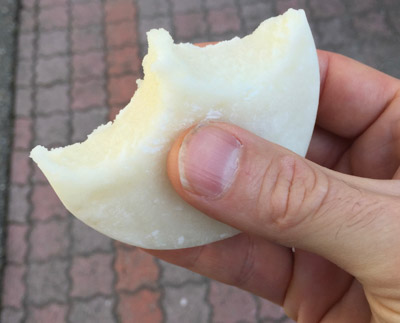 Mochi?
We bought some lunch and 2 packs of mochi (plain and peanut) which looked great but certainly didn't taste it. I incorrectly expected it to be similar to the mochi we often buy in London's China Town. I even bought a small pot of maple syrup to sweeten them but had little success. In hindsight I wonder if we were supposed to have cooked them first.
We also walked around the Higashi Chaya District, the largest of the 3 geisha districts in Kanazawa. We looked inside the Shima Teahouse. I was expecting to get some green tea for my ¥500 entry ticket but that turned out to be an extra! We looked around the Hakuza Gold Leaf Store which had a room completely covered in gold leaf.
---
Daiwa department store - Kanazawa

After checking-in to our hotel we visited the Daiwa department store and browsed the basement food hall to see if it would be a good option for lunch the following day. Much like the Daimaru department store in Kyoto, everything in the food hall looked delicious! We also walked along the Main Street to the Sai River to see if I would be a good location for a run the following morning. It had already gotten quite dark but we could just about make out paths on either side.
---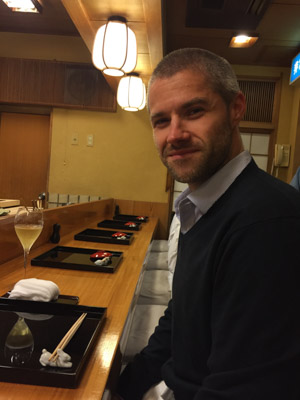 Dinner at Zeniya
That evening we had an excellent 10-course tasting menu at Zeniya.
---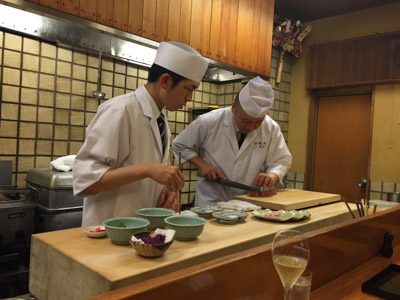 Dinner at Zeniya
We sat at the 'chef's table' and the head chef, Shinichiro Takagi (and a couple of the sous chefs), talked us through each course.
---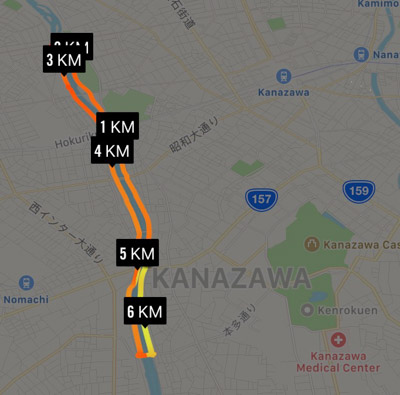 7km run
Wednesday 7 I started the day with a morning run along the Sai River.
We called by the Daiwa department store's food hall and loaded up on some amazing pastries which we ate with our coffees at the Starbucks across the road. We spent the early afternoon walking around Kenrokuen Garden. The weather was amazing once again.
We visited Kanazawa Castle where we arrived just in time for a free tour with a very sweet tour guide. The castle was a really beautiful building and our guide pointed out many things we would otherwise have missed.
For lunch we once again called in at the Daiwa food hall. Literally everything on the almost endless displays looked amazing, I could have spent the rest of the day deciding what to buy.
---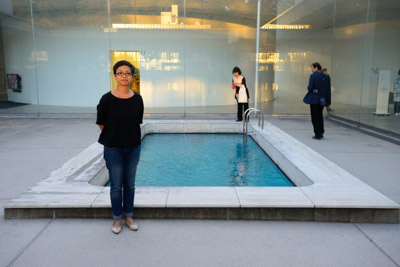 The Swimming Pool by Leandro Erlich
After our late lunch we walked to the 21st Century Museum of Contemporary Art where there was one installation in particular that Tammay wanted to see, 'The Swimming Pool', by Leandro Erlich.
---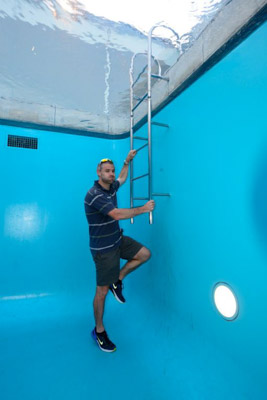 The Swimming Pool by Leandro Erlich
We had just enough time to wonder around some of the other exhibits before the museum closed.
That evening we ate at Kaga, a Teppanyaki restaurant on the 19th floor of the Crown Plaza hotel. It was never going to live up to the meal/experience we'd had at Zeniya the previous evening but I'm not sure I had the energy (or the appetite) for such a long and interactive meal!
---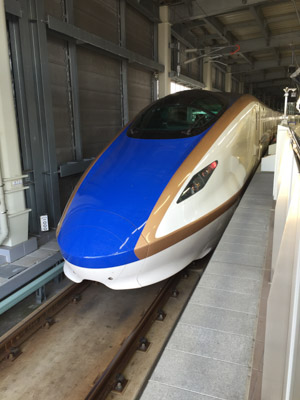 Shinkansen SuperExpress to Omiya
Thursday 8 Another early train ride, this time back to Tokyo, so we once again opted for a breakfast of instant noodles in our room. Thankfully they had opened a new Shinkansen line between Kanazawa and Tokyo a few months earlier
---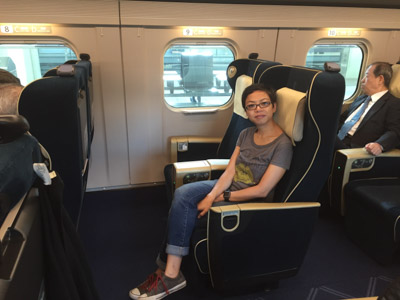 Travelling in comfort
The journey to Omiya was smooth and rapid. However things then changed. We initially got on the wrong train and had to change again at Urawa. Here we stepped onto a local train but decided it wasn't in service as no one else boarded and we couldn't see anyone else already on the train (it was in service and probably would have been the train we needed). We boarded the next train which appeared to be a commuter service. This finally got us to Shinjuku a little under 4 hours after leaving Kanazawa.
---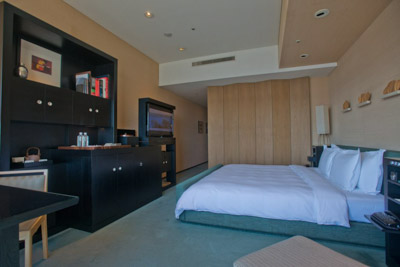 The Park Hyatt
For our final 3 nights in Tokyo we had booked into the Park Hyatt, the hotel featured in the film 'Lost in Translation'.
---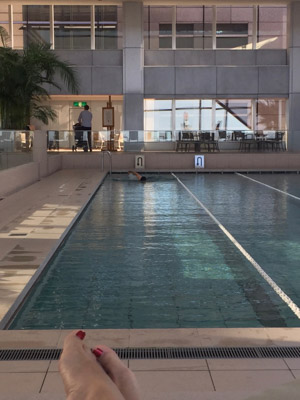 Swimming at The Park Hyatt
We decided to spend the rest of the day relaxing by the pool. I managed 30 lengths to try and offset the excessive amount of food I'd been eating.
---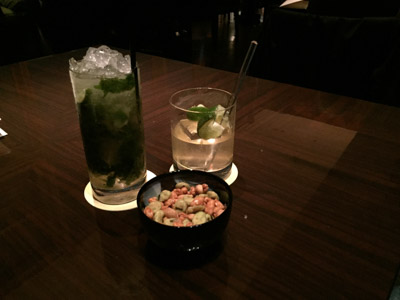 Cocktails at The Park Hyatt
We had dinner at the hotel's 52nd floor New York Grill restaurant. Great food and amazing views. I couldn't quite believe how clear the air was - if only we'd thought about it earlier we could have probably seen Mount Fuji!
After dinner we had a couple of cocktails in the bar where they had a jazz band playing.
---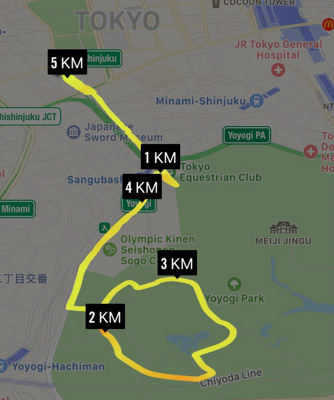 5km run
Friday 9 I started the day with a run. I'd planned to run around Meiji Park but a security guard came running out of his hut, arms waving, telling me running wasn't allowed in the park! I was advised to make my way to Yoyogi Park instead.
---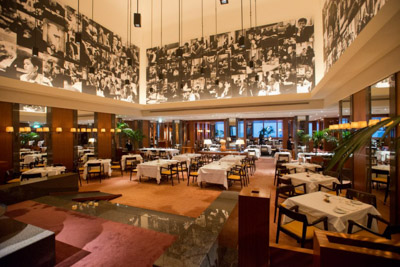 The Park Hyatt
After a great Park Hyatt buffet breakfast we took the hotel shuttle to Shinjuku Station.
---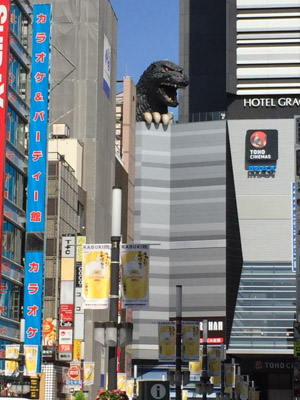 Godzilla?
We spent time walking around Shinjuku, hoping that Godzilla wouldn't spot us.
---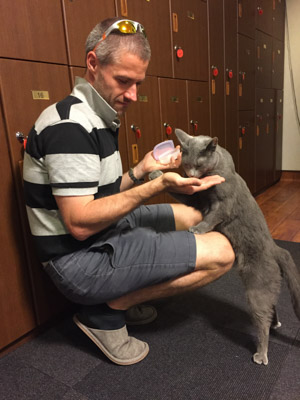 Cat Cafe Kyariko Shinjuku
We spent an hour at Cat Cafe Kyariko Shinjuku.
We reserved seats on the Narita Airport express train ready for Saturday and also browsed around a couple of the stores in Takashimaya Times Square: a discount shoe store where Tammay picked up a new pair of Nikes, Barney's and Tokyu Hands (a massive department store that's said to sell everything you could ever need - they might be right!).
---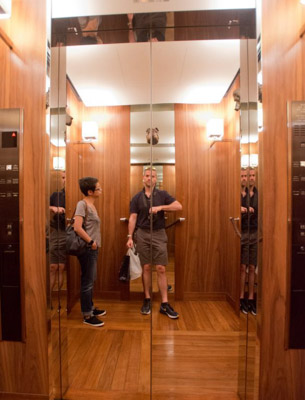 The Park Hyatt
A lift at The Park Hyatt, complete with gargoyles.
---
The Park Hyatt
Walking into The Park Hyatt gave you a very comfortable feeling...
---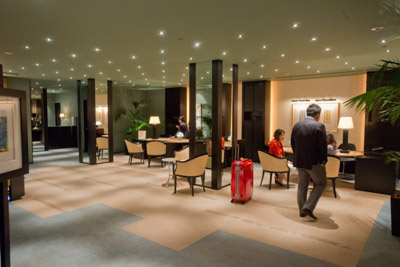 The lobby at The Park Hyatt
...but you wouldn't expect any less from a hotel like The Park Hyatt.
---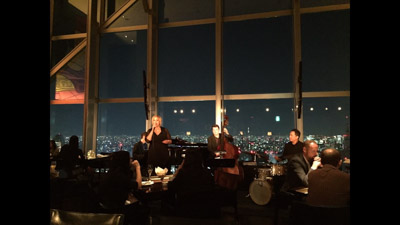 Jazz at The Park Hyatt
We had dinner at Tsunahachi, a tempura restaurant located near Shinjuku station. It was a little rough and ready but very busy and the food tasted fine.
We made our way back to the hotel for a couple of cocktails in the bar where the same jazz singer was performing.
---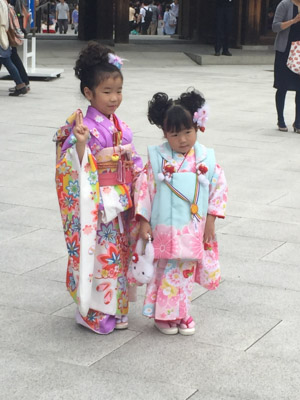 Meiji Shrine Gyoen
Saturday 10 After another buffet breakfast at the hotel we walked to the Meiji Shrine Gyoen where a wedding had just taken place.
---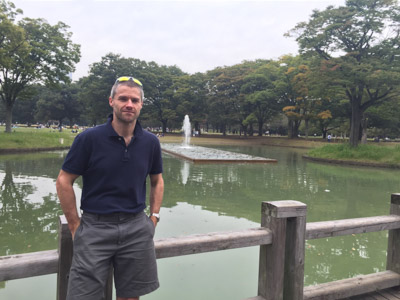 Yoyogi Park
After a loop around Yoyogi Park we walked around the Harajuku district, from Takeshita Street to Cat Street, browsing in some of the shops including Shibuya 109.
---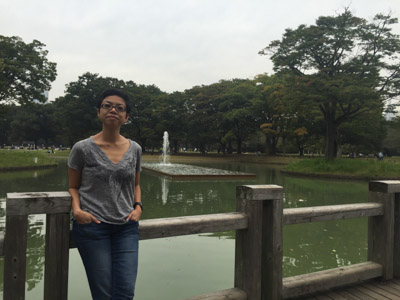 Yoyogi Park
We spent about 30 minutes in Starbucks overlooking Shibuya Crossing then completed our own obligatory march back and forth over the crossings. We picked up food for a late lunch and took a taxi back to the hotel.
---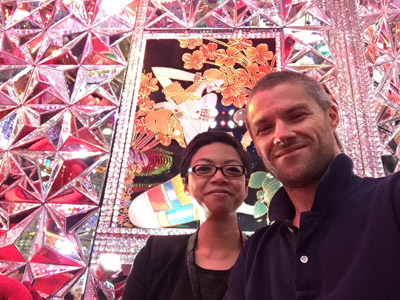 Robot Restaurant
That evening we went to the Robot Restaurant for what turned out to be a rather crazy and unique show.
We had planned for an early night but couldn't resist another couple of cocktails in the hotel bar.
---
Sunday 11 An early checkout and a taxi to Shinjuku Station for the (not so 'express') Narita Express. Our flight took off around 11:00 at took us back to London.